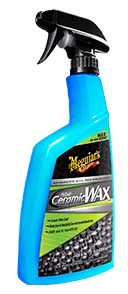 For this review, I've prepared a product that many of you have probably heard of. The Meguiar's Hybrid Ceramic Wax has been getting lots of attention ever since it was released. The buzzword "ceramic" has caught considerable curiosity from the detailing community. What does it really do? Does it make any difference? Or is it just another word that the Meguiar's team marketed to sell more products? Let's dive into this product and find out.
What is Meguiar's Hybrid Ceramic Wax?
It's the new face of waxing technology, as labeled by the brand. They describe the product as a sophisticated wax-ceramic hybrid that forms a protective layer on the exterior of your car using a sprayable formula — all guaranteed, and with an easy application process.
Meguiar's Hybrid Ceramic Wax uses ceramic-based sealants in the form of SiO2 or silicon dioxide. It acts differently from conventional wax due to its chemical composition, making it — once applied — blend into and bond with painted surfaces better.
According to Meguiar's, it's the product's refined wax hybrid that provides a ton of value to customers. Its base size of 26 ounces is full of great technology that promises to exceed expectations.
We'll find out if what they say is true.. I'm excited to share with you my honest Meguiar's Ceramic Wax review and the results from testing it on my car.
Testing Meguiar's Hybrid Ceramic Wax
When I picked up a bottle of this product, I have to say that I was a bit skeptical. The idea of combining wax and ceramic together just seems like it wouldn't quite work. Either way, I was intrigued and it was time to test it out.
Ease of Application
The instructions included on the bottle of Meguiar's Hybrid Ceramic Wax say that the first application product should include a foundation layer. So, that's what I did because I wanted this review to be as accurate as possible. This meant I had to rinse my already cleaned car and apply the product while it was wet, which was a little messy since I had to start on the vehicle's roof.
After that was done, I went ahead and applied the product as usual once the car dried down. This part was about as easy as it could get. Meguiar's instructions lay out a simple 3-step process: spray the product on, wipe it in with clean microfiber cloths, and buff it back out to remove any excess.
For a wax product, I'm impressed with how easy it was to get onto the car, including the windows and plastic trim. Once the messy foundation layer was on, it only took 5 minutes to apply Meguiar's Hybrid Ceramic Wax to my entire car. If you've read my other reviews, you probably know that I've tried traditional liquid and paste wax before, and both took at least an hour to do correctly, so this application was a piece of cake in comparison.
How Strong is Meguiar's Hybrid Ceramic Wax?
The first thing I wanted to see once the product was applied was how hydrophobic it was. We all know wax makes water bead off of a car pretty well. So for this review I wanted to see the difference that the extra ceramic ingredients in the Meguiar's Ceramic Wax made.
I sprayed the car with some water from the hose, and was pleasantly surprised. Water slid off the car better than I'd previously seen any other wax product do. I counted maybe 10 drops of water in the middle of the hood that I had left to wipe off after hosing it down. This is great for me since it rains lots where I live. I won't have to worry nearly as much about water spots baking on it if I leave it wet for a little while.
In terms of the claim that Meguiar's makes about this product keeping your car clean for longer, I'd say that that is true for the most part. The biggest thing I noticed was that dirt or pollen were way easier to wipe off than before — not sticking as much to the places where I used the Hybrid Wax. This is probably because of the hydrophobic properties of the product. Either way, I have noticed that I can go a few extra days between washes since I used this product.
Aside from the next-level hydrophobicity, the Meguiar's Hybrid Ceramic Wax left my car with a stunning shine. I wouldn't say that it is incredibly different from the shine left by a traditional wax coating, but it was noticeable. Despite having a silver car, I could see my reflection in the body panels pretty well.
Meguiar's also says that their product is buildable, which means you can put several coats on to add to the results. Now, I don't really know how much of a benefit comes from doing this, but it is an option.
I give this product a 6 out of 10 in terms of strength. I guess I can't help but compare it to the other full-on ceramic coating products I've tested over time.
How Long Does Meguiars Hybrid Ceramic Wax Last?
Such a hot topic since this product's release! Meguiar's says that a coating of their Hybrid Ceramic Wax will last anywhere from 5-6 months before you need to reapply.
After my personal test of the product, I noticed its longevity is actually pretty impressive. Not as much as Nexgen's Ceramic Spray, but better than I had initially expected.
Despite all the rain we get around my area, I found that the shine and water-beading lasted over 6 weeks before it started to degrade.
Though not as long as I would have liked or what Meguiar's suggested, that's still quite a while. Moreover, for the amount of time it took to apply a coat, that's a pretty great tradeoff. For this reason — the difference between what's advertised and what I tested — I give this product a 6/10 for longevity.
How Is Meguiar's Customer Support
Meguiar's customer care team works Monday to Friday from 7 am to 4 pm. I've found this to be a bit inconvenient as, at that time, people are usually at work and not cleaning or waxing their vehicles.
If you need to return a product, you have 30 days to do so, and you'll get a refund within 10 days. However! For faulty products, you need to report it within 72 hs. Considering that in some cases the product may have arrived broken and leaking, it can be a pain to send it back and then having to sort yourself out again.
So overall, I consider their approach to customer service deserves a 7 out of 10.
Overall Review – Is Meguiar's Hybrid Ceramic Wax Worth the Hype?
Meguiar's Hybrid Ceramic Wax is a product that combines the classic benefits of traditional wax and the newer implementations of SiO2 technology. Whether you consider it worth the hype depends on what you compare it to.
Compared to traditional liquid, paste, or even regular spray-on wax, Meguiar's Hybrid Ceramic Wax takes the cake. How long the product lasted and how good the results were far exceeded what traditional wax provides in those departments.
Now, if you're comparing it to a true DIY ceramic spray like the ones that Torque or Nexgen offer, the Hybrid Ceramic Wax falls a bit flat. With essentially the same application process, the strength, hydrophobicity, and durability just don't quite measure up to true ceramic products.
That's not to say that Meguiar's Hybrid Ceramic Wax is a bad product, and for those that really enjoy the look and feel of wax, it very well may suit your needs. It has many positive reviews and almost 1,700 5-star ratings on Amazon for a reason!
Overall, this product has great value for the price, a relatively easy application, and great results that last for a good amount of time. Is it worth the hype? Not for me personally, but for many, it absolutely is. I give it a 7 out of 10.
Product Quality Scores

---
Meguiars