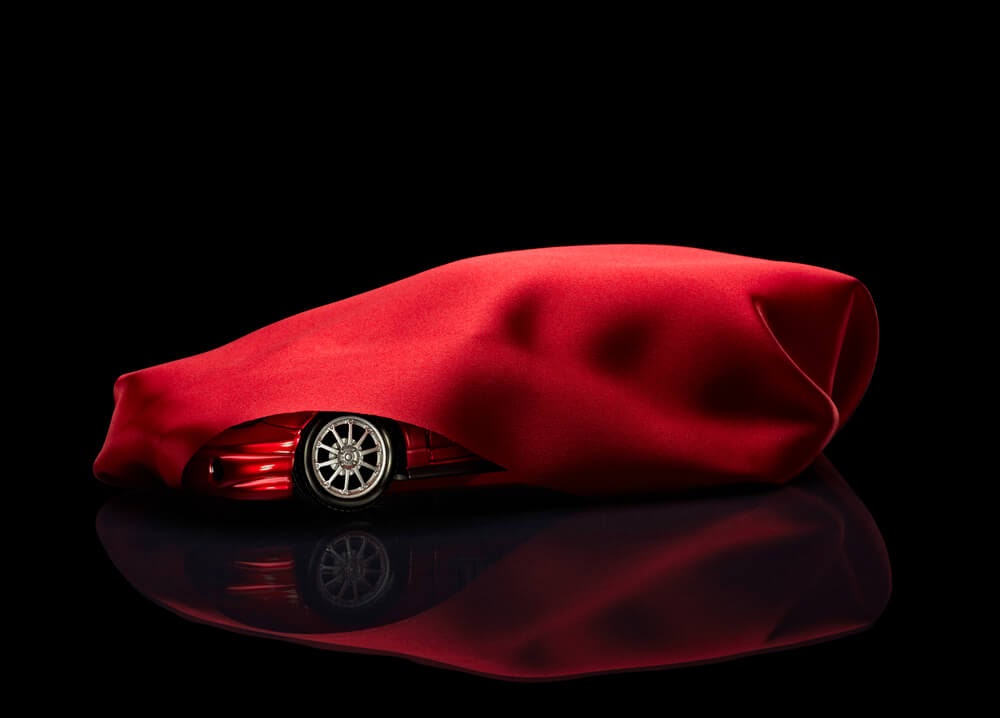 Looking For A Car Cover Review You Can Trust?
If you are searching for an honest, comprehensive car cover review, you are in the right place! Today I'll examine the best car covers you can buy to protect your car. I'll also give you some interesting facts and key features you might find useful, and try to answer whatever question you might have so that you can make an educated buying decision.
So you bought yourself a new vehicle and most of the necessary products to look after it, but you just lack one thing—a garage to keep your car in. Maybe you drive your car daily or maybe just occasionally, but in between drives, you want to keep it safe. You don't want to risk damaging its paint from baking sunshine and harmful UV rays, torrential rain, or mold and mildew, and you want to be ready for everything that comes its way.
If you are new to car covers, you might have these questions in mind:
"What types of covers for outdoor use can I find?"
"Which is the best car cover for my car?"
"Should I get a cover for indoor or outdoor use?"
"Will a one size fits all be a good match for my auto?"
With so many outdoor car cover reviews you can find online, those searching for an honest opinion might have a hard time. Since I know quite well that choosing a car cover for your vehicle can sometimes be an overwhelming task, here's a review you can trust, based on my own personal experience with the following products: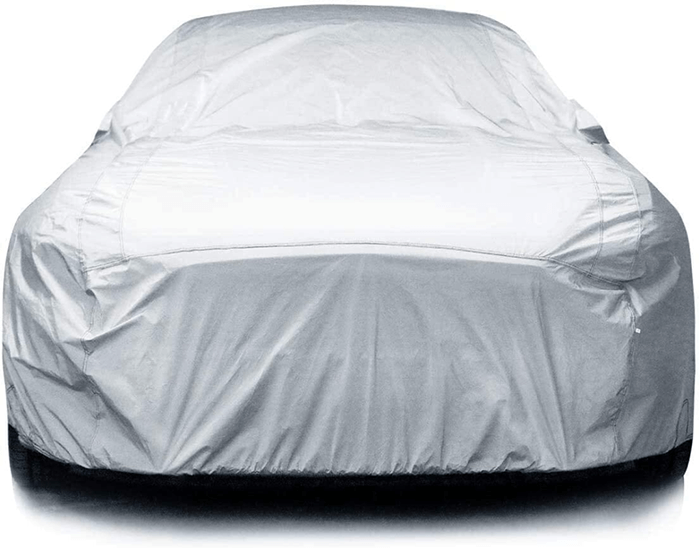 1. ICarCover 7-Layers All Weather Waterproof
I will start my car cover review today with the 7-Layers All Weather Waterproof, one of ICarCovers' best selling products. The 7-Layers All Weather is advertised as the perfect cover for your vehicle when outdoors, and a great solution for those looking for maximum weather protection.
I've only had this product for 6 months now and in the beginning I was extremely pleased with its quality, and how easy it is to be used. At a first glance, the material looks durable, feels extremely soft on the inside, and comes with 3 straps to fix it under your car. Not to mention it was a snug fit for my Audi S6.
The main downside for me was that after only 4 months of use, the cover started looking cracked and shredded in several areas. The only good part in all this is that the 7-Layers comes with a 3- year warranty which we have to admit, is hard to beat! I have already received my new cover from ICarCover and hopefully this one will last longer than the previous one. Overall, I would rate the ICarCover 7-Layers with a 6 out of 10.

2. OxGord Executive Storm Proof
Being one of the most expensive all-weather car covers you can buy, OxGord Executive Storm Proof has been the subject of many outdoor car cover reviews thanks to its high quality, and commitment to delivering what it promises.
If you're looking for the ultimate heavy duty, waterproof car cover, I think the OxGord Executive will leave you satisfied with your purchase. As some of you might already know, I live in sunny California so luckily I don't need to deal with extreme cold. But when I went to visit my cousin for a few months last winter in Wyoming, I knew a quality car cover was going to be a necessity. Let me just tell you that I was impressed by how water resistant OxGord Executive is, leaving no leaks and no sweating underneath. Made with four layers of protection, this cover fits my car like a glove and also looks great. Talk about win-win! Overall I would give OxGord Executive 8 points out of 10.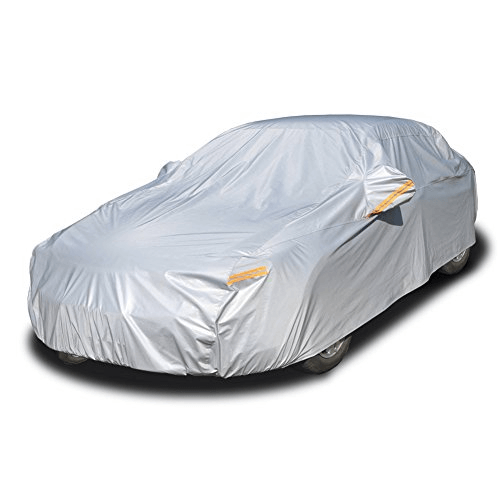 3. Kayme 6 Layers Car Cover Waterproof All Weather
Established in 1998, Kayme is located in France and specializes in leader accessories for nuclear, automotive, and aerospace industries. One of their best selling products is the 6 Layers Car Cover Waterproof All Weather car cover.
I was very happy with the ease of use and utility of this product but just like all the other car covers in my review, Kayme comes with its share of pros and cons.
Let's look at the pros first. Although lower priced, the quality of this shield car cover was better than I expected. The material is strong and looks durable, but soft enough that you won't have to worry about the material scratching the paint or sticking to any of the surfaces. Other than that, the side zipper is a great idea if you want to open the door on the passenger side without removing the cover entirely.
As for the cons, unfortunately I didn't find this cover to be perfectly waterproof. If that's your main interest I recommend that you turn your attention towards a car cover which is more water impermeable. For me, this product is a 7 out of 10.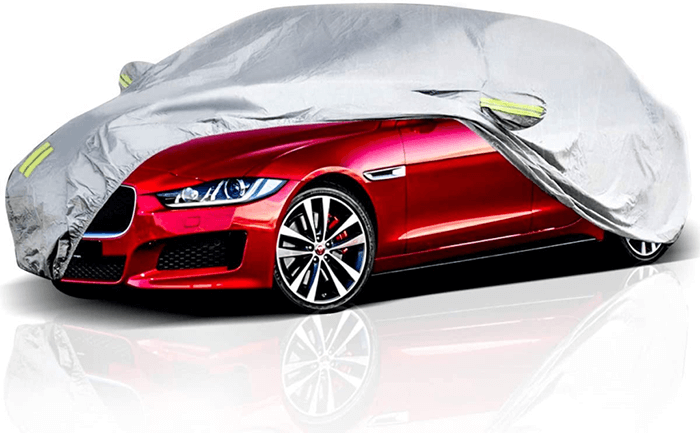 4. Eluto Car Cover Sedan
As its name suggests, the Eluto Car Cover is designed to fit mostly sedans. Made out of a strong density polyester fabric that is both waterproof and scratch proof, this product will do it's mission right, as long as you don't have high expectations from it. Why am I saying this?
Well, to start with the good stuff, the Eluto car cover is very light weight and very compressible, so you can easily store it anywhere. Also, the bright yellow green reflective strips on all its 4 corners are a nice addition, and help keep your car safe at night.
Being so light weight and slick, the Eluto can make it challenging to put on at times, especially since it doesn't come with an antenna patch. And while it did protect my car from dust, dirt and small rain showers, it was not of too much help against the bird droppings falling from the trees my Audi was parked under.
With this being said, I doubt that it can offer too much peace of mind when used during extreme weather conditions and I would mostly see this as an indoor car cover. I am giving it a 6 out of 10.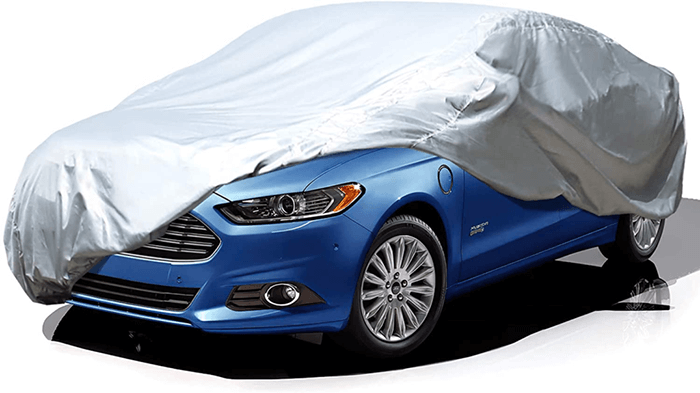 5. Leader Accessories Basic Guard 3 Layer Universal Fit
Leader Accessories Basic Guard is one of the most popular covers on Amazon, with more than five thousand customer reviews. Extremely lightweight and built with three layers of breathable fabric protection, this cover is designed to work well both indoor and outdoor.
The Basic Guard did a great job keeping my Audi covered for 1 month while I was in Europe a few summers ago, and from what I can see so far, thanks to its windproof design, it holds up well even to stronger winds and heavy rain. Available in one universal size designed to fit most car models, this cover comes in a gray finish and includes a storage bag, and a windproof strap and buckle.
When I ordered I was pleasantly surprised with Leader Accessories' customer service, which I found extremely professional and prompt to answer all my questions. Since I found this product to be true to what it advertises and because good customer service is always a plus for me, I am rating it a 9 out of 10.
As you can see from my review, each one of these car covers performs slightly different, so it's important that you choose one that best fits your needs. If you would like me to help you with a customized solution for your vehicle make sure to contact me or leave a comment below.