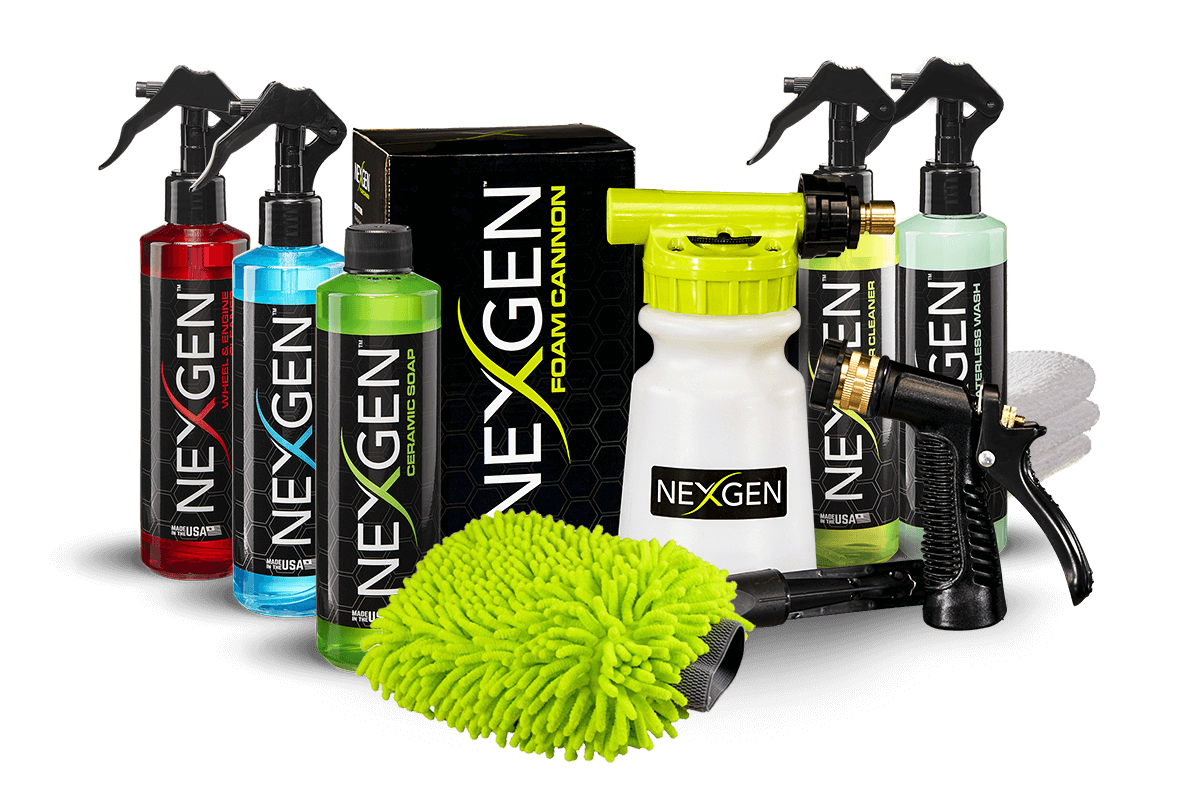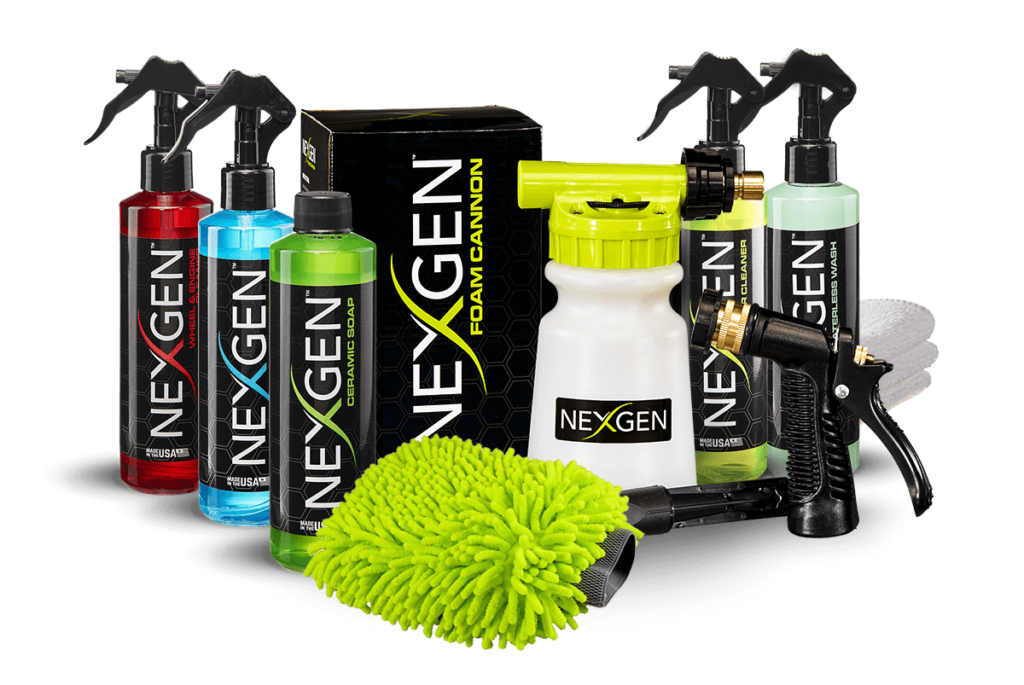 I've been using Nexgen Ceramic Spray for quite some time now. Since I am an avid fan of the brand, I decided to buy their Ultimate Cleaning Kit and test it out on my car for a few months to see if it meets my expectations.
The Ultimate Cleaning Kit comes with a total of 10 products that can be used at home to clean your car and keep it looking nice. These include a ceramic soap, a waterless wash, a wheel & engine cleaner, an interior cleaner, a glass cleaner, a low-pressure foam gun, a premium chenille wash mitt, and 3 white microfiber towels. It's easy to see that this ultimate car cleaning kit is hard to beat.. after comparing it to some other brands I've gotta give them a 10/10 for variety. But let's how these detailing products compete in other areas.
Why Buy a Cleaning Kit
When it comes to cleaning your vehicle, you might think that you only need a sponge and some soap. If you want a basic wash, sure.. but I always give my car 100% so I need the whole shebang. Ultimate Cleaning Kit comes with everything you need to give your car a thorough cleaning, from the engine to the wheels, the paint job, and the interior parts. It's also worth mentioning that this kit comes with a money-back guarantee, so if you aren't happy with the products, you can get your money back.
What's Included In The Ultimate Cleaning Kit?
One of the top products you'll find in this car cleaning kit is the Ceramic Soap. This one is a favorite among car enthusiasts seeking the best solution to keep their car's paint clean and in top condition for a long time. It contains pH-balanced emulsifiers and surfactants that lift and guide dirt off of paint and is infused with SiO2 to improve protection and shine. In terms of how well it cleans and restores ceramic coating, I was actually really impressed with the results.
A key product in this car cleaning kit is the Interior Cleaner, another fan favorite. Did it live up to its name? It actually did, although initially I didn't have high expectations from a product that promises to clean and protect virtually any car's interior surface. So I decided to test it on my dad's old dusty car, which desperately needed a thorough cleaning.
After spraying the cleaner directly on the seats, door panels, center console, and even the floor mats, I was amazed at how easily it lifted the dirt and grime from the fabric and plastic surfaces, leaving them spotless and shiny. I didn't even have to scrub too hard. I just used the microfiber towels included in the kit to spread the product evenly while making sure to not leave any uncovered areas.
I kept asking myself why is this cleaner so effective? I did some research, and for starters, it has a lightweight formula that makes it safe to use on all types of car interiors without leaving behind any streaks or residue. It's also blended with UV blockers that help shield interior car parts from harsh UV rays.
Another product I found useful is the Wheel And Engine Cleaner. I tried it after a thorough cleaning with the Waterless Wash as an extra step in my routine. It helped remove any stubborn dirt that was left behind after the wash. It's a very convenient product as it comes in a spray form. It does an excellent job cleaning wheels, engines, and exhaust pipes.
No one really thinks about cleaning the car engine. But this is one of the most important things you can do for the longevity of your vehicle. Cleaning the engine regularly will prevent it from rusting or becoming clogged with debris which can eventually lead to performance loss and engine lifespan reduction.
What's The Downside?
This car cleaning kit is among the best on the market. If there is one downside to the Ultimate Cleaning Kit is the strength of the Low-Pressure Foam Gun. Now, if you know me at all, you know I'm a huge fan of a good foam cannon. I actually prefer it over traditional car washes. However, this particular low-pressure foam gun is not as powerful as other models. It will still get the job done but may take a bit longer. If you don't have any sensitive surfaces, then it should be totally fine. It all comes down to your needs and preferences. For this reason, I'm giving them a 9/10 for strength since all the other products did an incredible job.
How Is The Customer Service?
You probably know that I have been quite happy with Nexgen's customer service so far. I found their team to be helpful, responsive, and knowledgeable.
What you might not know is that I wanted to share with them what was bothering me with the foam gun and see if maybe they had a stronger one I could try. So I sent an email to the support team describing the issue and requesting a resolution. While I did not expect a response right away, I received a reply within a few hours.
Unfortunately, the Low-Pressure Foam Gun is the only one the company currently has. Still, I appreciated that they acknowledged my feedback and let me know that they are always looking to improve their products. I'm giving Nexgen a 9/10 when it comes to their support.
The Bottom Line: Is The Ultimate Cleaning Kit Worth The Money?
After using this kit for a few months, I can say that it's one of the best car cleaning kits I've ever tried. With a huge variety of products (scoring them a 10/10 in my books) , it's perfect for cleaning your car's exterior, wheels, glass, and interior. The products do what they promise, are very easy to use, and come with detailed explanations.
This cleaning kit is safe on any paint color and will leave your car with an unmistakable wet-look shine.
Sure, you may find other kits that offer similar results, but Nexgen offers 35% off pricing on the first kit purchase making this an offer hard to beat.
Product Quality Scores
All in all, Ultimate Cleaning Kit left my car spotless and with an incredible shine. The value for money is excellent, and you are not risking anything investing in this kit since it comes with a 100% money-back guarantee. If you aren't happy with the results or feel it doesn't meet your expectations, you can get a full refund, no questions asked. The team at Nexgen has proven that they are serious about their products and customer service by offering one of the best guarantees in the industry.

---
Nexgen's Ultimate Cleaning Kit