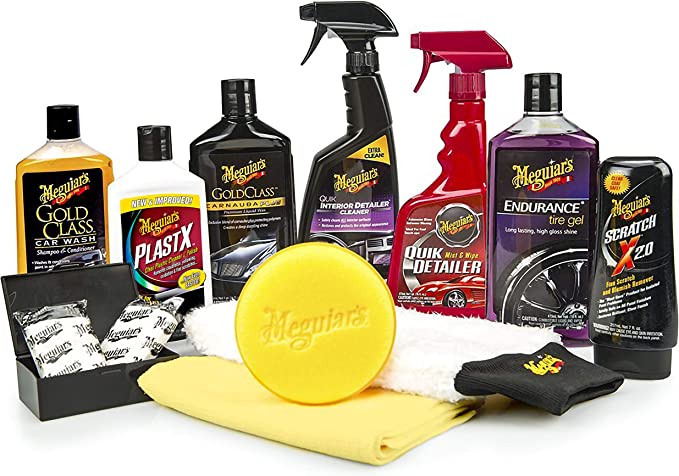 Some of you might be surprised by my decision to review Meguiar's car care kit. Those who read my post on the Hybrid Ceramic Wax might remember that even though I was satisfied with its performance, I didn't think it was worth the hype and felt there were better alternatives out there — and still do.
Lately, I've been hearing fellow car enthusiasts talking about Meguiar's Complete Car Care Kit and how it's one of the best detailing kits on the market. After all, even if I wasn't so impressed by Meguiar's Hybrid Ceramic Wax, there's always room for improvement. So, why not give them another chance?
With a considerable price tag, I was eager to test Meguair's car care kit and see if it lived up to the hype. Check out this review and find out if this complete car care kit is worth its price…or if it's just another product with a high marketing budget.
What Do You Get When Buying Meguiar's Car Care Kit?
This complete car care kit is a selection of Meguiar's most popular products, each designed to address a different concern. It includes a car wash, a liquid wax, a tire gel, shampoo and conditioner, a high gloss gel, a quick detailer, a quick interior detailer cleaner, two clay bars, a plastic cleaner, a scratch remover, one microfiber towel, one foam applicator pad, and one wash mitt.
I was particularly keen to try this car care kit as I'd be able to test several of Meguiar's products at once instead of having to buy them separately. It'd also allow me to try out different detailing methods without breaking the bank in the process. Win-win!
How To Use The Kit
The first problem I encountered with Meguiar's Complete Car Care Kit, which I think can be an issue for other customers too, is that it doesn't have a detailed explanation of how to use the products.
The only way I was able to figure out how to use the kit from A-Z was by searching online for information on each product individually and then trying to piece together an idea of how they could be used as part of an overall car care routine. This wasn't too difficult because many of Meguiar's products are designed to be used in conjunction with one another, but it would've been nice to have detailed instructions included in the kit.
Another issue with Meguiar's car care kit is that it includes just one towel, one applicator pad, and one mitt! When I opened up my package and found that there weren't enough accessories to clean and dry the car, well…I wasn't impressed. Sure, you can buy detailing accessories separately, but it's not as practical.
That's why in terms of variety, Meguiar's Complete Car Care Kit scores a 7 out of 10 in my books.
Another product I found useful is the Wheel And Engine Cleaner. I tried it after a thorough cleaning with the Waterless Wash as an extra step in my routine. It helped remove any stubborn dirt that was left behind after the wash. It's a very convenient product as it comes in a spray form. It does an excellent job cleaning wheels, engines, and exhaust pipes.
No one really thinks about cleaning the car engine. But this is one of the most important things you can do for the longevity of your vehicle. Cleaning the engine regularly will prevent it from rusting or becoming clogged with debris which can eventually lead to performance loss and engine lifespan reduction.
How Strong Are The Products?
I decided to kick off my experience using the wash shampoo and conditioner first because I wanted my car to look its best before waxing it.
The shampoo lathered up really well and left my car feeling very clean, and the conditioner made my paintwork smooth and shiny. But when I got to using the Quick Interior Detailer and the Liquid Wax, I wasn't so impressed anymore. The detailer didn't do much to my car's interior except for maybe the plastic parts. The carpets and upholstery needed an extra cleaning boost to look proper.
As for the Liquid Wax, I found it hard to apply as it was too thin, runny and challenging to spread over the paintwork.
I also tried the scratch remover on some swirls and marks. It made them unnoticeable, so that was a win. But on another occasion, when my car was dirty, and I wanted to degrease it using the clay bar, I got disappointed because it didn't remove all the dirt or grime from the paintwork. It just left a thin layer of clay on top of the paintwork, making it look worse.
One product I liked was the High Gloss Gel. It left my car looking quite shiny and was easy to apply. However, it wasn't long before my car needed another coat.
Overall, the products are good but not strong enough. So, an 8 out of 10 is quite a fair score for Meguiar's car care kit.
What About Customer Service?
During the few times I had to interact with Meguiar's customer service team, I was quite happy with the way they handled my issues, and this time was no different. After receiving my car care kit, I had to contact them to get some replacements for products that I had already used, and they were very helpful. They sent me the replacements right away and apologized for not having enough stock of the product I wanted. I give their customer service 9 out of 10.
How Long Did The Products Last?
I used all of the products in Meguiar's Complete Car Care Kit for about 5 weeks before running out of them, which is about average for detailing products like these. But I did use quite a lot of each product to get my car looking as good as possible, so if you are only using these products on your vehicle now and then they will probably last you longer than they did me!
My Overall Opinion Of This Kit
I think this kit is a good idea in theory but hasn't been put together well. It lacks some of the most important things you need for car detailing, such as enough towels, brushes, and applicator pads.
Other than that, I believe this product would work for someone who has already done a few detailing jobs before, but wants to try something new — this kit is not for beginners.
I also feel this kit is pricey because you can get much cheaper kits with similar results. But if you want a car care kit that includes many quality products, and are ready to invest some extra money in detailing tools, then it can probably work for you. For me, though, when it comes to what you get for your buck, Meguiar's Complete Car Care Kit gets a 7 out of 10.

---
Meguiar's Complete Car Care Kit