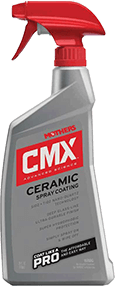 Today I have a special review for Mother's CMX Ceramic Spray Coating.
If you're into cars or detailing, I'm sure you've heard of Mothers. They have been a household name in the auto detailing industry since the early 70's. I'm excited to share my honest Mothers Ceramic Wax review where we'll look at how well it does at keeping up with the competition, innovating in the age of ceramic, and whether or not this product is a good value for the money.
What is Mothers Known For?
Mothers car care products came to prominence in the 70's with the popularity of their "California Gold" Carnauba wax. This was a revolutionary product at the time, and led to several decades where Carnauba wax was seen as the best option for protecting and shining your car. This reputation came from Carnauba's high heat tolerance, its ability to make paint glossier, and the long-lasting finish due to the hardness of the wax.
Over the years, new technologies have emerged and now Ceramic Coatings are seen as an easier, stronger, and longer-lasting way to protect your vehicle's finish. Mothers has tried to keep up with the times, and has come out with their own ceramic product called Mothers CMX Ceramic Spray Coating.
How Strong Is Mothers CMX Ceramic Spray Coating?
The first thing I look at when evaluating a ceramic coating product is the strength of the formula.
Does the CMX have a hydrophobic protection formula?
How long does Mothers CMX Ceramic Coating last?
How much silicon dioxide is found in the formula?
Well, I found that Mothers Spray Wax did an ok job of repelling water from my exterior surfaces after applying. There was significant water beading immediately after application, but when I used a hose to wash the windshield and body surfaces, lots of pools of water appeared, showing that the product is not strong enough to have "sheeting" action.
The lack of "sheeting" is likely due to Mothers formula, which is very different from other competitors on the market. If you've read my reviews before, you know that the primary molecule responsible for protecting your surfaces and repelling water is silicon dioxide (or SiO2), which is an ingredient found in Mothers Spray Wax. Together with SiO2, Mothers CMX Ceramic Spray Coating also contains titanium dioxide (TiO2), a different molecule with different properties. I am not a chemist, but I would rather use a product that has a higher percentage of SiO2 than one that is diluted with other chemicals like titanium dioxide.
That being said, I found that the protective layer from Mothers Ceramic Spray Wax has a durability of over 3 weeks before needing a re-application. This is much better than competing products like TopCoat F11 and Shine Armor.
Given the relatively weak formula but long-lasting protection, I give Mothers Ceramic Spray Wax a 6/10 for product strength, but an 8/10 for longevity.
What Should You Know Before Buying Mothers CMX Ceramic Spray Coating?
Unfortunately, every ceramic product I've tested has had a few quirks and drawbacks, so I feel it's important to go over these when writing an honest review of Mothers Spray Ceramic Wax.
The first major issue with Mothers CMX Ceramic Spray is that it creates white crystal flakes on your car's surface if you apply too much or let it sit for too long. If your car is black or another dark color, this can be very annoying because the flakes are quite visible. My guess is that the flakes are a result of the titanium dioxide in the formula, which we haven't seen in any other ceramic spray product.
The way to avoid the flakes is to purchase a separate applicator pad, spray the product onto that, and then apply. Obviously, this adds an additional purchase to the cost of the product, which is not ideal.
One cool thing about Mothers CMX Ceramic Spray Coating is that it can be applied to both wet and dry surfaces. I got better results from drying my car first, but it's cool that the product is so versatile.
Does Spray On Ceramic Coating Work?
If you want to keep your car clean and shiny for longer periods of time, few products can beat an ultra durable ceramic coating that has been professionally applied. Still, this is quite a costly process that only a few of us car lovers can afford regularly.
For those of you looking for a product that is easy to apply at home, I found that Mothers CMX Ceramic Spray Coating does a better job than you may expect from TopCoat F11 or Shine Armor. But, it still doesn't beat Nexgen in terms of longevity and shine power.
I've seen on many forums people asking the question "Can Mothers CMX be used on glass?". I personally haven't tried Mothers CMX Ceramic Spray Coating on anything other than paint. Mothers CMX was developed to be used solely on paint finishes, so I do not recommend that you try using this product on surfaces like vinyl or glass.
Is Mothers Ceramic Spray Wax A Good Value?
This product sells for $21.54 on Amazon, which is slightly more expensive than products like Shine Armor or Nexgen Ceramic Spray. However, one bottle of Mothers Ceramic Spray Wax contains 24oz, which is more than both Shine Armor and Nexgen.
I still think that Nexgen Ceramic Spray is a better value than Mothers because it is much more potent, meaning you have to use less volume to coat your vehicle. On top of that, Nexgen lasted more than twice as long as Mothers Ceramic Spray Wax and repelled water more effectively. Since the two products are essentially the same price (Nexgen is $2 cheaper), I would still recommend buying Nexgen over Mothers.
Product Quality Scores

All of that said, I know if you're reading this you're probably very loyal to Mothers products. They are a good company and this is a decent product for protecting your vehicle. If you want to check it out, click the button below to see this product on Amazon:
---
Try Mothers