Today I'm sharing with you my TopCoat F11 review, one of the first detailing sprays I used on my own car. If you're into detailing and ceramic sprays, I'm sure you've heard of F11. They are a market leader in detailing sprays, and have had their ads plastered all over social media for a long time. But does the F11 really live up to the hype?
In this post I'll go over all the details regarding the effectiveness of this product, how it works on different surfaces, and whether or not TopCoat F11 polish sealer is a good value. But first, I want to clear something up…
Is TopCoat F11 A Ceramic Coating?
Although there are many posts and reviews discussing TopCoat F11, there is a lot of misinformation on the internet about what kind of product this really is. They promote themselves as a ceramic protection spray that can successfully replace any car wax, but that's not really true. TopCoat F11 is really a detailing spray, that is good for wiping and shining your cars. It doesn't have any hydrophobic properties, meaning it does not provide any level of paint protection from water, bird droppings, bugs, salt, dirt particles, or UV light.
If you've read my other reviews, I've explained that all ceramic coating products contain silicon dioxide (SiO2), which is the molecule that repels water and protects your vehicle from the elements. Most ceramic products contain around 3-5% SiO2, while one even contains 13%! Unfortunately, TopCoat F11 does not contain any SiO2. That means it is not at all effective for protecting vehicles from contaminants.
Is TopCoat F11 Legit?
TopCoat F11 is lying to customers…They've even made some ridiculous claims in their fake reviews, videos, and social media ads stating things like "After using TopCoat F11, You'll Never Wash Your Car Again!"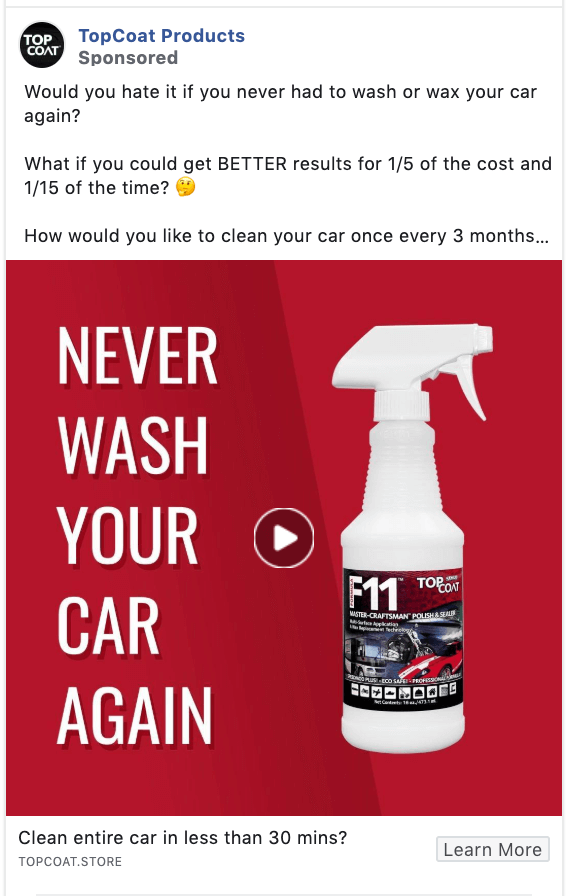 …Really? They think that using TopCoat F11 will make it so that I never have to wash my car ever again? I hate being lied to by advertisers, so I was very annoyed when I saw this advertisement a couple weeks ago. That's why I wanted to write a review that tells people the truth.
Is TopCoat F11 The Best?
In my opinion, no. From my experience, F11 does a good job removing bug splatter from my front bumper. It also provides a nice showroom shine if you're going to a car show and need to gloss up your ride before you head in. Just don't trust any review telling you that you can expect TopCoat F11 to provide a protective ceramic layer like other products such as Nexgen Ceramic Spray or Torque Detail.
As much as I'm annoyed with TopCoat F11 and their misleading advertisements, I try to be completely fair and honest in my reviews. I will say that one good side of Topcoat F11 is their customer service. If you have any problems at all with your product, you'll speak to a good representative from the USA.
Is Topcoat F11 A Good Value?
The answer to this question is a definite no. And don't trust any other review telling you the opposite! TopCoat F11 sells for $59.97 for a single bottle, more than 3x the cost of better products – including our #1 ranked product, Nexgen Ceramic Spray. Not only is TopCoat F11 insanely more expensive than their competitors, but it doesn't provide any protection for your vehicle. It's simply a shining and detailing product. I would much rather spend $19.95 on a product like Nexgen Ceramic Spray, which provides a similar shine to your vehicle, while protecting the surface with its 13% SiO2 formula.
Product Quality Scores

So with all the drawbacks for Topcoat F11, I can not recommend this product to my readers. However, my website policy is to fairly link all items after every review, so if you're interested in learning more feel free to click the button below:
---
TRY TOP COAT F11