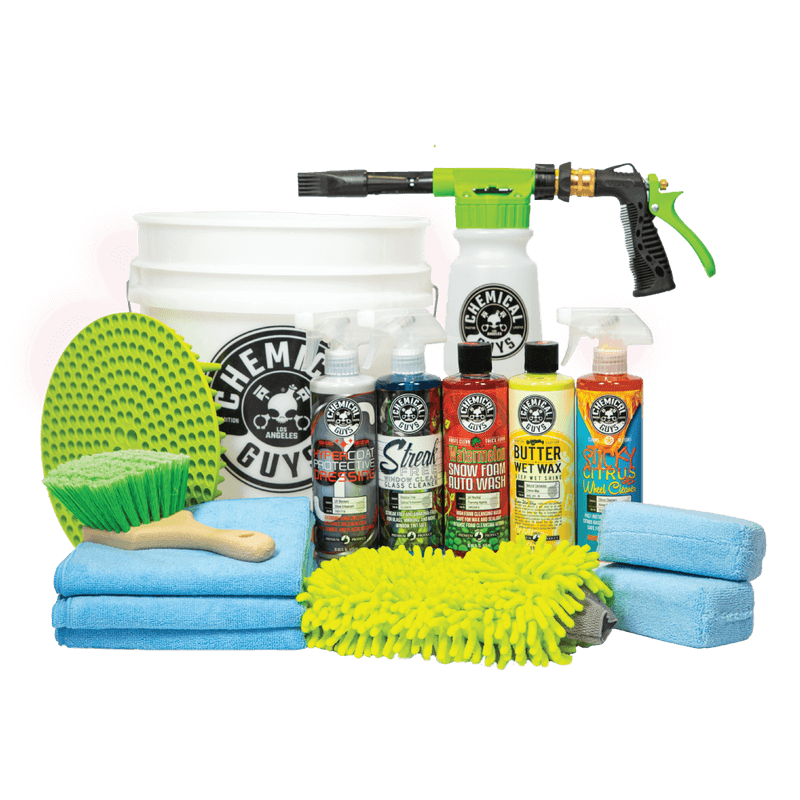 Is the All Season Arsenal Kit from Chemical Guys the best kit out there for washing and detailing your car? Let's find out!
To be honest, I was curious about this kit. I've used a lot of Chemical Guys products in the past and have always been very happy with them. I tried their glass cleaner, tire shine, wheel cleaner, and a few other things. They are always good quality products that deliver great results. But before spending any more money, I scoured the internet to find the most detailed and honest reviews about this kit. And what did I find? A resounding thumbs up from its users!
Now as many of you know, seeing a bunch of positive reviews is not the whole story. I've found that many people tend to exaggerate a product's qualities to make it look better than it is, so I always look for negative reviews as well. This time tho, I couldn't find much, which is pretty surprising, considering how much people love to complain about products on the internet. So I decided to do my own research and check out this kit myself.
In this All Season Arsenal Kit review, I'll walk you through the pros and cons of the main products in it, my experience with how they work, and what results to expect. I'll also touch on Chemical Guys' customer service as it is a key aspect of any brand and can help you decide if it's going to be the right fit for you.
What's Included In The All Season Arsenal Kit?
The All Season Arsenal Kit is a collection of some of the best Chemical Guys products on the market today. It includes:
1 detailing bucket
1 cyclone dirt trap
1 foam blaster
1 cleansing wash
1 microfiber wash mitt
1 wheel cleaner gel
1 high gloss dressing
1 signature glass cleaner
1 carnauba wax
2 microfiber applicators
3 microfiber towels
1 brush
As you can see, this kit is quite comprehensive. It comes with almost everything you need for cleaning and detailing — including a bucket, a dirt trap, and pro accessories like wheel brushes for deep cleaning. This makes it a very convenient and even unusual kit.
What's not included in this kit, and in my opinion is a must for any car care arsenal, is an interior cleaner. This is probably the most important thing to have in your car…but no one really thinks about it. We all know a car's interior can get pretty gross — think food, drinks, kids with sticky hands, furry pets, and more.
An interior cleaner will help protect your car's upholstery, clean carpets, and sanitize the inside of your car. Without one, the All Season Arsenal Kit will only get an 8 out of 10 from me in terms of variety.
Pros
One thing I like about the All Season Arsenal Kit is that it comes with the bucket and dirt trap combo, which are two essential items for proper car care maintenance, especially if you live in an area where the weather isn't always gentle on your ride.
Usually, I had to order these tools separately as not too many brands include them in their kits. Chemical Guys, here's a thumbs up from me!
The dirt trap tool works great at trapping all dirt particles from washing mitts and rags, and it is easy to clean as it is made of synthetic materials.
The foam gun, in conjunction with the cleansing wash, is my favorite type of combo for car cleaning. I like to use it to blast away dirt and grime from the surface of my vehicle. It's easy to maneuver and doesn't require a lot of car shampoo to get the work done. Not to mention that the Watermelon Cleansing Wash is a delight to use and leaves your car smelling fresh and clean.
The microfiber towels are also essential for proper car care maintenance. The ones included in this kit are soft and absorbent, making them perfect for wiping down your vehicle after washing or detailing. The only problem with them is that they aren't very durable, so you need to be careful as they can easily get damaged if you don't take good care of them.
I was also surprised by how much I liked the Wheel Brush that came with the Arsenal Kit. It is a rather large yet soft brush, so you don't have to worry about damaging your wheels at all.
Another favorite of mine is the Hypercoat High Gloss Dressing, a liquid trim sealant that's easy to use and even easier to fall in love with. It left my car with a stunning glossy shine and durable protection against damaging UVA and UVB rays. All I had to do was to spray it on and then buff it off with a microfiber towel.
Cons
The main downside to the All Season Arsenal Kit is that it doesn't include an interior cleaner. If you are like me and like to have your car pristine inside and out, this kit is not for you.
The other downside is that the Butter Wet Wax comes off very easily and doesn't give you the feel of an actual car wax job. So, if you wax your car regularly and want to keep the factory look, there are other similar products on the market that might work better for you.
All in all, in terms of strength, I would rate the products included in this kit an 8 out of 10.
Is Their Customer Service Helpful?
Chemical Guys' customer service is not bad. I had an issue with the Arsenal Kit, and they immediately replaced it for me. They are very friendly and helpful, which is always a plus in my book.
Overall, Chemical Guys still offers great customer service, and it's worth checking their products out. But because of their return policy, I'll give them an 8 out of 10.
My Overall Opinion Of This Kit
The All Season Arsenal Kit from Chemical Guys is a great kit for anyone eager to start detailing their own vehicle without spending heaps on tools and supplies they might not need. A good kit for beginners and experts alike.
The one thing I wish it had was an interior detailing product. If you want to give your car a nice deep clean and make it look brand new inside and out, you're going to need something extra. However, since most of the products included in this kit are great, the Arsenal Kit scores a 9 out of 10.

---
Chemical Guys All Season Arsenal Kit