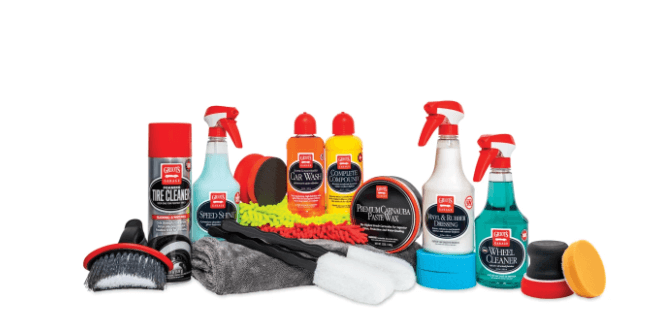 In this Griot's Garage review, I'll be testing the Weekend Therapy Kit to help you determine if this detailing kit is worth spending money on.
When it comes to detailing kits, I'm always looking for the best bang for my buck. I don't have a garage full of cars to detail, so I just want something that will make my only vehicle look great and be easy to use. The Weekend Therapy Kit looks to be a great option, especially if you love Griot's Garage as much as I do.
Griot's Garage has been around for decades, becoming a staple for car enthusiasts and detailers everywhere. Most of their products are top of the line, and you can be sure that your car will look great when using their detailing kits and polishes.
So a few days ago, I decided to give The Weekend Therapy Kit a try. I've had this kit in mind for some time now, but I was reluctant to purchase it due to its price point. But hey, I'm the first to acknowledge that sometimes you have to spend a little extra cash to get the best experience. So with that said, in this honest review, I break down my experience with Griot's Garage Weekend Therapy Kit for you.
What Is The Weekend Therapy Kit?
First and foremost, this is not just a weekend kit like its name implies, but a collection of car care products that you can use regularly to keep your car looking great. It includes:
1 Car Wash
2 Microfiber Wash Pads
1 Extra-Large Towel
1 Foaming Tire Cleaner
1 Tire Scrubbing Brush
1 Wheel Cleaner
2 Long-Reach Wheel Scrubber Brushes
1 Synthetic Clay
1 Speed Shine®
1 Complete Compound™, 16 Ounces
1 Carnauba Paste Wax, 14 Ounces
1 Foam Correcting Pad
1 Foam Waxing Pad
1 Pad Holder
1 Vinyl & Rubber Dressing
1 Blue Detail Sponge
Now, I'm not going to use this review to throw a stone and say that this Griot's Garage detailing kit doesn't include a great collection of products. It does! But it doesn't come with anything for the interior of your vehicle. Plus, it only comes with one towel. Okay, it's an extra large towel, but still not enough if you want to do different detailing jobs and need a clean towel for each.
So if you are looking for a detailing kit that only addresses your vehicle's exterior, this might be it! But if you are like me and want to keep your interior looking as good as the outside, then you have two options. Either buy the interior products separately which will add up to the already high amount you pay for this kit, or just get another kit altogether. My favorites in terms of variety are Nexgen's Ultimate Cleaning Kit and Meguiar's Complete Car Care Kit.
For me, The Weekend Therapy Kit misses some essential items, so in terms of variety, I'll rate it a 7 out of 10.
What I Liked About The Weekend Therapy Kit
I loved the fact that this kit comes with many quality tools you need to wash, wax, and clean the exterior of your vehicle. And best of all, it doesn't come with any of those cheap microfiber towels that fall apart after a single use.
It also comes with a good selection of brushes and pads for cleaning every inch of your car from top to bottom. And don't forget about the awesome Griot's Garage foam correcting pad. It is made to be used with all their polishes and excels at removing light to moderate defects.
Now when it comes to the detailing products included in this kit, I was mostly impressed by the Speed Shine®. This product really keeps its promise. It maintains the car's lustrous finish between washings and lifts dust, pollen, smudges, and light grime. Double win!
Another item worth mentioning is the Vinyl And Rubber Dressing. I've been using it obsessively for one month now and love how it makes the vinyl and rubber on my car look brand new. It's also very easy to use.
What I Didn't Like About The Weekend Therapy Kit
The first thing I didn't like about this kit was its price tag — which I mentioned at the start of this Griot's Garage review.
At $174.99, it's definitely not cheap. However, considering what's included in it, the price point is not too bad, especially considering how much some of us spend on detailing our precious rides. The issue, for me, is that this kit doesn't include an interior detailer or anything for cleaning the inside of your car — say…a shampoo or upholstery cleaner.
Another con in my book is that this kit doesn't include enough microfiber towels. I know this may seem like a small detail, but when you invest in a kit like this, you'd expect to get at least 2-3 microfiber towels.
If talking about product strength, except for the two I mentioned earlier — the Speed Shine® and the Vinyl And Rubber Dressing— the others are just average.
You can find similar products in the market with more strength and durability at a much better price. I was mostly disappointed by the Foaming Tire Cleaner because when I tried to use it, it just did not foam. It was a watery mess and did not clean my tires. If you have really dirty tires, this may not work for you.
So in terms of strength, the The Weekend Therapy Kit gets a 7 out of 10 from me.
What Was My Biggest Disappointment?
I have always considered Griot's Garage customer service to be top-notch. Not this time, unfortunately. I reached out to them with a question regarding a bottle of product that had spilled during delivery. I wanted to know if their shipping company would be responsible for this or if I needed to contact UPS directly.
What I received was a one-line email that didn't really answer the question. I followed up with a different question and was met with radio silence.
I'm not sure if they were just understaffed or if maybe some of the workers there are not as knowledgeable. We all make mistakes, but I expected it would be handled differently.
With this being said, a 6 out of 10 is the highest I could rate their customer service after this last interaction.
Product Quality Scores
I promised you that this Griot's Garage review would be honest and unbiased. This is why, in my opinion, The Weekend Therapy Kit is only worth it for one single reason. The quality and variety of its detailing tools.
This is one of the few kits that include high-quality pads and brushes that will not scratch your car's paint and a sponge that won't leave swirl marks when you rinse it off. The detailing tools are the highlight of the kit. Extremely high-quality, these accessories go above and beyond the standard detailing tool.
Overall, in terms of value and what you get for its cost, the Weekend Therapy Kit gets an 7 out of 10.

---
Griot's Garage Weekend Therapy Kit