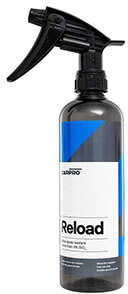 I have been excited to write this Car Pro Reload review because this product is one of the highest rated ceramic coating sprays on Amazon. With those ratings and the other reviews I came across online, I knew that I had to try out this product. Car Pro Reload is sold almost exclusively on Amazon, which can have both its pros and cons. So let's see if this ceramic coating is really worth the hype.
How Strong Is Car Pro Reload Spray Sealant?
The first time I try a new ceramic product I like to start my evaluation by seeing how strong its formula is. This generally lays the foundation for how long it will last and if it's worth the cost. I found a review that described Car Pro Reload as "packing that glass-like gloss" and that it is a convenient "spray on, wipe off sealant." I decided to really put this to the test and apply it to my truck since I knew my truck was going to be getting a lot of use in the coming weeks. After applying it on the whole car, one thing I noticed was that it can streak if not applied perfectly. You really need to read the directions with this one! Like Nexgen Ceramic Spray, this formula is very strong and the main reason people see streaking is they have used too much. You really only need a tiny bit to build a strong ceramic bond to your topcoat.
After paying very close attention and making sure not to use too much spray on the vehicle surfaces, the job was complete and it immediately had a really good shine. I would say that compared to other car care products claiming to give you that glass-like shine, Car Pro Reload actually does…if applied correctly. I would rank it right up there with Adam's Ceramic Boost and Turtle Wax Ice. Over the next several weeks, I took the truck out on a couple road trips and put it through some pretty crazy thunderstorms and I was impressed with how this product handled all of the elements that I came across, keeping my vehicle clean and free from water spots. Compared to other maintenance products this one has strong water and dirt repellent properties, while still holding its shine. After adding about 2,000 miles to my truck over about 8 weeks I was impressed that it still looked pretty clean and shiny. I noticed that dirt wasn't sticking as easily and that dust didn't really seem to settle on it either. On top of that, it didn't allow any water beads to form. Overall, I was impressed by the shine.
How Long Does CarPro Reload Last?
While reading through some Amazon Car Pro Reload reviews, I came across one that said it is strong enough to last 3-12 months, well that is a pretty big range, so I thought to myself, how do I close that gap? This is where Car Pro Reload really seems to pull ahead over several of the other spray sealants that I have used and reviewed. I can honestly say that yes, this product lasts longer than most other ceramic coatings. I found that even after putting my truck through several road trips, a move and my normal daily driving, after three months water was still repelling and there was still a decent amount of shine. I would say you can get to month three before starting to touch up certain areas and possibly thinking about reapplication.
This Spray Wax Is Exclusively Sold on Amazon
If you type in Car Pro Reload on Amazon, you will end up with about 165 results. That to me was a tad bit overwhelming. However, with those results you are given even more information and reviews to help you choose what products you want to order. This also gives them a leg up in ratings for customer service since you can return items straight through Amazon. The downside to shipping through Amazon is that your product may not arrive in the best condition. The first package I ordered was pretty banged up and one of the bottles was leaking. I went online, filled out the quick Amazon return form and received a new bottle of Car Pro Reload within a few days. Since returning/exchanging my purchase was that simple, I gave them a 9 on my customer service ranking. The return was quick, easy and pretty foolproof.
Is CarPro Reload Worth The Cost?
This is where Car Pro Reload takes the biggest hit. Compared to other products I've reviewed, Car Pro Reload is quite expensive, costing $15.95 for less than 4 ounces. Now you might say, "you get what you pay for." This is very true, I typically do not mind paying a higher price for a product if it is a good quality and lasts a long time. However, I used basically half bottle of Reload on my truck with enough left for touch ups. With Nexgen I can buy an 8oz bottle for $19.95, which can coat my truck 3 to 4 times and it lasts even longer than Car Pro Reload. So is it worth the cost? I would have to say yes — but only if I am out of Nexgen!
Would I Buy This Product Again?
I would definitely purchase another order of Car Pro Reload just to have in my garage. This product is easy to use, easy to apply, offers UV protection and good paint protection. Since their shipping is fast through Amazon, it makes it a convenient option to have if you are willing to pay a little more for less product. Since you really only have to deal with Amazon if there's an issue, it makes return and refunds easy. This ceramic spray stands the test of time and is a strong product. The only drawback I really encountered was the price compared to other products. As long as you read the directions and make sure not to apply too much, you'll get great results from this product. All in all, at the end of this review, I can say that I'd give Car Pro Reload a well deserved "A" and put it in the same category as Adam's and Turtle Wax Ice.
Product Quality Scores

---
Try Car Pro Reload