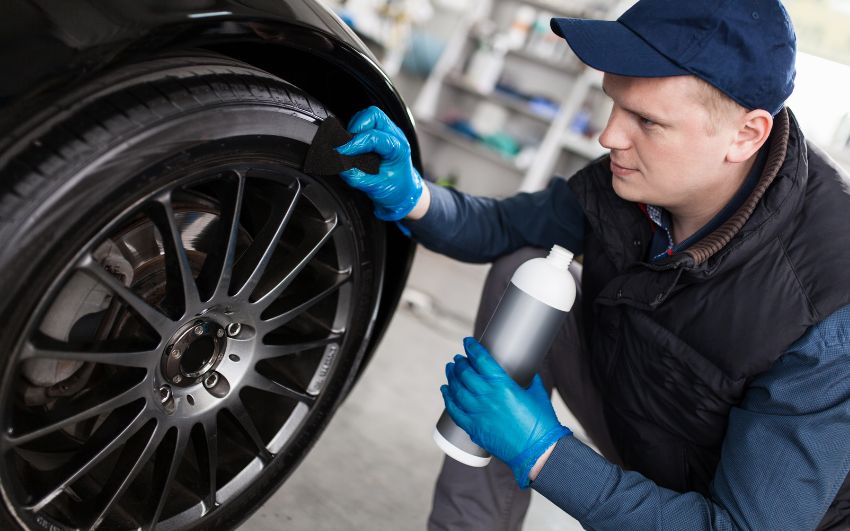 You spent the time and money on perfecting your auto glass and paintwork. Your chrome glows in the sunlight, but you're somehow less pleased than you'd hoped. Something is missing. That next level of sophistication has eluded you. The thing is, if you're detailing your vehicles and skimping on your tires, you're selling yourself short. It's like putting on a nice suit and then kicking on flip-flops.
While a matte finish is most common, there is something about a wet look that elevates the overall appearance of a car. Below, I've compiled a list of the best wet-look tire shines.
5 Best Wet Look Tire Shines In 2023
Tires are expensive, so it makes sense that you would want them to look good while keeping them in pristine condition for as long as possible. The market is so saturated in tire dressing options that I figured I'd try them all and narrow down the best wet-look tire shines for you.
1. Nexgen Wet Look Tire Shine: The Best Choice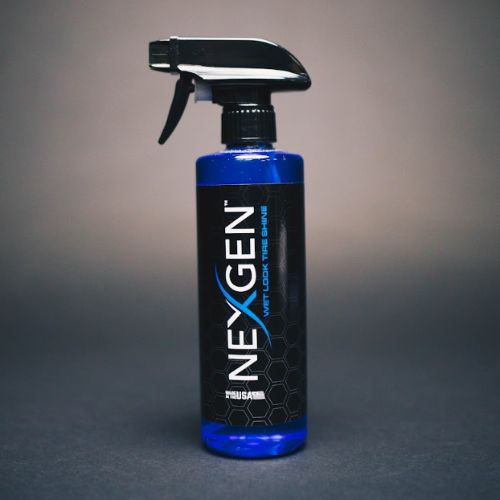 If you want to make car tires shiny, Nexgen should be at the top of your list. This tire shine spray was made for the showroom. Even if you've never used a tire shine and you're thinking your tires look pretty dull, Nexgen Wet Look Tire Shine will leave you with such an intense gloss, your tires will look brand new.
Now, I know you're here because you want a wet look tire shine, but we can't look past the most important feature of using a tire dressing: Protection. Along with your clean, classic shine, you're also getting UV protection, an advanced water-resistant layer, and a moisturizer that gets deep into the trim, extending the lifespan of your tires.
This is also one of the longer-lasting wet look tire shine products I've used. Outside of our heavy rainy season, I found that I only need to apply this stuff about every two weeks.
Pros:
Showroom-level wet tire shine
Safe on wheels, rims, and tread
30-day money-back guarantee
Free shipping to VIP members
Cons:
A bit more expensive than the other products on this list
Not available in brick-and-mortar stores, but can easily be purchased through Amazon or Nexgen's website.
2. Carfidant Car Shine Tire Spray


I'll start by mentioning that this one seems to wash off quickly in the rain. However, it absolutely will give you a deep, wet shine. The product is a buildable dressing, so you can put on a more natural-looking shine for a new tire look or go in fully for a more "soaking wet" shine.
Carfidant Car Shine Tire Spray is great to have on hand if you need a quick solution before a night out on the town. The company also makes it pretty convenient since the bottle has a small applicator pad.
A unique feature of this tire shine is that it doesn't contain any extra dyes or harmful scents. As with most tire shines, it protects your tires from harmful UV rays, salt, and other road grime. The only issue I've come across so far is streaking, which is usually from me applying it too quickly and isn't a difficult fix.
Pros:
Buildable shine
Comes with an applicator pad for convenience
Environmentally friendly
Made in USA
Cons:
Needs to be reapplied after experiencing rain
Will streak if you're not careful during application
3. Chemical Guys Galactic Black Wet Look Tire Dressing
A cool feature of Galactic Black is that it's customizable. The initial application will leave a satin finish, and each application after that will layer on the shine. Additionally, the longer you leave each layer on before buffing, the more shine you'll see. The downside is that this could make tire dressing a lengthy, tedious process if you're going for the highest level of shine achievable.
Galactic Black Wet Look Tire Dressing can also be used on all of your car's raw exterior plastic trim. The deep black shine will help to prevent fading, repel water, and provide UV protection. While Galactic Black is an oil-based formula, I found that it was still dry to the touch after application.
Pros:
Cheap and easy to find in stores
Dry to the touch. No oily or greasy residue
Buildable shine
Cheap and easy to find
Cons:
Leaves an initial satin finish, so you'll go through more products to get a wet look
It can greatly increase application time based on how wet you want your tires to look
4. Ever Wet Spray Tire Shine
As far as convenience goes, Ever Wet is the fastest and easiest wet-look tire I've ever used. This silicone-based formula comes in an aerosol can and all you have to do is spray on an even layer and let it self dry. No buffing is required. The shine level was pretty typical of a wet-look tire shine and lasted several days.
As far as protection goes, Ever Wet provides a water-proof barrier as well as UV protection. The only issue I experienced was the nozzle leaking, but for the convenience and price, it's hard to complain.
Pros:
Very fast and easy to apply
Cheap and easy to find in many brick-and-mortar stores
Cons:
The nozzle is prone to leaking.
5. 303 High Gloss Tire Shine and Protectant
This water-based tire shine is another great option. While it does give a wet look and tire shine, I wouldn't say it's a high gloss shine. In my experience, 303 High Gloss Tire Shine and Protectant will give you a more toned-down wet look and lasts about a week, depending on how much rain you experience. A feature I really appreciate is the lack of greasy residue after application. It's also paint-safe, and overspray is easy to wipe off.
Pros:
Nongreasy formula
UV protection
Easy clean up
Cons:
Tires look damper than "wet"
Price varies a lot depending on where you buy it
How To Apply Wet Look Tire Dressings Properly
Every product will have its own set of instructions listed for best results, and it's always best to follow the manufacturer's directions. However, some general steps will get the job done.
When applying any protectant or moisturizer to your vehicle, step one is always prep work. Start by cleaning your tires. Whether you opt to run a pressure washer over them on a low setting or use a quality tire-specific cleaner, the point is to remove any contaminants that would prevent the product from properly adhering to your tires.
Use an applicator pad to evening distribute the tire shine over the face of your tires. Repeat as needed to achieve your desired level of shine. Then use a microfiber cloth to buff away any excess product to avoid sling.
Even with a tire shine that is listed as "no sling", any extra fluid you leave sitting on your tires that isn't absorbed will go flying once you start driving. Additionally, it is important to let the tire dressing sit for at least 10-20 minutes before driving to allow it to adhere to the rubber fully.
Quick steps:
Clean your tires
Tape off the surrounding panels if needed
Spray tire shine on an applicator pad
Agitate around the face of the tire until it is fully covered
Repeat as needed to achieve your desired level of shine
Use a microfiber cloth to buff away any excess product
Allow the product to sit for 10-20 minutes before driving
FAQ on Wet Tire Dressings
How long should tire shine sit before driving?
Generally, you'll want to let your tire shine sit for 10-20 minutes before driving. However, some products might give a longer wait time. It's important to read the instructions for the brand you chose. Another thing to note is that warmer weather will speed up the drying time quite a bit.
Is tire shine good in winter?
Yes, cold weather can dry out and make your rubber brittle, so a protective tire shine is beneficial in keeping your tires in good condition. The water-proofing agents will also help shed ice and snow.
Can you apply tire shine on motorcycle tires?
Tire shine should never be applied to motorcycles or any other type of bike tire. Even if you are careful only to apply it to the sides, it will likely seep into the treads, which can lead to a lack of traction while riding. When turning, your bike tilts, and a different part of the tire runs along the pavement. If this part of your tire is lacking in traction, you're at a very high risk of accidents. Think of it like riding a motorcycle over an iced-over lake. It's not going to take long for the bike to slide out from under you.
Should I pick water-based or solvent-based tire shine?
This is more of a personal preference. If you're looking for something that you can use on all of your rubber and raw plastic, then you might want a water-based formula. However, if you're looking for more of an extremely deep, soaked showroom look, then opt for a solvent-based tire shine.
How do I know if my tire shine is water-based?
There are exceptions, but for industry standards, water-based tire shine is generally a milky white color. Whereas solvent-based tire shines will showcase a blue shade.
How long do tire dressings last?
A quality tire shine will give you 1-2 weeks of performance, depending on weather conditions. Additionally, some tire shines can be applied in multiple layers, increasing their longevity by 5-7 days.
Can I apply tire shine with a towel?
You could, but it's not recommended. You'll have an easier time and get a better result with an applicator pad.
Does tire shine last in the rain?
Your tire shine should have waterproofing agents to prevent it from rinsing off quickly. Depending on how severe the weather is in your climate, you should be able to get through a few rains before the product begins to wear down.
Bottom Line
We all know that tires are expensive and giving them some extra care can prolong their life. Tire dressings can keep them looking new, but there is a flashy, almost creative side to tires that is often missed.
In all of my experience testing out products and detailing vehicles, from your day-to-day commuter vehicles to getting luxury cars ready for the showroom floor, I can confidently say that the products outlined here are the best wet-look tire shines on the market.