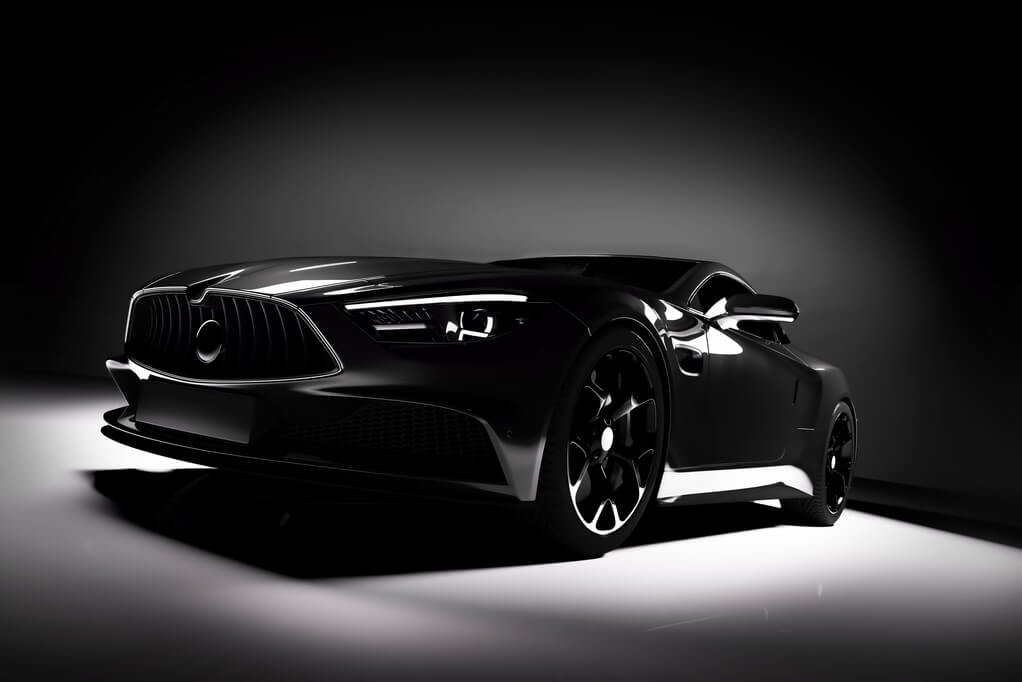 With so many options out there, it's difficult to know exactly what the best car wax for black cars is. This becomes even more difficult if you've never tried any waxes at all. We understand your struggle. That's why, in this article, I'll go through some of the best available black car wax options on the market and review them in detail. This way, you can make an informed decision and find the specific protection your car needs.
The Joys Of a Sexy, Suave Black Car
There's nothing like that new car smell and the feeling you get when you get behind its wheel for the first time. For sure, as a car owner, you can remember when you bought your first, second, or third car. If you are anything like me, the feeling of enthusiasm and eagerness never really goes away when you bring your new wheely sweetheart home.
What makes this feeling even better is when you purchase your vehicle according to your unique preferences and wanted features. And this includes, of course, your color choice!
Some people prefer lighter colors, while others rather go for mysterious and suave dark-colored vehicles. However, others choose to go for a downright black car that feels sleek and truly nails the coolness factor. Apart from this, black also symbolizes luxury and elegance.
This is why when a black car is properly taken care of, it will immediately give off an imposing and impressive feeling to those noticing it on the street. So, here's what you need to know: the secret sauce for a super sleek black car is probably using one of the best car wax for black cars. As cool as black cars are, they do have their downsides! Some of them come up immediately, and others accumulate over time.
Sadly, black paint tends to show every single dust speck, scratch mark, swirl, and any other possible blemish you can think of.
Owners of black cars often notice how the showroom shine only seems to last a little while on their four-wheeled beauties, and imperfections start to show. This is why they start looking for waxes for black cars or other types of treatments and solutions that could fix their troubles quickly.
Ready to dig in? Let's go!
Why You Need To Wax Your Car
If you've never waxed your car before, you may feel it's just another gimmick the automotive industry has found to keep you hooked on spending money. But this couldn't be further from the truth. So, before we find out what the best car wax for black cars is, let's take a look into the reasons why waxing your car is beneficial in the first place.
Car wax is usually applied by detailers after the washing and polishing process to give vehicles that extra-beautiful shine and an added layer of protection.
Regardless of their kind, waxes typically serve to protect the clear coat over a vehicle's paint. The clear coat is what protects the factory paint from all sorts of contaminants that prove damaging to the integrity of the paint. We're talking about corrosive elements such as tree sap, UV rays, rain, snow, bird droppings, street salt, and more.
If the clear coat isn't protected by a layer of car wax, it might grow thinner, and a wide array of scratches and marks will start showing. The bad part is that they'll be directly imprinted on the factory paint, which makes it a lot more difficult (and expensive) to fix, if not downright impossible. I believe this is a good enough reason to make sure you're choosing wisely and that you're following all car care steps as advised in this article.
What You Need To Know About Car Waxing
Waxing can indeed do wonders for the quality and aspect of your car. However, there are some things you should know before getting to it, so you get the results you want from the best car wax for black cars:
You Can Choose From Several Types Of Wax
There are several different types of wax you can choose from: paste waxes, spray wax, and liquid wax. Each of them has its own unique benefits! Make sure you research thoroughly and choose the one that fits you best.
Wax Can Be Either Natural Or Synthetic
Most brands of natural car wax use carnauba in the composition. Carnauba wax usually works better with dark-colored cars, since it does a great job in enhancing the shine.
This type of protection is quite strong, but you'll need to re-apply the natural wax frequently – every few months. On the other hand, synthetic waxes are cheaper than the carnauba ones and don't need to be re-applied as often. This being said, the downside of synthetic waxes is found in the level of shine… it simply can't match the one offered by the carnauba wax.
So, when testing for the best car wax for black cars, be sure to look at the shine factor!
Your Car Needs To Be Perfectly Clean Before Applying The Wax
This is quite self-explanatory, but still worth mentioning. Wash your vehicle thoroughly and clear away any marks or spots. Otherwise, these will get sealed in by the wax coat.
Check For Rust Spots
If you've noticed rust spots, it's recommended that you first repair and repaint them before you start the waxing process.
Check The Weather Before Car Waxing
Make sure you factor in the weather for your big waxing day. Rain or direct sun exposure may seriously impact your waxing mission. It doesn't matter if you have the best car wax for black cars! Weather will still have the final say.
As you can see, waxing your car by yourself is not exactly rocket science. All you need to do is follow these best practices and go into the waxing process with a steady ounce of dedication and attention to detail.
Should You Wax a Black Car?
Absolutely. Especially since black cars are very sensitive to any external factors that will leave their mark on the paint job.
As luxurious and impressive it may look, black paint is just as pretentious and high-maintenance. This is why it's crucial that you actually wax your black car if you want to keep it looking beautiful. While you're at it, you might just want to use the best car waxing products for black cars there are, so you get amazing results.
Specialists recommend regularly waxing your black car, typically every 3-months, as this will help retain its value. So, when it's time for you to sell it, you'll be able to receive the high-value price it deserves since it was well-taken care of while you owned it.
If you've already pre-cleaned and polished your black car in order to eliminate small defects, then you shouldn't skip the waxing part of the process. It's the cherry on the top, and will give you a final layer of shine that will leave your car looking like it just came out of the showroom.
Keen to find out what the best car wax for black cars is? Let's go!
What Is The Best Way To Shine a Black Car?
Since black cars' exteriors are so high-maintenance, you should know there's more than one thing you need to do to provide the shine it craves. The best way to shine a black car consists of several steps you need to follow. Again, black paint is notoriously difficult to maintain.
You Need to Wash It Weekly
Make sure you wash your car weekly, regardless if it's at a professional or automatic car wash, a self-serve car wash or if it's by the curb with two buckets of water. What you need to remember is that it all starts with a thorough washing process.
Even the best car wax for black cars can't do wonders without a proper prior wash.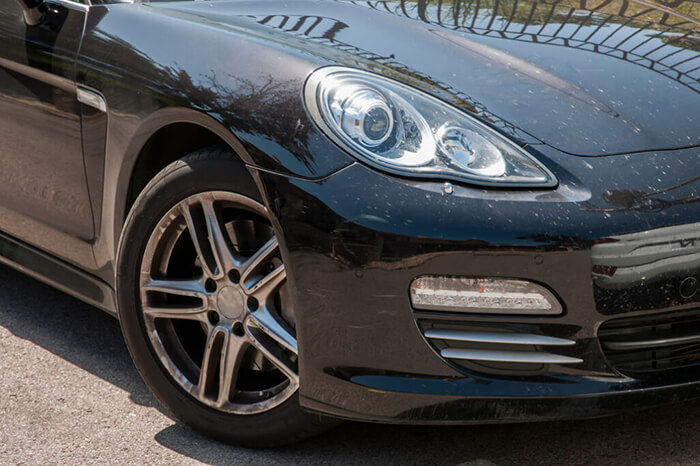 As long as you pay careful attention to how you wash your car without leaving any swirl marks, you're ready to step into the next stage of this process.
Pre-Clean Your Car
This step of the process is important since it enables you to remove oxidation or blemishes. Apply the cleaner on the topmost part of your car by using a microfiber cloth, and then work your way down. Let the cleaner dry off, and then wipe everything off with another microfiber cloth.
After this, you must continue with a polish and wax. If you want the best car wax for black cars to deliver exceptional results, you must go through all these steps.
Polish And Buff Your Car
Use a small amount of polish and apply it on a microfiber cloth, after which you can start wiping the blemished areas. Then gently buff the surface using a damp microfiber cloth.
Wax It
Waxing is the final and most decisive touch in the shining process. Make sure you have top-quality wax on your microfiber cloth and start applying it to small sections of the car.
Start with the upper part of the car, such as the hood and trunk, and work your way down. You should apply several light coats of wax at a time instead of a one-time heavy wax coat.
Even the best car wax for black cars needs adequate curing time! Allow it to dry to a haze for at least 15-20 minutes, after which you can carefully remove the haze. Buff the surface lightly with a clean microfiber cloth from top to bottom, ensuring that you're removing all wax traces on your way down.
Is There a Special Wax For Black Cars?
It's a well-known fact that black cars require a special kind of treatment. Most of the auto wax market offers similar products for the most part. There truly aren't too many wax brands out there that invested resources in developing a special wax for black cars specifically.
However, you'll see below that I've reviewed the best car wax for black cars, offering you five different options to choose from. You'll find, for example, that Meguiar's developed a special wax for black cars that's become quite popular.
What Is the Best Car Wax For a Black Vehicle?
If you own a sleek black car and are looking for ways to enhance its shine through waxing but don't know where to start, I have the perfect list for you.
I know it's difficult to sort through all the options online and find out which is the best car wax for black cars, especially if you're a newbie. This is why I've tested and reviewed 5 of the best car wax products for black cars out there.
In sorting them out and figuring which one to use on our own vehicles, I picked the ones with the most reviews out there, which indicates a certain level of popularity. I then went for those with the best reviews, standing out for top-notch quality satisfaction. In my opinion, this kind of selectiveness is not too harsh. On the contrary, we feel it's the only way to finally unveil the best car wax for black cars.
Let's go through them one by one, check out their perks and downsides, and discover which ones may be the best for your black vehicle. I hope you'll find this list helpful, enabling you to take car care to the next level, the one you've always dreamed of:
1. CAR GUYS Hybrid Wax – Advanced Car Wax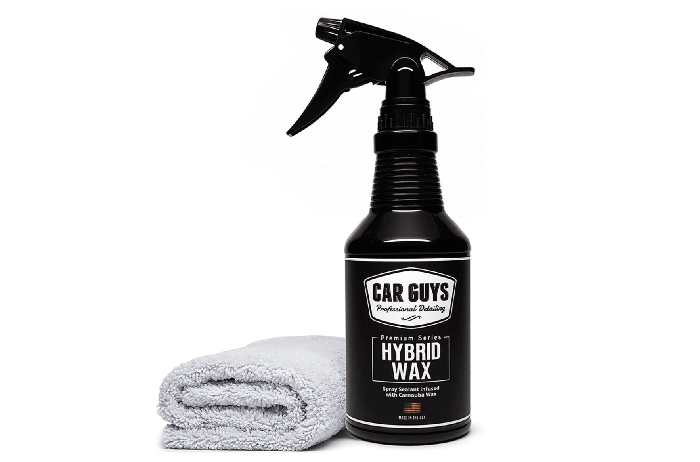 Boasting over 12,000 reviews, the Car Guys Hybrid Wax is extraordinarily popular among car enthusiasts that keep coming back for more.
This product caught my attention, so I wanted to see for myself what the hype was all about. And I certainly found out! If you're wondering which is the best car wax for black cars, this certainly is a powerful contender.
The advanced science behind this product from the Car Guys enables you to give your car a shine that's slick, and very durable. What makes it special is that it doesn't leave any streaks or residues on your black paint, which is really a dream come true for anyone owning a black car. After I waxed my own car with it, its surface was crystal clear.
What also impressed me is that it holds the same strength on any type of surface, so it doesn't work its magic on just car paint. Instead, it shines just as brightly on plastic, glass, leather car seats, and anything else on your car that needs extra brilliance and stronger protection.
Apart from bringing a great, shiny look to all car surfaces, this wax aspiring to reach the best car wax for black cars position also works wonders on trucks, RVs, motorcycles, and boats!
The gloss is not so powerful that you can look at yourself on your car surface's reflection, but it's still quite efficient. This Car Guys wax makes washing easier and is great at repelling dirt.
The 18oz bottle is pretty economical, as it will allow you to wax your car twice with the same product. I used about half a bottle for my car, which is a quite fair value for money, considering the protection is long-lasting. If you enjoy this product, you can also go for the one-gallon bottle, which will save you the hassle of buying again for quite a long time.
Overall, I was very impressed with Car Guys' Hybrid Wax, and I will rate it with a 10 out of 10.
2. MEGUIAR'S G7016 Gold Class Carnauba Plus Premium Liquid Wax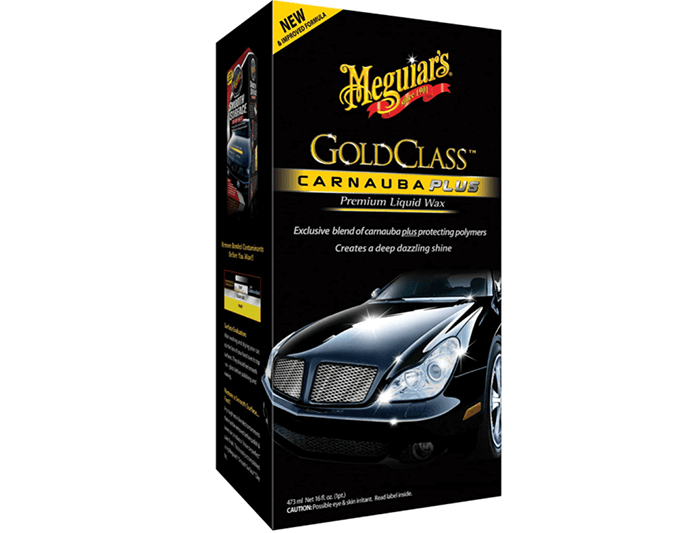 Honestly, I'm pretty serious in my quest to discover what the best car wax for black cars is. This is why I also wanted to give Meguiar's famous wax for black cars a try since it's a very popular product among car enthusiasts. And at over 2,500 ratings, it certainly makes a solid case.
So, I decided that I needed to see with my own eyes why the Meguiar's G7016 is considered one of the best car wax options for black cars.
The polymer technology this product is created with provides about 2-months' worth of protection, depending on the climate you live in.
Created to be totally and completely safe for the clear coat underneath, it leaves no swirl marks behind, making it rank high on our list of the best car waxes for black cars on the market.
Apart from the protection it offers, its strong point lies in the fact that it's specially formulated with a luxurious carnauba-polymer blend that gives the paint a brilliant, reflective shine.
Once I waxed my car with Meguiar's G7016 Gold Class, I got a beautifully reflective surface on the hood of my car, a bonus us car lovers enjoy.
When getting this product, you can also rest assured you've got everything you need to smoothly apply the wax. This is because you'll also find a soft foam applicator in the package, apart from the product itself.
Is this the best car wax for black cars? It may very well be!
I recommend that you wax your car somewhere cool, preferably in the shade for best results. Leave enough curing time – about one hour – for the wax to dry and create a haze. Once you see that haze, you can simply remove it with a microfiber towel. The results will be brilliant!
All in all, when talking about polymer wax for black cars, it's safe to say Meguiar's G7016 Gold Class makes the cut and deserves a spot among the best car waxing products for black cars. Meguiar's does have a way of luring car enthusiasts in, and they do so with high-quality only, and very few, if any, downsides.
I am rating the Meguiar's G7016 Gold Class with a 9 out of 10.
3. Turtle Wax T-3KT Black Box Kit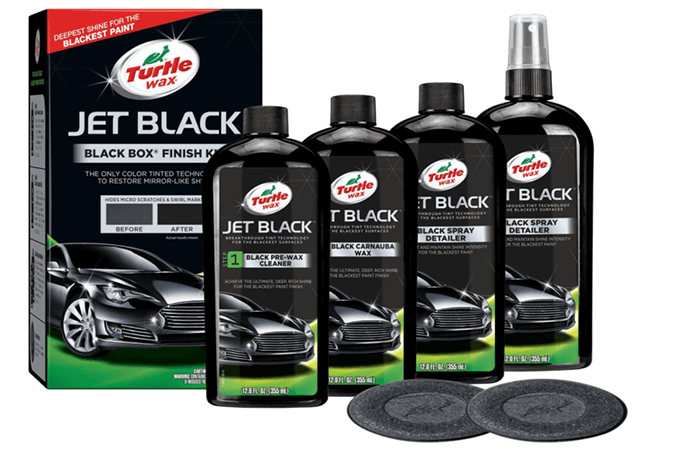 Another popular and appreciated wax for black cars that I just had to review is the Turtle Wax T-3KT Black Box Kit. The wax this kit contains is carnauba-infused, so it has the natural element that's greatly beneficial for black cars.
This kit offers pretty much everything you need for thoroughly shiny results. In the package you'll receive:
1 Black-tinted Pre-Wax Cleaner and Conditioner – 12 oz
1 Deep Black Carnauba Wax – 12 oz
2 Black Spray Detailers – 12 oz
2 Applicator Pads
Considering this kit is so inclusive, the Turtle Wax T-3KT is another top contender for the best car wax for black cars position. All these car care products found in the wax kit will offer you that deep shine you've always wanted. For this multi-step shining process, you'll need to use both an applicator pad and several microfiber towels.
This is how I used the 3KT Black Box Kit, and what I recommend as steps to take:
I washed the car really well.
Used the pre-wax cleaner from the package and left it enough time to dry.
Wiped off the pre-wax using the included detail spray on a microfiber cloth.
Applied the carnauba wax and let it dry properly.
Removed the thin film created by the wax by using the black spray detailer on another microfiber cloth, wiping it off my car.
I don't know if this is the best car wax for black cars, but it is pretty high up there for me. Pro tip! Since the Turtle Wax has a dark tint, I recommend you cover in tape everything that's not black on your car since it may darken those surfaces.
The only downside to the Black Box Kit is that going through all of these steps will take you around 2-3 hours. So be sure to plan accordingly! Also, keep in mind that when using the Turtle Wax Black Box things might get messy as a fair amount of black tint will rub off on your microfiber towels.
All in all, I'm rating the Turtle Wax T-3KT Black Box Kit with an 8 out of 10.
4. P21S 12700W Carnauba Wax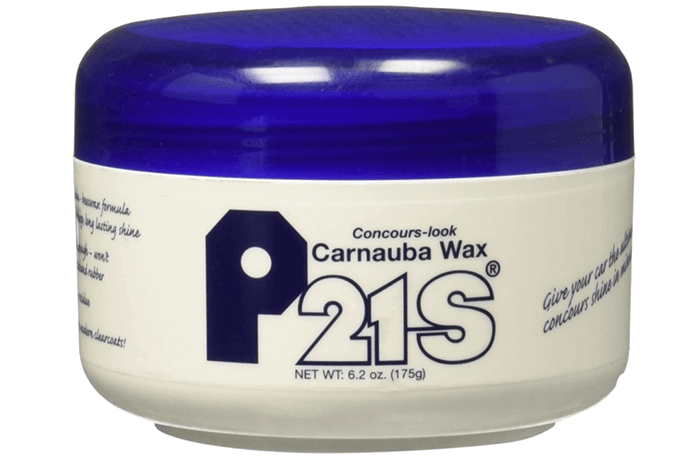 Another product I wanted to review happens to also be Amazon's choice when it comes to the best car wax for black cars.
What makes this product stand out is its ability to give any black car a powerful shine, thanks to its unique carnauba-beeswax composition. This paste wax has been named at some point as the best paste wax in an independent test. However, know that for this product to give its best results, it needs to come as a topper after a good car polish.
As with other types and brands of waxes out there, the P21S 12700W Carnauba Wax can also be applied by hand or machine. Either way, you'll get to enjoy its high ease of use.
I noticed this wax is good at cleaning up minor blemishes off the car's surface, which is a plus in my book.
After all, this is what you'd expect from the best car wax for black cars. Still, I was slightly disappointed that it didn't seem to be that long-lasting. It wasn't even a month before my car needed another waxing session.
In the end, you should test yourself and see how the results measure up against the price you pay for the P21S carnauba wax. If it's worth it, you've found yourself your ideal black car wax. If it doesn't, you'll still have a good enough shine and proper waxing on your car.
I am rating the P21S 12700W Carnauba Wax with an 8 out of 10.
5. Meguiar's G18216 Ultimate Liquid Wax, 16 Fluid Ounces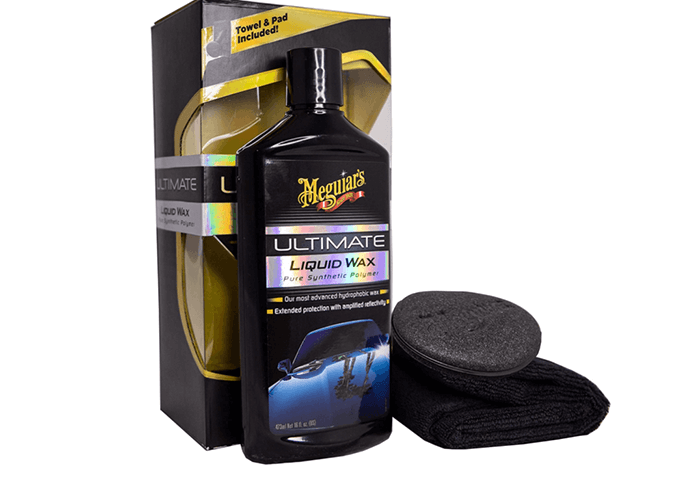 At this stage of my quest to find the best car wax for black cars, I'm returning to Meguiar's products. This time, reviewing Meguiar's G18216 Ultimate Liquid Wax, just as 3,700 other people.
Curious to see if this product deserved its place amongst the best waxes for black cars, I tried it and, I must say, was impressed with how effortless the application of this liquid wax is.
Meguiar's has developed a Thin Film Technology that enables you to apply quickly and just as easily wipes off the wax, even in full sun exposure. I tried mine on a mildly sunny day just to test how the advertising held up, and indeed it left no white marks on the parts of my car that had no paint. However, some customers noticed streaks on their vehicles from this product.
The formula combines advanced synthetic polymers that really give this wax long-lasting durability and shine, which means thorough protection for your car and deep shine for your black paint.
Meguiar's also developed an advanced hydrophobic polymer technology enabling the water to easily bead on the car's surface. Although this product aims to become the best car wax for black cars, I recommend you test it yourself.
Another thing you should know is that Meguiar's G18216 Ultimate Liquid Wax can also be applied by hand, or by using a dual action variable speed polisher like Meguiar's MT300 Dual Action Polisher. It's also safe to use on all clear coats and glossy paints.
My rating for the Meguiar's G18216 Ultimate Liquid Wax is a 7 out of 10.
So, What's The Best Car Wax For Black Cars?
This concludes my review of the best car waxes for black cars, which I hope you've found useful. If you made it to the end, the only product I gave a 10 out of 10 was the Car Guys Hybrid Wax. But, out of all of the other waxes, the lowest rating was a 7 out of 10, so it's safe to say all five did a great job.
The other main takeaway here is that if you own a black car, you need to be willing to give it special care since every single scratch and mark will tend to show on its surface more than any other color.
This is why it's best to go the extra mile, thoroughly wash your car, pre-clean it, apply polish, and then use a wax specially developed for black cars. These products have been formulated to enhance a black car's shine and to offer it long-lasting protection from contaminants.
The list of waxes I reviewed above to determine the best car wax for black cars is a great starting point on your journey to achieve the perfect gloss for your vehicle. Be mindful, though, that even the best products have their downsides! It's up to you to decide if they're deal-breakers or not. I recommend you go ahead and test these five waxes to see which one best suits your needs.
If you have any questions at all or would like to share your own experience, don't hesitate to contact us. We'd be more than happy to talk about the best car waxes for black cars, but also about other car care products we love, such as the best ceramic spray or the best windshield washer fluids.
If you enjoyed this article, you might also like: