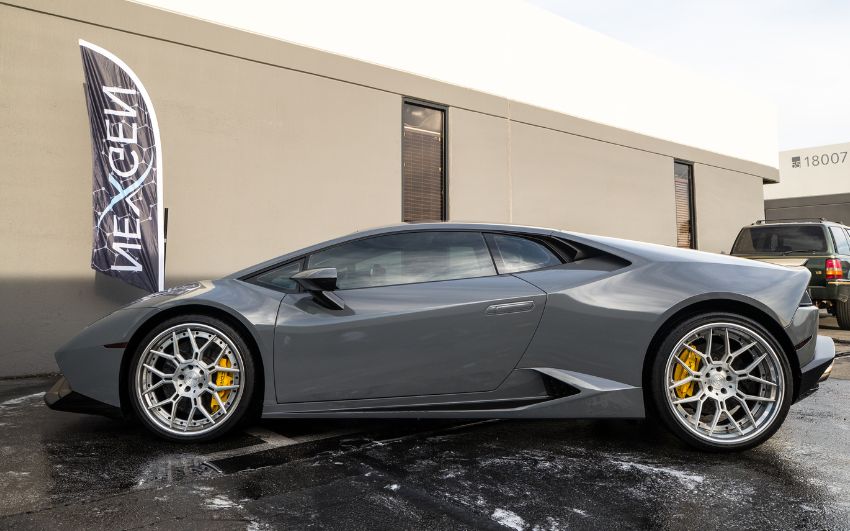 A lot of customers come through my doors asking for a showroom shine. They're looking for that 1962 Ferrari 250 GTO aesthetic with a gloss that could blind their neighbors, and they want to know how to make it last. The answer is a high-performing ceramic coating.
The catch is that real ceramic coatings are hard to apply. They take multiple days and require a lot of enclosed space. Most customers don't want to leave their vehicles for that long, not to mention the price. From a detailer's perspective, it's not easy to commit that kind of indoor space to a single vehicle for half a week. The good news is that there are a lot of detailing companies who've come out with solutions to this very dilemma.
A quick online search of ceramic coatings will come up with numerous brands, all claiming to be better than the others. I'm a bit of a self-diagnosed product junkie. When I see a detailing item I've never used, I immediately look into it, and if all looks good on paper, I've got to get my hands on it fast. I want the best of the best regardless of brand, and my regulars have grown to expect that level of obsessive improvement from me.
Which brings us to beg the question: What are the best ceramic coatings for mobile detailers?
Which Ceramic Coatings Should Mobile Detailers Use?
A true ceramic coating will keep a car's exterior protected for 5-6 years. The coating starts as a nanoscopic paint that is applied as a liquid. That liquid then cures over the surface of your paintwork, creating a hard barrier. Here's the catch, you will need a Ceramic Coating Certification to use this product, and those courses alone can run you around the ballpark of $1,500-$2,000.
To further complicate the matter, it's incredibly difficult for auto detailers to apply a real ceramic coating since they must be applied in a closed environment. If applied outdoors, you'll end up with contaminants from even the simplest breeze adhering to the incredibly expensive liquid that has just been added to the full exterior of your customer's paintwork. A ceramic coating full of contaminants won't last as long, won't provide nearly as much protection as it should, and won't look good. From a consumer perspective, you're looking at turning over your car to a certified detailer for 4-5 days for the process to be completed.
The cost of a true ceramic coating will run you anywhere from $1,000 – $15,000, depending on a lot of variables that we'll get into further down. If you're now feeling lost or thinking, "There's got to be a better way," …there is!
This is where ceramic sprays come into play. They've become so popular that it's hard to find a detailer who doesn't offer this service. One of the best aspects of a ceramic spray is that anyone can purchase and install it. It's all too easy to add this step to your detailing procedure, and it should take you no more than 30 minutes.
A quality ceramic spray will last about six to eight months and contains silicon dioxide, an abundant material from the earth made up of silicon and oxygen. Just like a real ceramic coating, a ceramic spray will create a hydrophobic, protective barrier over your paintwork. You'll be left with a smooth glossed-over finish for a fraction of the time and money.
Another alternative to a ceramic coating is a graphene coating. Graphene coatings are relatively new and claim to be the better, stronger alternative to ceramic sprays. Graphene itself is made up of a single layer of carbon that, under a microscope, takes on an appearance similar to a honeycomb. However, in my experience, graphene and ceramic sprays aren't all that different in terms of real results. The protection provided isn't noticeably different, and the length of protection you'll get is about the same.
5 Best Ceramic Coatings For Mobile Auto Detailers
Here are my top picks when it comes to spray ceramic coatings for mobile auto detailers.
1. Nexgen Ceramic Spray – Best Overall Spray Ceramic Coating
Nexgen Ceramic Spray is truly the most concentrated Do-It-Yourself ceramic coating on the market to date. While most DIY ceramic sprays contain 1-2% silicon dioxide, Nexgen's coating contains an incredible 13%. The hydrophobic barrier is truly airtight and will block out common contaminants that would otherwise damage your clear coat over time.
When I was a first-time user, I decided to test Nexgen's ceramic spray on both my work truck and my 2016 Hurricane. If you've ever owned any type of boat, you know how quickly they build up dirt, grime, and algae. They also take quite a bit more work to clean than your average car, so the idea of a ceramic coating was very appealing to me. This particular spray is incredibly fast and easy to use.
One of the features that attract many consumers, like myself, is versatility. Typically when applying a ceramic spray you would need to first tape off several areas where you wouldn't want to get overspray (ie., your windows, headlights, any rubber..) Nexgen Ceramic Spray can be used on every part of your car's exterior, setting them above the competition. Not only does this save you a lot of time, but it also creates an incredible layer of protection where you normally wouldn't have one.
I enjoyed how slick this product felt during my initial wipe, which continued through the buffing stage. Another thing to note is how little product you need per application. It only takes a few sprays on each panel to cover the entire surface. Immediately after buffing, my boat and truck were both glossier than when I purchased them. It is, however, important to note that the curing time for this ceramic spray is 24 hours, but well worth it.
I live in Northern Georgia, and our weather can be gruesome at times. Throughout the year, we experience snow, heavy rain and flooding, high pollen levels, extreme humidity, and the occasional small tornado. That being said, I enjoyed watching water bead up for just over seven months and found that I needed to wash my vehicles less often.
Overall, Nexgen is a great company. Not only are the products made in the USA, but they also provide a 30-day money-back guarantee. If you're a professional car detailer or even a hobbyist, the VIP program will save you a bit of money, and members get free shipping.
Pros:
Incredibly fast application time
It can be used on every surface on your car's exterior, so there is no masking off areas
By far the glossiest ceramic spray I've ever used.
Cons:
Costs a little more than quick grab items from your local auto shop
Not available in many brick-and-mortar stores, but can be easily purchased from Nexgen's website or Amazon.
2. Turtle Wax Hybrid Solution Spray Ceramic Coating
Sale
Turtle Wax Ceramic Spray Coating
Turtle Wax ceramic spray coating is a great coating if you're looking for something affordable yet quality. It's really worth the money, and is my best-budget recommendation.
Turtle Wax is a pretty well-known provider of mobile detailing items. Typically their products are inexpensive and easy to use. The downside is that if you find you are unhappy with the results, you're stuck with the product. The return policy isn't great in my opinion, and might leave you with no choice but to throw out a product you weren't satisfied with.
Right off the bat, I did like the shine this spray coating left behind. I did run into a few issues that I was able to troubleshoot quickly. First off, this ceramic spray leaves behind a lot of heavy streaking, so it takes a lot longer to buff it out than the other products on this list.
Secondly, however many towels you think you need, grab more. Overspray is your enemy here. If you get too much product in one section, you might be thinking you can just spread it out further, and you would be sorely mistaken.
The product really doesn't do a great job of spreading out in large sections, which is why it's recommended to work in 2 x 2 sections only. If you apply too much product you'll need extra dry clothes to remove what will now look like thick, ugly smearing.
Pros:
Budget-friendly
Sweet mango tropical scent
Safe to use one paint, metal, plastic, and glass
Cons:
Required more time to buff out streaks (very noticeable on dark paint)
The excess product becomes smudgy and doesn't spread well.
Returns must be unopened or proven to be defective by the company to be refunded
3. Adam's Advanced Graphene Ceramic Spray Coating
Sale
Adam's Advanced Graphene Ceramic Spray Coating is by far the most expensive item on this list. What drew me to this product is that the company makes a pretty bold claim of an 18-month-long protection period.
Something I liked about the application process of this spray was the prismatic hue it created minutes after adding it to my panels. The hue indicates how long to wait until wiping the excess product off, making it hard to miss any spots. Once the colors fade, you're ready to start buffing it out. Something to note is that waiting for this hue to appear, then fade made the whole process pretty lengthy.
The first thing that caught me off guard was that as I wiped away the graphene ceramic spray it felt very grabby. Typically you'd want a ceramic spray to feel silky under your cloth, but I kept the faith and continued moving through one panel at a time.
Since this spray is safe to use on glass, I was eager to add it to my windshield. A choice I soon regretted. While I'm sure my windshield was protected as advertised, it became a bit draggy. I found that my windshield wipers seemed to almost drag across the glass rather than glide the way they should. If my wipers had been more towards the end of their lifecycle this wouldn't have phased me, but with them being relatively new, I found myself going through several hand washes to remove this graphene spray from my windshield.
Now this next part is by no means a reason not to purchase this item, but I do have to warn you that the smell that comes from this bottle is horrendous, and you will take in that scent throughout the entire application process.
Pros:
Safe to use on paint, glass, headlights, chrome, and wheels
Customer-friendly return policy
Cons:
The most expensive item on our list
If applied to your windshield, your wipers won't glide as smoothly
Has a shelf life of about two years and will begin to crystalize as it goes bad
The strong, awful smell while using
4. Shine Armor Ceramic Coating
Sale
One of the most popular products from Shine Armor seems to be their Fortify Quick Coat. It's marketed as an all-in-one: clean, seal, and protect. Sounds too good to be true, doesn't it?
If you find the all-in-one label attractive, it's important to know that no one with an ounce of detailing experience would agree. It's critical to remove any dirt, tar, dead bugs, and sap from your car's exterior before you add any protectants. Otherwise, you're rubbing dirt into the pores of your paintwork and sealing in all the grime you started with. This will damage your paintwork in the long run.
After testing it out, I'd say Shine Armor should have named this particular product Snake Oil. It's a waterless wash that I don't think did a great job of removing dirt. I'll also add that the product did leave streaks. However, they buffed out pretty easily. After a rinse test, I still expected to see some beading. What I saw was water just sitting on my hood. So what does this product do? I would say that if you're in a pinch and want a quick shine Fortify Quick Coat could be a solid solution, but don't expect miracles.
Pros:
30 Day money back guarantee
It will give you a quick shine (and that really is all you'll get)
Smells nice
Cons:
It will likely cause problems with your paintwork later on
Does not protect as expected
Does not create water beading like a ceramic spray should
5. Ceracote Rapid Ceramic Paint Sealant Kit
Sale
An interesting note about Cerakote is that they're not a car detailing company. Instead, they are a "surface protection company." The company provides protective coatings for items ranging from electronics to firearms and even aerospace. That being said, some of their car detailing products are hard to compete with.
While the company overall creates great protective solutions, sometimes even the best companies will put out a dud. I had the same experience with the arrival of this product that many frustrated consumers have: The box was shipped in a padded envelope and crushed upon arrival.
I will say that if you do purchase this item, make sure you already have an extra sprayer lying around because the one it came with was fragile and did not work well. Another thing to note is that the sprayer seemed to be made for child-sized hands, so I likely wouldn't have used it through the entire project anyway.
While my initial wipe over the product felt a little grabby, the second wipe was much smoother, which gave me hope for a slick, hydrophobic finish. I will say that the beading was pretty good once the ceramic spray had time to cure. The overall appearance of my vehicle was smooth and had a beautiful gloss. However, after just one wash, it already started degrading. So, it's surely not a long-term product, but still can be used to quickly improve the shine of your vehicle.
Pros:
Easy to use
gives a nice gloss immediately after use
Cons:
Not available in brick-and-mortar stores, but can be ordered through the company or eBay
Awkwardly tiny spray nozzle
Did not stand up against my basic hand wash
Poor packaging
Has an unpleasant chemical smell
If you don't follow the instructions carefully, you may be left with cloudy spots on darker paintwork.
How To Use Spray Ceramic Coatings
While each product will have its own instructions, there are some basic guidelines one should follow before, during, and after applying a DIY ceramic spray.
First off, you need to make sure you have a shaded area to work in. It's common knowledge that you should never apply products to your car in high heat or direct sunlight. Make sure your vehicle is cool to the touch and parked out of the way of any harmful rays during application.
Next, your car's exterior must be clean. Wash your car thoroughly: use a quality auto-specific glass cleaner and a bug and tar remover as needed. Any contaminants left behind will be rubbed into the pores of your paintwork and will likely cause damage over time. You also want to ensure you're left with a smooth, even finish. If your chosen ceramic spray doesn't specify that it's safe to use on all exterior surfaces, you'll need to tape off and cover any surfaces you wouldn't want to get overspray on.
The actual application of a ceramic spray is pretty simple. Applying to only one panel at a time, spray the coating, wipe it evenly across the panel with a microfiber cloth, then use a second dry microfiber cloth to buff away excess liquid. You'll want to work quickly enough so that the product isn't able to self-dry on your paintwork. Again, you want to ensure your result is smooth to the touch.
The final step is usually leaving your vehicle alone long enough for the ceramic spray to cure on the surface. Each product will have its own cure time listed. Some require two hours, and some are best if left for a full 24 hours.
Here are quick steps to follow:
Thoroughly clean and decontaminate your vehicle
Clay bar for best results (optional)
Make sure your car is cool to the touch and parked in a shaded spot
Work with one panel at a time. Apply ceramic spray to a cool, dry surface.
Buff away with a secondary, dry microfiber cloth
Do not allow the ceramic spray to self dry
Wait for the desired cure time
How Long Does It Take To Apply Spray Ceramic Coating?
In most cases, ceramic spray coatings can be applied in as little as thirty minutes. However, the length of time you're actively working on a car's exterior will vary based on the prep work needed. Typically the longest part of applying a spray on ceramic coating is the time your chosen product takes to cure. The good news is that you don't have to do anything during the curing process. So whether your set of instructions requires 2 hours or even 24 hours, you don't need to stick around for any of that.
This is a huge improvement on the old-fashioned "true ceramic coatings," which require 6-12 hours of paint correction, the regular prep work, installation, and curing; you're looking at 3-5 days. Now imagine returning a vehicle to a customer and telling them to avoid driving, parking outside, or leaning and bumping on their car for a month because the cure percentage on days 3-4 is only at 70%, and the remaining 30% takes weeks.
You can see how a customer might be a little put off by that time frame. Whereas a spray ceramic coating would have gotten them what they needed in about the same amount of time it takes to get an oil change.
Are Spray Ceramic Coatings Any Good?
The simple answer is yes. Ceramic sprays are a fantastic item to add to your detailing practice, whether you're maintaining your car at home or a professional detailer. Not only will your vehicles immediately look better, but you're also preserving the beauty of your paintwork.
How Much To Charge For a Spray Ceramic Coating Application?
Pricing isn't a one size fits all situation. In my town of Augusta, Georgia, one detailer charges between $60 and $325 for a sedan. While another company on the other side of town charges $60-$120 for the same size sedan. The most expensive detailer I've found has prices closer to $500.
So why the drastic variation in pricing? Take into account your location. While the first two detailers probably do the same quality of work, they're located closer to regular shopping centers on busy streets. The third and most expensive detailer happens to be just a few buildings down from a large motorcycle retailer and in an area that hosts annual car shows so they probably get a significant amount of foot traffic from auto enthusiasts.
How much a spray ceramic coating should cost isn't an easy question to answer because of the number of variables involved, but I'll do my best to break it down for you.
You have the size of the vehicle, which determines how much product is needed, the surfaces a customer wants coated, hand washing the exterior, decontaminating, prep, and paint correction, and man hours to account for. The condition of the vehicle will determine how much time and labor will be needed to get the car ready for application.
Another thing to consider is your competition. What are the detailers in your area charging? Do you want to be priced competitively, or can you get away with higher prices because your work is of higher quality? Find something that earns you enough money but still leaves your customers happy for what they paid for.
Bottom Line
As a mobile detailer, it's important to be able to turn over work quickly. We're all here because we love cars, but we're also here to make money. The best ceramic coatings for mobile detailers aren't high-dollar, time-consuming products that, quite frankly, many customers can't easily afford. If you want something that your customers can afford and can be applied quickly go with spray ceramic coatings. Get the job done quickly and send your clients a reminder a few times a year to come back for an updated coating.
As I'm sure you can tell, I'm a huge fan of spray ceramic coatings. Just like you, I want my vehicles to look nice. I love the appearance of a freshly painted, glossy surface. Over time that beautiful gloss will wear down, and the paint will fade. If neglected your paintwork will start to crack and peel, leaving your vehicle at risk of rusting. Ceramic sprays are an inexpensive, simple solution that you can provide in 30 minutes or less.
Similar Articles For You: