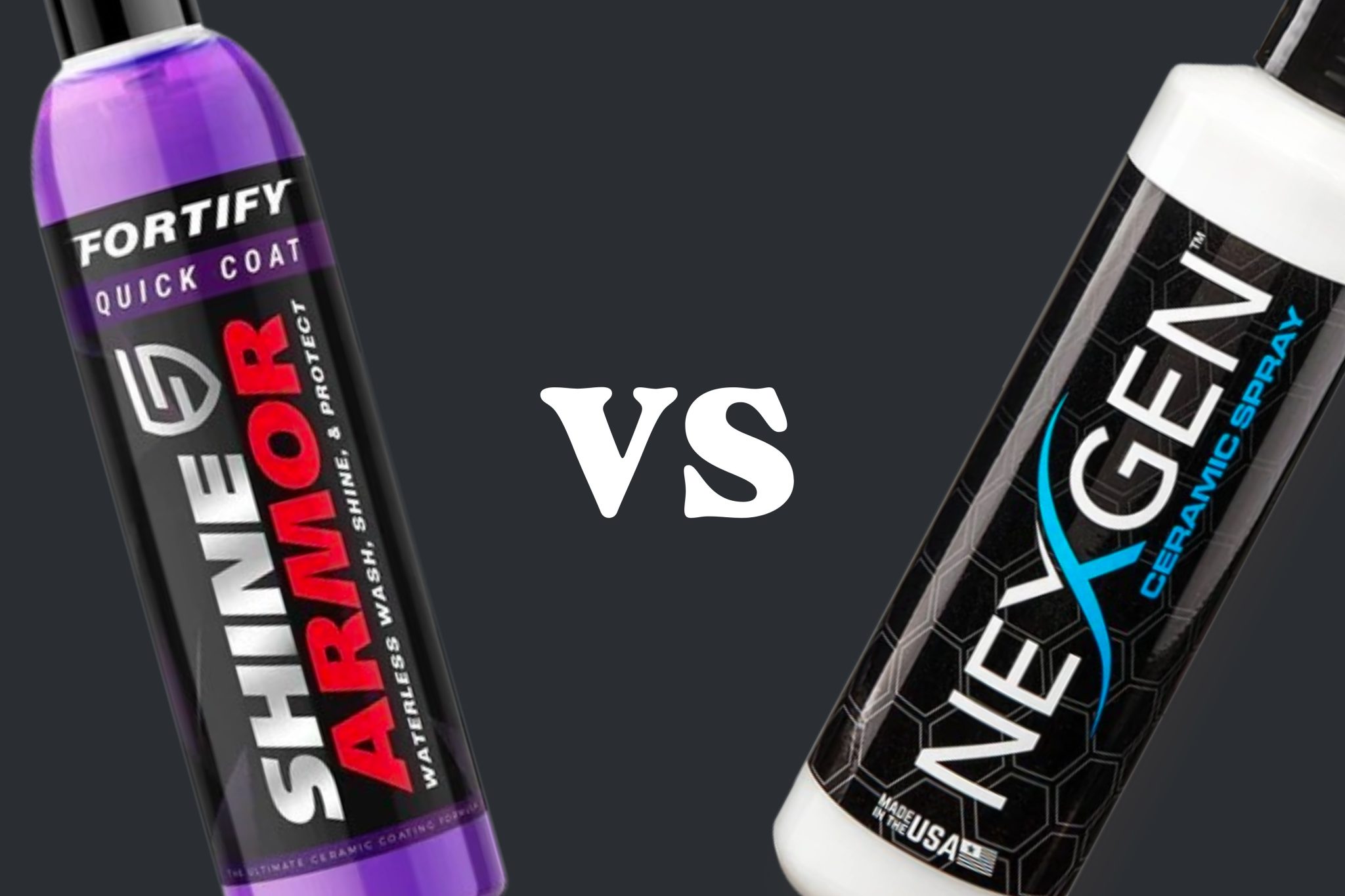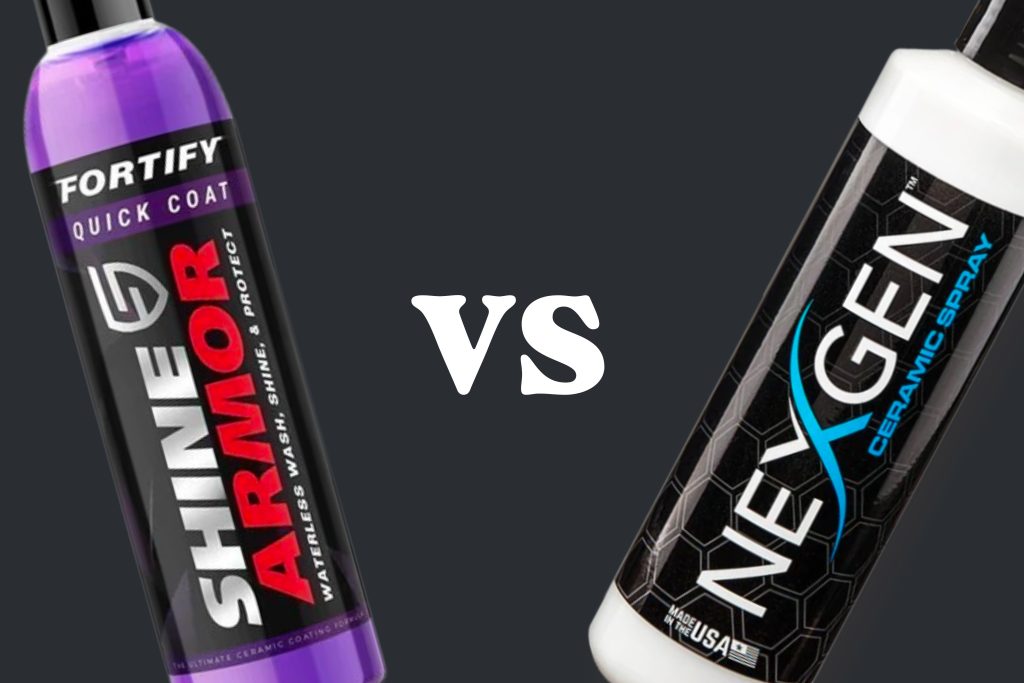 If you like a little competition, Nexgen Ceramic Spray vs Shine Armor Fortify Quick Coat should be a bit of fun. These products are advertised to hold similar properties, the price point is about the same, and they're both pretty well-known brands. The reviews make these ceramic sprays look like liquid gold.
Of course, there are die-hard fanboys attached to their favorite auto detailing companies, as well as a ton of paid reviews. It makes it hard to tell what products are high-end, from the ones that are paid to look high-end. I intend to remove the confusion around quality vs money tossed at influencers. Who will hold the title of number 1 ceramic spray?
Nexgen Ceramic Spray
Nexgen Ceramic Spray has an astounding 13% SiO2 content, making it the most potent formula on the market. To put it into reference, most DIY ceramic sprays only contain 1-2% SiO2. The recipe is also incredibly slick, and a little goes a long way.
When it comes to application, Nexgen ceramic is as easy as it gets. Work in sections, spraying and wiping in a cross-hatch pattern. Then buff it out. Since the product is safe to use on all exterior surfaces, I didn't have to spend time taping off areas. For optimal results, I let the coating cure for 24 hours, then repeated the process.
The results were outstanding! The gloss was like a shiny new glass engulfing the entire vehicle. Throughout this summer, I've kept an eye on the coating. Overall, my car has stayed pretty clean. I hand wash every two weeks and typically need a bug and tar remover to pull out highway bugs and bird droppings. After using Nexgen's ceramic spray, I went a full 6 months before I needed to put any elbow grease into cleaning. This stuff doesn't let anything stick to the surface, and the hydrophobic properties are unmatched.
Pros:
Lasted just over 6 months
Provides tight beading
Jaw dropping gloss
Incredibly slick
Easy to apply
Affordable (about $35)
One bottle can coat the average sized vehicle up to 5 times
Bird dropping and other debris are wiped away easily
Manufactured in the USA
30-day money-back guarantee
Cons:
Not available in Brick and mortar stores (but available on Amazon or GetNexgen.com)
Shine Armor Fortify Quick Coat
Shine Armor Ceramic Spray is an eco-friendly ceramic spray. Even better, it's marketed as an all-in-one product. Shine Armor Ceramic boldly claims that their coating will "Completely change your ride's look in less than 15 minutes." Another bonus is that just like Nexgen's coating, Shine Armor's coating is safe to use on all of your car's exterior surfaces. So, let's give it a try.
I've seen a lot of reviews of Shine Armor Fortify Quick Coat and thought it would hold up against the competition. At first, I have to admit I was impressed. The gloss was fantastic, the beading was decent, and the application was quick and easy. I followed the same steps used when applying Nexgen's ceramic spray: spray, wipe in a cross-hatch pattern, buff, let it cure for 24 hours, and repeat.
Two weeks later, the beading was dead and the gloss was long gone. Considering how stellar the car looked right after application, I was pretty bummed out to see how quickly the protective coating broke down. Two average rainfalls were all it took to wash away half a bottle's worth of what was supposed to be a hydrophobic barrier. My car was accumulating daily contaminants as if I hadn't applied anything at all.
Pros:
Eco-friendly
Glossy
Available in large retailers like Walmart
Affordable (about $20)
Cons:
Contains less than 2% SiO2
Lasted just over 2 weeks
Which Product Wins?
The best ceramic spray clearly goes to Nexgen Ceramic Spray. While both products gave immediate glossy effects and tight beading, the two products couldn't be more different in the end. Shine Armor's ceramic spray turned into a major letdown, while Nexgen's ceramic spray worked just like it's advertised. I wanted a tight competition in Nexgen vs Shine Armor Ceramic Spray, but what I got was Nexgen vs well… a can of shiny hair spray.
While the all-in-one marketing might grab your attention, anyone with a basic level of experience in detailing cars would tell you not to trust such claims. Here's the thing, You can't properly seal a dirty car. With this fact in mind, I properly prepped my paintwork before applying Shine Armors coating. Unfortunately, after using half a bottle on one car the product still couldn't hold a candle to the competition.
How we have graded them
Quite a few factors went into Nexgen Ceramic Spray vs Shine Armor Fortify Quick Coat. I broke down the cost versus how much product was needed on each car as well as how long each product held up. The slickness of the solution, gloss, and beading were all taken into account.

I also checked each week to see how much debris like bugs and road grime was stuck to the cars. Finally, ease of application. Most ceramic sprays require you to tape off parts of the car, like windows, rubber, lights, etc… These two products stood out because of how versatile they are.
Conclusion
So Nexgen vs Shine Armor ceramic coat wasn't as exciting as I'd expected. This goes to show that you can't trust everything you see online. Shine Armor has tons of monetized reviews on YouTube that would make the average person think this product is the end all be all of car detailing. I used half of the bottle during my test and have no interest in using the other half.
I don't see a lot of advertising from Nexgen, and I suppose it's because they're able to let their products speak for themselves. You don't have to hype up a product that is already magnificent. The protective barrier is long-lasting, keeps your car clean longer, prevents water spots, and glows like the top of the Chrysler building. I highly recommend you try it out. Worst case scenario, the company offers a 30-day money-back guarantee. What is there to lose?
Related: