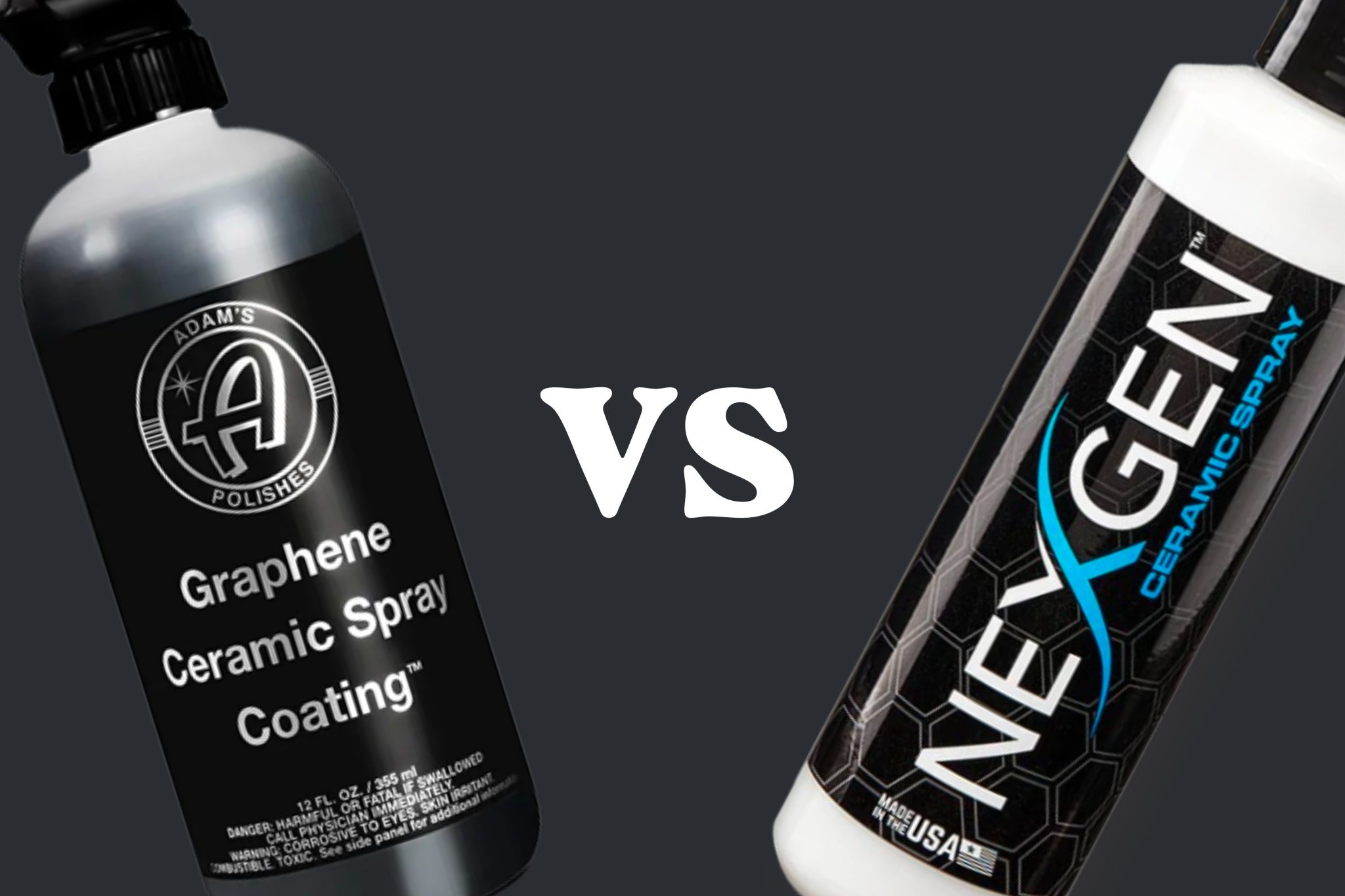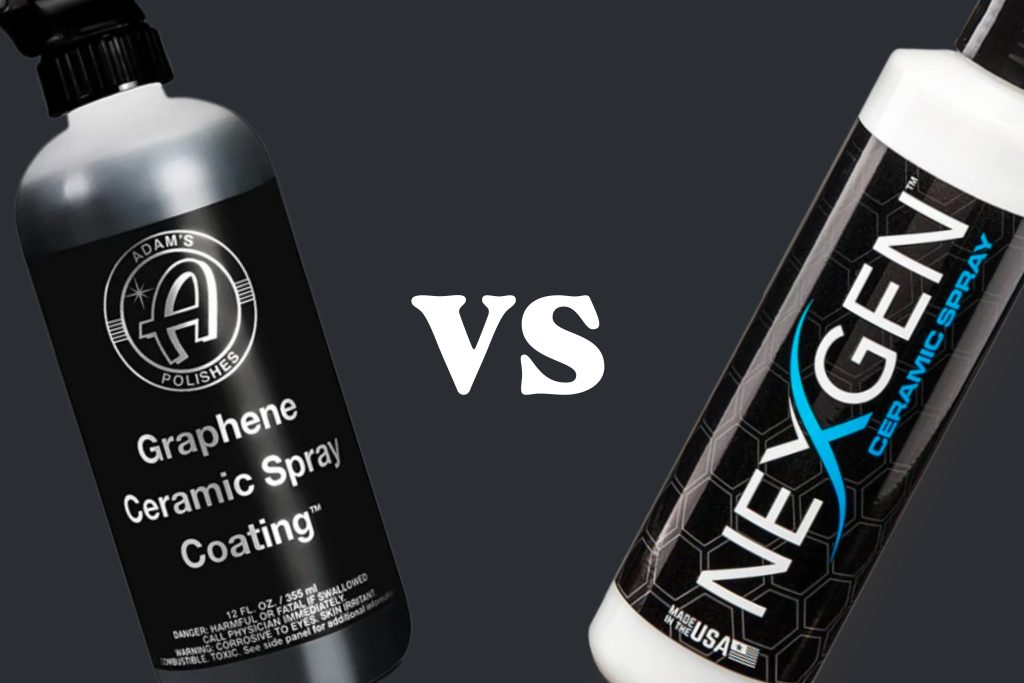 I want the best of the best. I don't want to walk into an auto shop and get a list of a few pretty good items. I simply want the highest quality, unrivaled results for each of my vehicles. So when I come across two high-end products I can't help but put them to the test.
In Nexgen Ceramic Spray vs Adam's Graphene Ceramic Spray Coating, I'm not just going to tell you about my likes and dislikes. I'll break down each product's quality, durability, and ease of access. I'll dive briefly into the chemical structure as well, so you'll leave here with quite a bit of information.
Now I should mention that it took a long time to complete this test. I carefully used the products as specified by the manufacturer. Then I had to wait for them to wear down. In the time it took for these products to finally wear off of my vehicles, I found a few gray hairs. One of the two products lasted a bit longer but let's dive into it and see it for yourself!
Nexgen Ceramic Spray
Nexgen is a highly competitive company. Their products are top notch and they focus on bringing the showroom home. Each Nexgen product is manufactured in the USA. Over the course of 20 years in the car care industry, Nexgen has dominated the professional and showroom detailing playing field. This level of refinement is exactly what you'll find in the high-end formula you get from Nexgen ceramic.
One of the first things that caught my eye from Nexgen Ceramic Spray is that their formula contains 10x more silicon dioxide than the other DIY ceramic products on the market. Another important factor is how little product you need. One bottle can coat the average vehicle up to five times. Additionally, this one can be used on almost any surface, and guarantees super hydrophobic properties, and a grease, bugs, and grime repellant. A bottle will only run you about $35.
This was incredibly easy to use. I worked in sections, spraying a small amount of ceramic coating and wiping in a cross-hatch pattern. Then all you have to do is buff it out. I don't think it gets any easier than that. The whole process was incredibly fast. The formula is so slick and smooth that I think if I had tried leaning on my car, I would have slipped into a faceplant. It truly is like silky glass. In all my years of detailing and testing car care products, I've never seen an immediate gloss quite like this one.
After letting the ceramic spray cure for 24 full hours, I chose to apply a second coating. This isn't necessary, but will make the product last longer, and even bring on more shine. When all was said and done. I enjoyed seven months of tight beading, high gloss, and a repellant barrier that kept my cars clean longer.
Pros:
Contains the highest levels of SI02 compared to any other DIY Ceramic Spray
Lasts about 5-7 months (I'm a daily driver)
Repels bugs, dirt, and other contaminants
Super slick formula
Long-lasting hydrophobic properties
Leaves smooth and shiny, glass-like finish
Cons:
Not available in brick-and-mortar stores (available on Amazon & GetNexgen.com)
Adam's Graphene Ceramic Spray Coating
Adam's has been around since 2000 and is pretty well known in the auto detailing industry. Most of Adam's products are priced competitively and they're available at many large auto shops. Adam's Graphene Ceramic Spray Coating is safe to apply to most surfaces, like glass, chrome, trim, wheels, and bed liners.
Adam's Graphene Ceramic Spray Coating will run you about $32 per bottle. If you buy the Adam's Blizzard Warning Kit which has products like a glass cleaner, tire armor, VRT Blocks, Grey Towels, microfiber applicators, and clay bar it will push the price up to about $109.99.
During my first swipes, I started to worry about streaking. I could see where the product was sitting and it wasn't looking smooth. The coating also felt a little grabby, which caught me off guard since most ceramic sprays feel slick between the cloth and paint. After leveling and buffing, I was able to take a step back and appreciate the gloss, while my worries of streaking melted away.
Adam's Ceramic Spray left my cars looking good. Since my vehicles are driven daily, I don't see it lasting 1 year. I would say 6-9 months max for the average commuter car. But, if you have a sports car you keep in the garage, you may get to that.
However, when I saw that the product proclaimed a 9H hardness level I started to doubt its worth, to be honest. This is a very tricky word used in the detail space as you may know and it's a marketing term to make the product look like a "true ceramic" but actually it's just that, a marketing term used to deceive people buying ceramic sprays.
Pros:
Safe to use on painted surfaces, glass, headlights, chrome, trim, wheels, and bed liners
Repels bugs, tar, road grime, and other airborne contaminants
Leaves a good shine
Cons:
Proclaim a 9H Hardness level (which isn't true)
If you make any mistakes, you're stuck with long-term stains, streaks, or high spots
Most of the low customer reviews are about the foggy layers that are left on glass
Which Product Wins?
So after all this, which product is the best ceramic spray? I can't lie, at first, I thought it would be a difficult choice to make. I assumed Adams would win simply because it says will last longer. Then I started and I thought surely Nexgen would win because of its high silicone dioxide. There are so many factors at play that I couldn't see who was at the top until we sat down to chart it all out.
Nexgen's ceramic spray killed the competition. The incredible gloss and slickness truly made each vehicle I tested it on look like it belonged on a showroom floor. During the heaviest rainfall, the bedding remained tight and water seemed almost allergic to each coated surface. I'll break it down a little more below.
How we have graded them
To determine a winner between Nexgen vs Adam's ceramic coat we had a few components to consider. Of course, we judge the product by how well the vehicles look, but there is more to it. We've also charted the quality of the product, how difficult it was to get results, durability over time, ease of access, and time consumed.
Nexgen provided tighter beading. The protective barrier seemed to be about the same when it came to bugs and debris. Both products created a barrier that stood up against day-to-day contaminants and kept each vehicle pretty clean. Nexgen was not only fast and easier to use, but the overall slickness and immaculate gloss make Nexgen the number 1 ceramic spray for me.
Conclusion
When it comes down to Nexgen vs Adam's Ceramic Spray, if you're simply looking for what it can last if you don't drive your car that much then grab a bottle of Adam's ceramic. However, if you want protection and a showroom look, stick with Nexgen. The results are unbeatable and at best you have to reapply it every few months depending on how often you drive.
Related: