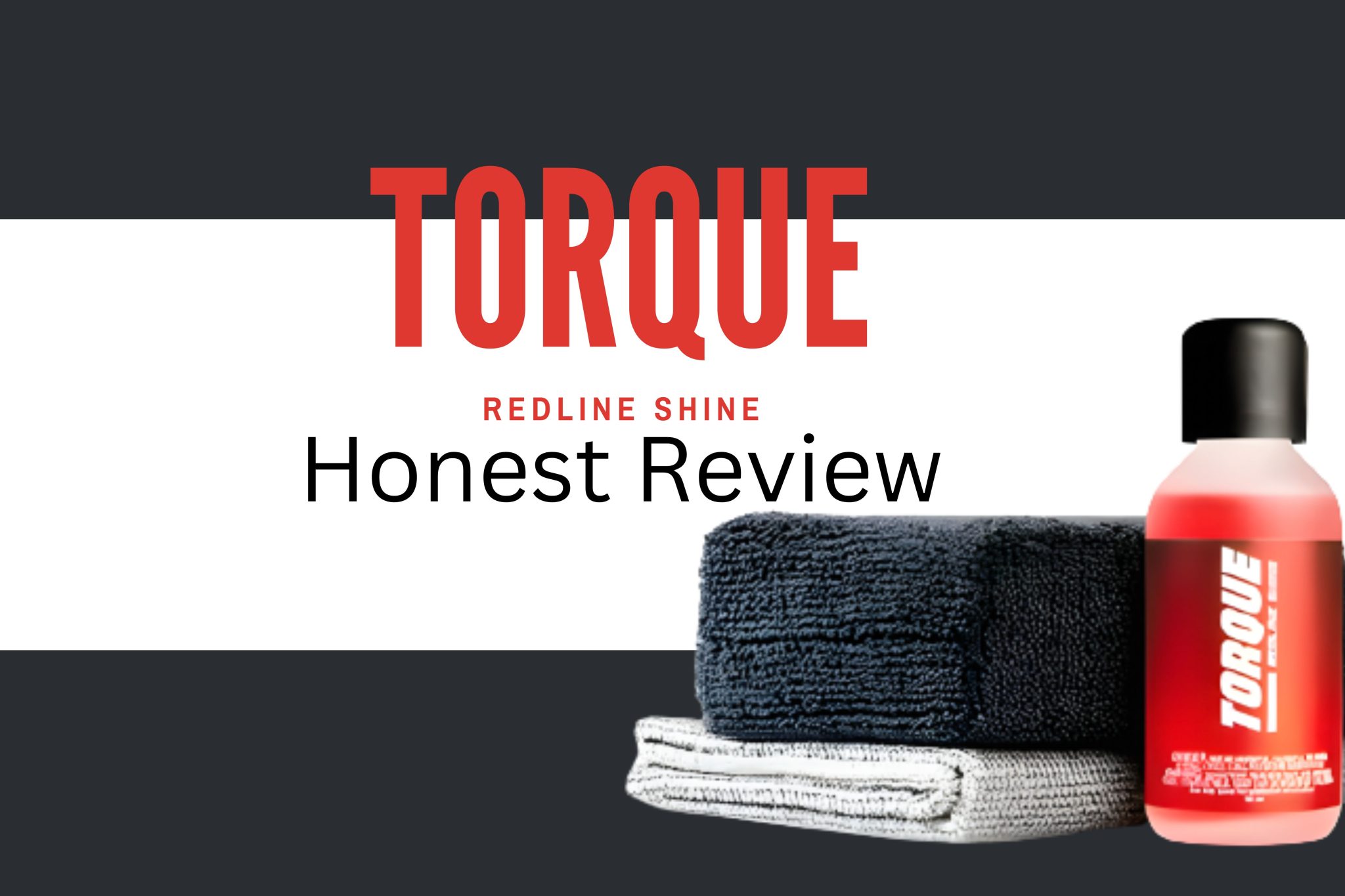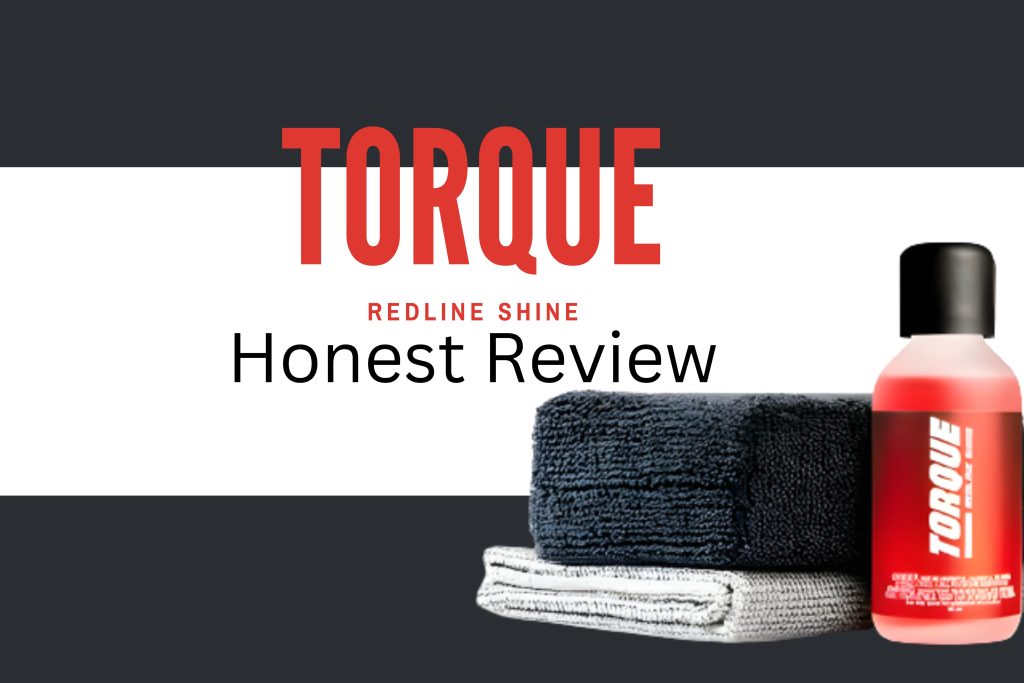 Today I'm creating a Torque Redline Shine Review. Every time I get on my phone I see an ad or a customer review claiming this is the new "miracle product" of DIY Ceramic. My own clients have asked about it, so I know I'm not the only one being bombarded with Torque's new ad campaigns. As a showroom detailer, it's essential for me to stay on top of the newest and greatest products. So I've procured a Redline Shine kit and am ready to test it out and give you my honest review.
In this Torque Redline Shine Review I'm going to break down the difference between the newest "miracle product" of DIY Ceramic and all its competitors. The company makes some pretty bold claims and I'm ready to put them to the test. If you want to know what's so great about this new formula, if the company's claim of not needing a prep spray is true, and if the coating really lasts two years, this Torque New Product Review is going to answer all of your questions and more. 

Torque Redline Shine
One of the factors that attracted me to Torque Redline Shine was their claims of how long this product will last but I'm a skeptic when it comes to big claims so I put it to test. Their website claims that you can apply the solution to half of the vehicle before wiping and buffing without any risk of high spots. This is due to their "Perfect Level Technology".
Redline Shine is solvent-based. It gives a rainbow flash, and when that flash fades, you know it's time to start buffing it out. This is where the perfect level of technology is said to come into play. The rainbow effect comes on a lot slower than other ceramic coatings so you're able to cover more surface area, whereas most coatings will keep you working in small sections, moving from one panel to the next. This is said to make application quick and easy for any skill level.
Furthermore, Redline Shine restores the color of plastic and vinyl. It's safe to use on every part of your car's exterior, so no taping anything off. Your car will have a "glowing shine" and will be protected for two years. Torque says this Redline Shine formula is the strongest they've ever made. Sounds good, right? I thought so too, so let's keep going.
Is This a New Formula?
It's fresh out of the lab and the potency of this formula is supposed to be off the charts. The said-to-be innovative formula removes steps that other ceramic coatings require like proper surface prep. The strong solvent base is intended to mimic the task of a prep spray. They estimate this achievement to save you about $15.
Redline Shine claims a 7H hardness polysiloxane ceramic coating product and is said to protect your vehicle for up to two years, but any polysiloxane-based product can't get above 6H most are 5H. As we now know the hardness level on a ceramic coat that many companies use to show a high level of hardness unfortunately is just a marketing term.
Torque Claims:
This new formula eliminates the stress of getting high spots or streaks. Since the rainbow flash is delayed, you have more time to level and buff, giving you a better chance of a perfect coat. The "Perfect Level Technology" eliminates the opportunity for high spots.
As far as the hydrophobic properties go, Torque Redline Shine has a unique (and unnamed) ingredient that enhances water spot resistance. Users should expect to see water rapidly bead up and roll off the car, dragging dirt and road grime with it. Your car should remain incredibly slick, smooth, and scratch-resistant.
If you're looking at these product details all doe-eyed and ready to hit "pay now", Torque just did you dirty. Let's pause and pull you back into reality. It's time to test the product and put the questions, the social media ads, and monetized reviews to rest.
After Applying Redline Shine
It's important to use each product exactly as the manufacturer instructs. If you don't follow the rules, you can't cry about bad results. So following the instructions and recommendations, I used a 3×5 microfiber sponge, poured a little juice on it, and started applying the ceramic coat in a cross-hatch pattern. Since my car is dark gray it's pretty easy to see the rainbow effect.
Surprisingly, the rainbow effect didn't come in evenly. Some areas showed up quickly, while others took a full minute. This was odd since I had my car in a garage and the temps were about 73 degrees. I had to stop the application to catch up with the flashing. This removed the possibility of applying the Redline Shine to half of the vehicle at once. In fact, I didn't even get a quarter of the way there. After buffing diligently, I continued on.
Results:
To start, Redline Shine should have created a silky smooth, shiny coating over my entire vehicle. Instead, the product had a very poor application bond with the clearcoat making it difficult to achieve consistent coating
There was a decent gloss, but nothing to write home about. Additionally, I tested it on an alkaline test with a PH of 11 and it failed.
As far as protection goes, Torque Redline Shine didn't make it the full two years. After time and money spent, the coating efficacy has been at a failure point after 3-4 months. The hydrophobic properties were gone. There was no scratch resistance and you would immediately get scratched if you took this through a tunnel wash.
Bugs and road grime were sticking to my bumper as though I'd never used any type of protective coating at all. There was still residual product on my car, which wasn't doing anything other than making my very nice ride look tacky.
In the end, as a detailer, I ended up spending more time and money fixing the issues caused by this product than I did on the product itself
This is where I gave up and dumped more money into removing every bit of the failed ceramic coating, and detailed my exterior like my life depended on it. In my opinion, this product acts more like a topper rather than a protectant, if you use a medium degreaser like bug and tar it would eat this product up and degrade it beyond anything useful.
The Truth About Torque Redline Shine
For the low price of about $75 before shipping and tax, you too can experience how deep the lies run. I think the truth about Redline Shine is that it's a failure the company wasn't willing to take a loss on. The company says it took two years to develop this formula. It looks like they struggled for two years and threw in the towel. Instead of shelving the failed product, they pumped money into convincing people it was the creme de la crumb.
In an attempt to turn this around, I reached out to customer service. Maybe they had some advice or could refund my purchase. The goal was to call, but as of now, Torque's website doesn't provide a phone number. Instead, you have to fill out a request form and wait for someone to get back to you via email. As I waited for someone to respond, I went through the FAQ page but didn't find that helpful.
At this point, I can't say I'm surprised that no one from Torque ever responded to my request. The company claims to give a 60-day money-back guarantee, but that looks like yet another series in the web of lies.
A Quick Analysis of Their Website
After going back and reviewing their website I checked the SDS sheet and it lists a Colorado address for Torque Redline Shine but upon checking it turns out it is actually a blender where they buy the product, called B&B Blending.
I'm still trying to rack my brain to find out where exactly the ads were accurate. The flashing isn't delayed like it's advertised to be, you definitely can not apply this product to half of your vehicle before buffing it out and still expect an even layer. My plastic and vinyl are in great condition and I didn't notice any enhanced rich color.
The hydrophobic properties were not that great, and the product itself wore off quickly. As far as the 60-day money-back "guarantee" goes, good luck contacting customer service to collect that.
Is It Worth It?
Are the advertised results of Redline Shine worth the risk? Not a chance in hell! Look, this economy is a bit rougher than it used to be, and you'd be wise to keep your money in your pocket. I don't advise dropping any dough to try this out. Quite frankly, there's just too much to lose. First, you lose the initial $75. Then you lose your mind in a dark spiral of anger and regret, followed by more money to repair the damage.
Now you're back at step one and need to buy a quality DIY ceramic coating to protect the car you just dumped a lot of unnecessary time and funds into. Given the cutthroat competition between brands, I understand the need to stay relevant. To Torque, I have to ask you this: Is Torque Redline Shine really the standard you want to set for your company?
Final Thought on My Torque Redline Shine Review
What this looks like is a company in panic mode. A company unable to keep up with the fast-paced automotive detailing industry, so they made the decision to white label an average product and try to sell it with good marketing. Between the false advertising and a damaging product, I wonder how a company could ever find a way to redeem its reputation.
If this Torque Redline Shine Review isn't what you were expecting, we're on the same page. As a lifelong auto enthusiast and showroom detailer, getting my hands on this new formula made me feel like a kid in a candy shop. Then going through the experience of having to repair the damage, attempts to contact customer service, and money lost on not only the product but the reconciliation of the vehicle was more in line with getting robbed.
Related: