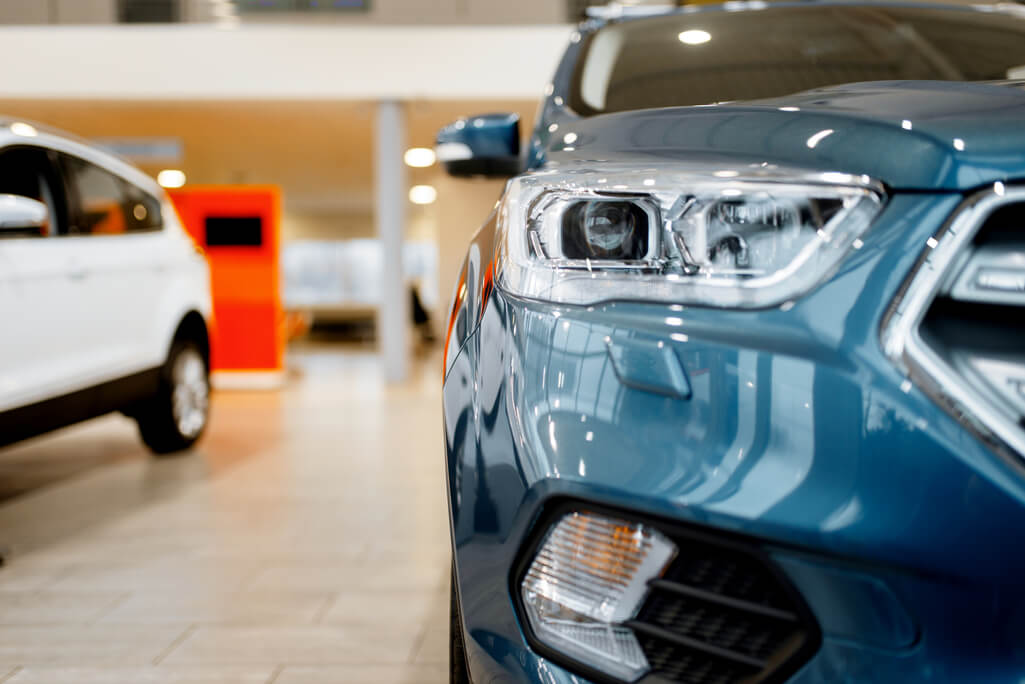 Choosing the right liquid wax for your car might seem a difficult task. You don't need to look high and low for the best vehicle waxes, as this review contains a list of five excellent options.
Cars are state-of-the-art marvels, meant to be admired but mostly to be driven.
Regardless of how much we all want to keep them safe from contaminants, this is not possible or realistic, as vehicles are indeed subjected to wear and tear. And, considering just how much of the road they're seeing, it's only fair to remember their needs as well.
Among these, waxing, a ceramic coating application once in a while, frequent washing, and regular polishing are a must. Without these, a car can't keep up its fabulous looks and enviable shine.
All these procedures are equally important for your car. However, in this article, we'll discuss liquid waxes.
Why Should You Consider Waxing Your Car In The First Place?
The difference between waxed and unwaxed cars is pretty obvious. Waxing your car is more than gaining a high gloss shine but ensuring protection from direct sunlight, tree sap, bird droppings, dirt, grime, oxidation, and other outdoor elements as well.
Apart from protecting the car's paint and giving it an attractive shine, waxing also makes it easier for you to clean your vehicle when the time comes.
We've mentioned liquid wax before, but that's not the only type of wax for cars there is.
What Types of Wax Are There?
Wax is very versatile, which means there is more than one type available on the market:
Paste Wax
Paste wax is the oldest type of wax. It provides high gloss shine, but it requires more frequent applications than liquid car wax.
Liquid Wax
Liquid wax for cars provides amazing long-lasting shine, and it's quicker to dry. It's also a popular choice among daily drivers.
Spray Wax
Spray wax is more commonly used as a quick fix since its effects are not so long-lasting compared to other types of waxes. However, it's a great product for problem spots and precise work due to its practical packaging.
Depending on which type of wax you choose to use, the results will differ. As each type comes with its own set of properties, you must remember that wax can be either natural or synthetic. And there are differences between them too.
While carnauba wax is made from natural ingredients — which may be friendlier to your car's paint and the environment — synthetic waxes are created to be stronger and more durable.
It's up to you to test both natural waxes and synthetic ones to see which is the best fit for your car and your needs.
What Makes a Good Liquid Wax For Cars
Amazing Results
Understandably, you expect great results from a car wax because you spend money, time, and effort on its application.
That's why before purchasing, you have to know what to look for. You need a well-balanced blend of value, ease of use, and shine. You should also check your car's appearance to assess what it requires. It will be easy to decide which car wax to buy once you know your goals.
Long-lasting Finish
Choosing the best liquid waxes for cars is no easy task, but there is one thing you should keep in mind. Apart from the result, a long-lasting finish is what you need to look for in a good car wax. You don't want a product that peels off after a few days.
Convenient Application Method
Different waxes equals different application methods. You need to pay close attention to the manufacturer's instructions and drying times, and, when choosing a product, base your decision on the fact that ease of use is as important as the end result.
How Do You Use Liquid Car Wax?
Let's see how you can use liquid wax for your car, ensuring it's applied the right way for optimal results.
1. Washing
First, you'll need to wash your vehicle thoroughly and ensure no contaminants are left on the surface.
2. Drying
Dry your car using microfiber towels and ensure that all moisture is gone — or at least as much as possible.
3. Preparing The Surface
Before you apply the liquid wax, it's best to prep the surface by using a paint cleaning compound that can ensure the car's paint is blemish-free and ready to be waxed. If there are any light scratches or swirl marks on the paint's surface, know that they will be even more visible once you've applied your chosen car wax.
4. Applying The Liquid Wax
Get your applicator pad, and pour the liquid wax on it. Start applying it in circular motions throughout the car's surface. Work only on one small section at a time to guarantee the most efficiency for the waxing process.
5. Wiping The Wax Off
Wrap up everything nicely by using a microfiber towel to wipe off the entire waxed area. Check all the angles and make sure you remove the extra wax properly. If you've missed any spots, now is the time when you can do something about it.
How Long Does Liquid Car Wax Generally Last?
When it comes to liquid wax and its durability, there are many factors involved. These will include where you park your car, the brand you chose, how well you apply it, how frequently you wash your vehicle, and so on.
Moreover, you must also consider the specific type of product you used and its composition. Some waxes last 2-4 weeks, while others last between 4-6 months.
What Is a Good Liquid Wax?
It's not realistic to test every liquid wax for cars on the market, but I have used a few over the years.
Traditional favorites like Malco Cherry Flash Automotive Liquid Paste Wax and Turtle Wax T-123R Super Hard Shell Liquid Wax deliver great results without breaking the bank.
Stepping up to the mid-price bracket brings a broader range of choices like Chemical Guys WAC 201 Butter Wet Wax, Mothers 05701 California Gold Brazilian Carnauba Cleaner Liquid Wax, and Meguiar's G210516 Ultimate Liquid Wax.
1. Turtle Wax T-123R Super Hard Shell Liquid Wax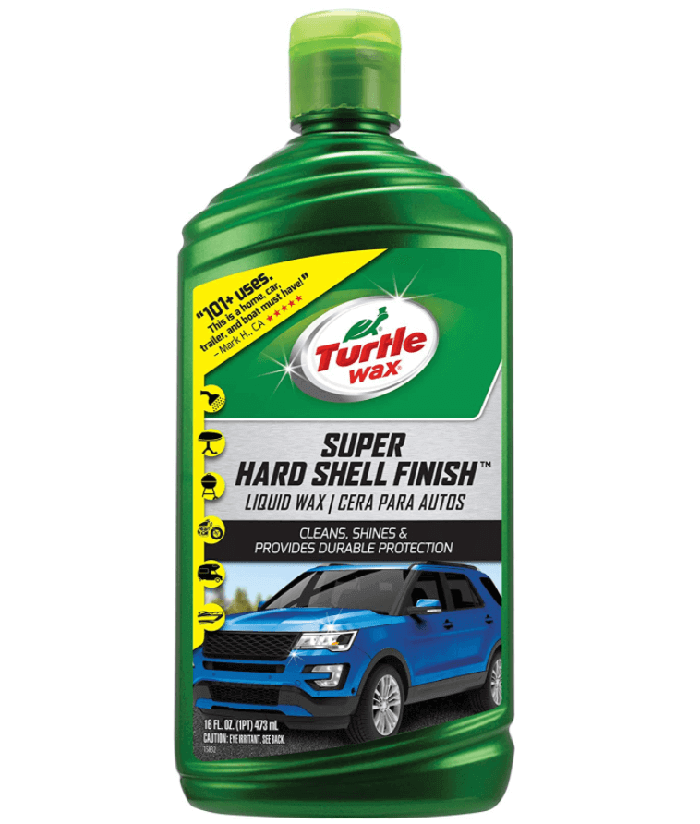 Turtle Wax T-123R Super Hard Shell Liquid Wax is one of my long-time favorite waxes. Not only is it efficient and easy to use, considering its very accessible price, but it also lasts for a long time.
It's easy to apply, and you'll love the shine and protection it offers. It's an effect of the carnauba and synthetic polymer mix it contains. On a clean car, this liquid wax goes on like soft butter! Just make sure your vehicle's surface is in tip-top condition before applying it.
What I loved most about this product is that it brings out subtleties in the paint's color, and protects it from the weather for well over six months.
2. Malco Cherry Flash Automotive Liquid Paste Wax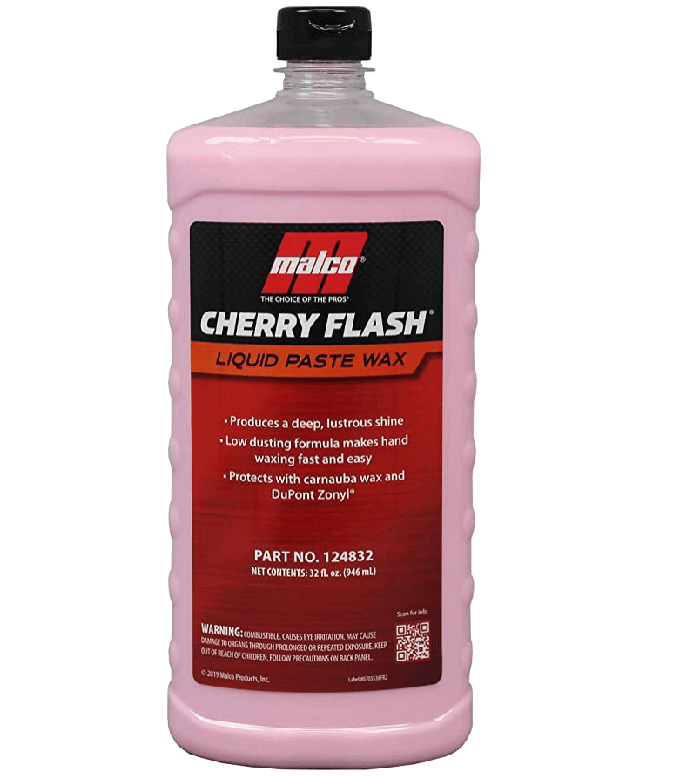 I tried the Malco Cherry Flash Automotive Liquid Paste Wax all over the surface of my car, and I can say I was pleased with the results. I even applied it on windows and plastic trimmings, apart from the car paint itself, and it worked perfectly. The shine was good, and the application was really easy. It was also a breeze to take it off, so this product gets extra points for ease of use.
I found the cherry smell to be a nice change from all the usual products on the market.
However, it didn't seem to last as long as other products I'd tried before, perhaps because its composition also contains natural carnauba. This liquid wax could be perfect if you're looking for great but rather temporary results for your car.
3. Meguiar's G210516 Ultimate Liquid Wax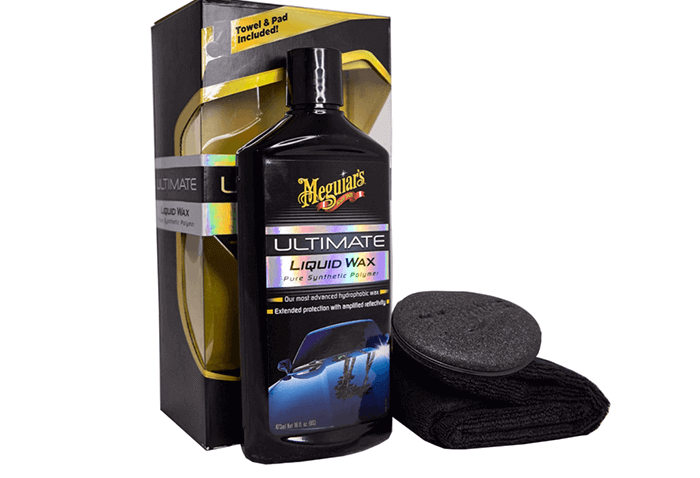 Meguiar's has been in the car care business for one hundred years, and Meguiar's G210516 Ultimate Liquid Wax lives up to its reputation.
This liquid car wax provides a wonderful deep shine. It uses a purely synthetic wax formula, and I've found the results to be longer-lasting compared to some natural wax formulations I tried before.
However, although it did last longer, it still did not make the cut above a month. It also took me a while to apply it properly, so I would say it's a pretty good product with a few setbacks that may vary in different circumstances.
4. Chemical Guys WAC 201 Butter Wet Wax, 1 Gal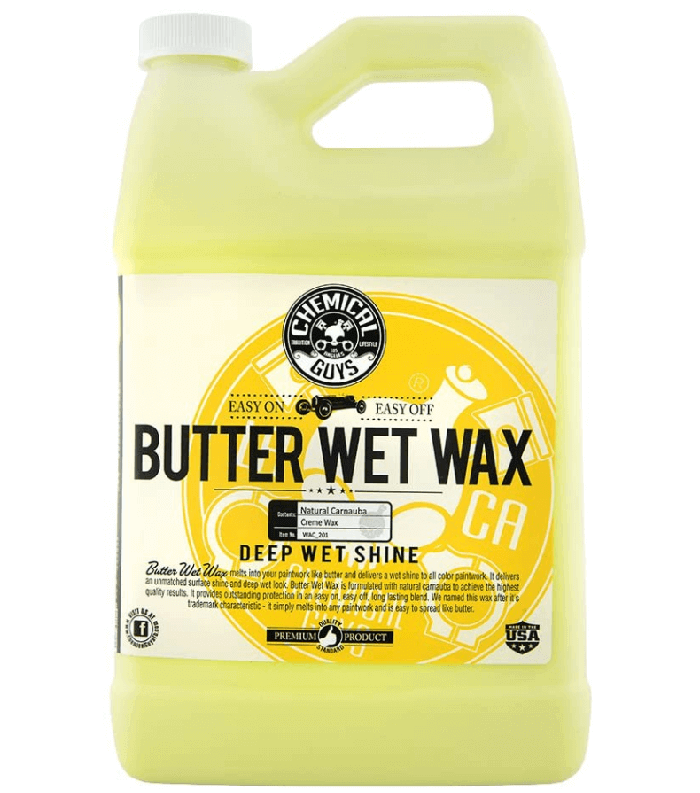 I've been keen to try this product for a while now since the Chemical Guys WAC 201 Butter Wet Wax has been reviewed by so many car owners. And what better time to do it than when writing this review guide for you.
I can't say that I was completely satisfied with what this liquid wax did for my car — but I wasn't entirely disappointed either. Still, I found its color quite helpful as I could immediately see where I had missed a spot.
The application was relatively easy, the gloss was pretty good, and the smell was nice. However, I wouldn't vouch for durability — except maybe if you keep your vehicle inside your garage for most of the time.
5. Mothers 05701 California Gold Brazilian Carnauba Cleaner Liquid Wax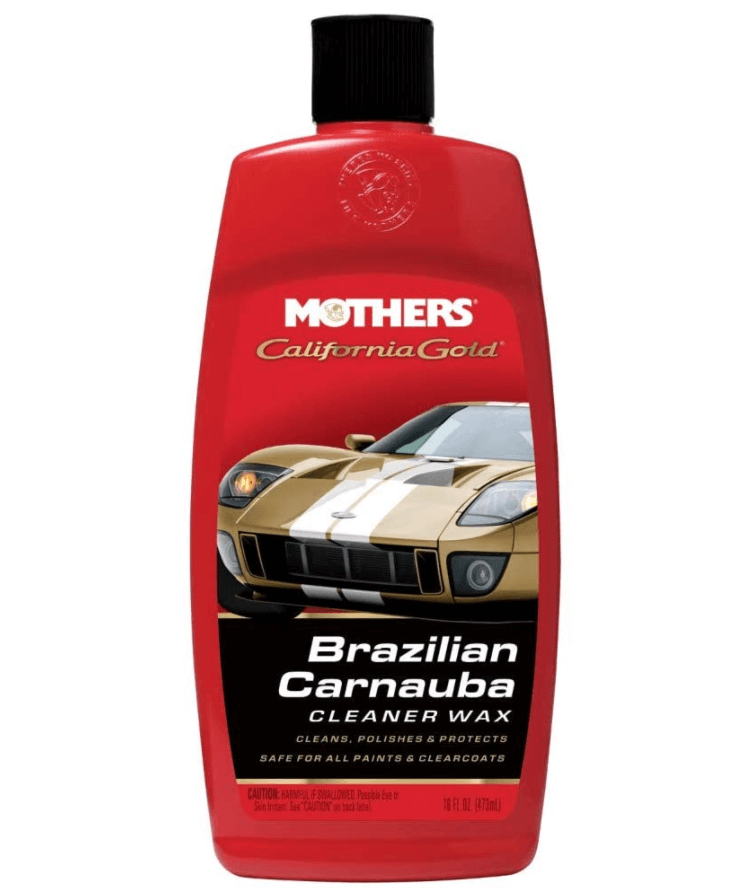 This Mothers 05701 California Gold Brazilian Carnauba Cleaner Liquid Wax is formulated with heat-resistant carnauba wax, which gives it a good enough shine. It's easy to apply and leaves no streaks. Its smell is also pleasant as it's not too stringent, nor did I feel this liquid wax to be irritating to the skin.
However, I did notice — two or three rain sessions later — that the durability aspect could be improved. Otherwise, this was a decent product at a decent price.
The Takeaway
While applying a high-quality ceramic coating may be the absolute best you can do for your car in terms of paint protection, waxing is a great step to take if you want to see your vehicle shiny and clear of contaminants for a while. 
A good liquid wax has a lot to offer. It's not only capable of giving your car a glossy shine but also protection from the sun's UV rays and wear and tear.
Read car care reviews, study product guides, and learn what your car needs before selecting a product. Once you do your homework, you'll be able to pick the right car wax easily.
These five liquid waxes for cars are among the best ones on the market. Yet, they are not perfect. Each one comes with its unique qualities, as well as its setbacks.
It's up to you to balance them out and decide which one better suits your and your car's needs. Of all the liquid formulas available, you're bound to find something that will leave your vehicle looking stunning.
We hope this article was concise enough for you to get all the support you need in choosing the best liquid wax for your car. If you would like to get additional information, don't hesitate to reach out to us — we'll do our best to offer any additional information you may need.
You might also enjoy: