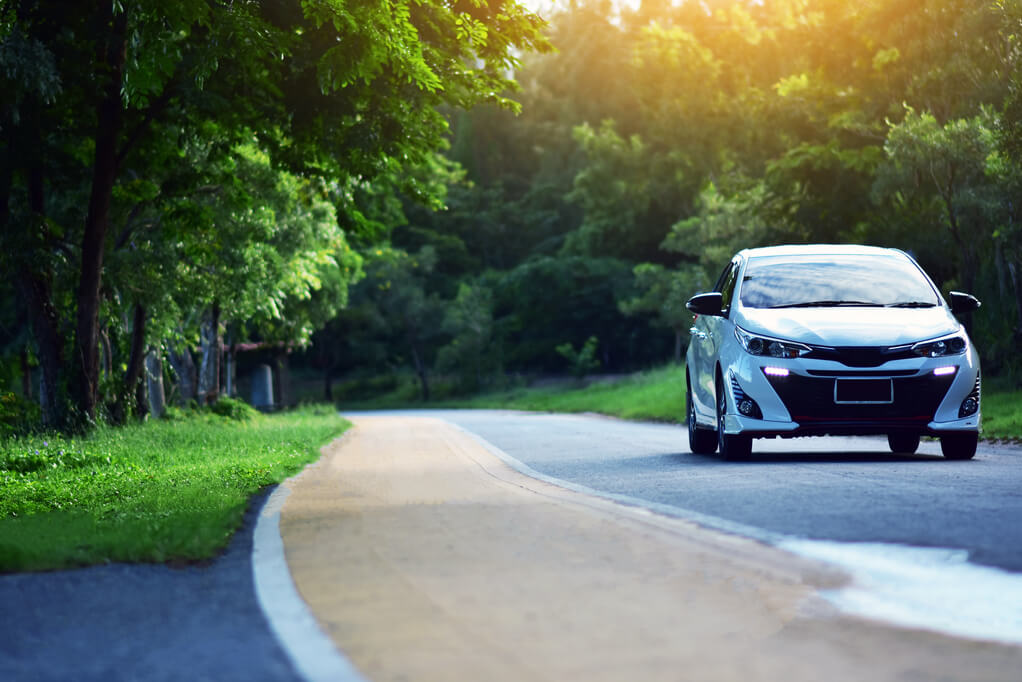 Wondering how to remove tar from your car quickly, easily, and without damaging the paint's surface? Read on!
Just like any other vehicle, our cars need regular maintenance to run smoothly and safely. With proper care and upkeep, you can expect your four-wheeled friend to last a long time and provide many memories, whether it's your daily driver or weekend ride.
Essential car maintenance goes beyond a visual inspection every time you head out.
You'll also want to follow a regular maintenance schedule and care for your car after every outing. However, after some time, the car's paint will simply not look well anymore. Perhaps it's the scratches, the swirl marks, or the water spots that spread all over the paint job. Or maybe it's that giant dried tar patch that seems to stubbornly stick to the surface.
Fortunately, many detailing-related tasks are manageable for most car owners. However, if you do find you need assistance or a major repair, we recommend turning to the pros, so you can enjoy your car safely. In the meantime, let us help you learn how to remove tar from the car.
What Can Affect Your Paint's Shine?
In reality, there can be plenty of factors that will meddle with the integrity of your car's paint over time. In this article, we'll take a closer look at most of them, with a primary focus on tar.
Tar is an infrequently talked about damaging element to your car's paint, and that's exactly why we want to address it. If you read this blog till the end, you'll have a better understanding of what makes your car's paint lose its shine. Plus, you'll learn how to remove tar from your car safely and restore the beauty of its paint.
Let's see which are the substances that can negatively impact your vehicle's paint;
Abrasive Cleaners
Many car owners may fear hearing this, but we must take this factor into consideration as well. The automotive industry has expanded so much that it now offers a myriad of cleaning products in a range of qualities. Having said this, remember certain auto cleaners out there can be pretty abrasive and harmful to the integrity of your car's paint.
Be sure to scour the internet and the auto body shops thoroughly when looking for the perfect cleaning product and factor quality above everything else before purchasing. Skip the pitch-perfect advertising and jump straight to the ingredients and the certified car care reviews from experts and other car owners.
Road-Related Contaminants
Before showing you how to remove tar from your car, we'll take a quick look at all the other road-specific contaminants that can take a toll on it as well.
Rocks, Dime, And Dirt
As long as your car is on the road, it will be exposed to all sorts of harsh contaminants. First, there might be rock chips bouncing off from the surface of the road and straight onto your car. Then, there's road grime and dirt.
These are also abrasive and will leave their mark on your car's paint. In the beginning, they might be micro-scratches, but these tend to grow in depth over time no matter how well you wash your car.
Tree Sap
Tree sap is another harmful substance that can settle on your car and create immense damage. Sap will not immediately impact the car's paint but will take its toll if left unaddressed. In other words, be warned that, in time, it will end up eating away at the clear coat and lead to discoloration.
Bugs
Before we actually move to how to remove tar from your car, we need to also talk about bugs. Yes, bugs.
Bugscan turn into powerful enemies that can disgrace the shine and integrity of your car's paint. They tend to stick to the surface and leave an affected area that's difficult to overlook. Your typical bug is sticky, which is why we recommend that you remove them as quickly as possible before they build up or harden.
Road Tar
Road tar is a frequent nightmare for car owners that barely get to enjoy their newly-paved neighborhood roads before noticing tar spots on their beautiful car's paint job. Tar spots are most commonly found on the lower parts of the car, like the grills, bumpers, and the paint above them. So, better take care of them as soon as possible.
Tar is essentially a dark, viscous substance resulting from the distillation of certain organic materials such as petroleum, coal, and wood. So why is it so dangerous for cars? Because its structure is similar to glue with a corrosive oil composition that is difficult to remove.
To avoid any confusion, let us clarify that tar and asphalt are not the exact same thing, even though asphalt is sometimes called "tar" or "tarmac." Still, as both substances are similar, you will notice that the products we recommend in this guide are also effective for both.
If you're looking for how to remove tar from a car, one of the most important things you need to know is that you should never use soap to remove it. This is something we'll delve deeper into in the second part of this article. We'll also share tips and tricks on how to remove road tar from your car, methods you can apply, and products you can use to get the best possible results.
But first;
What Can You Do To Protect Your Car From Contaminants?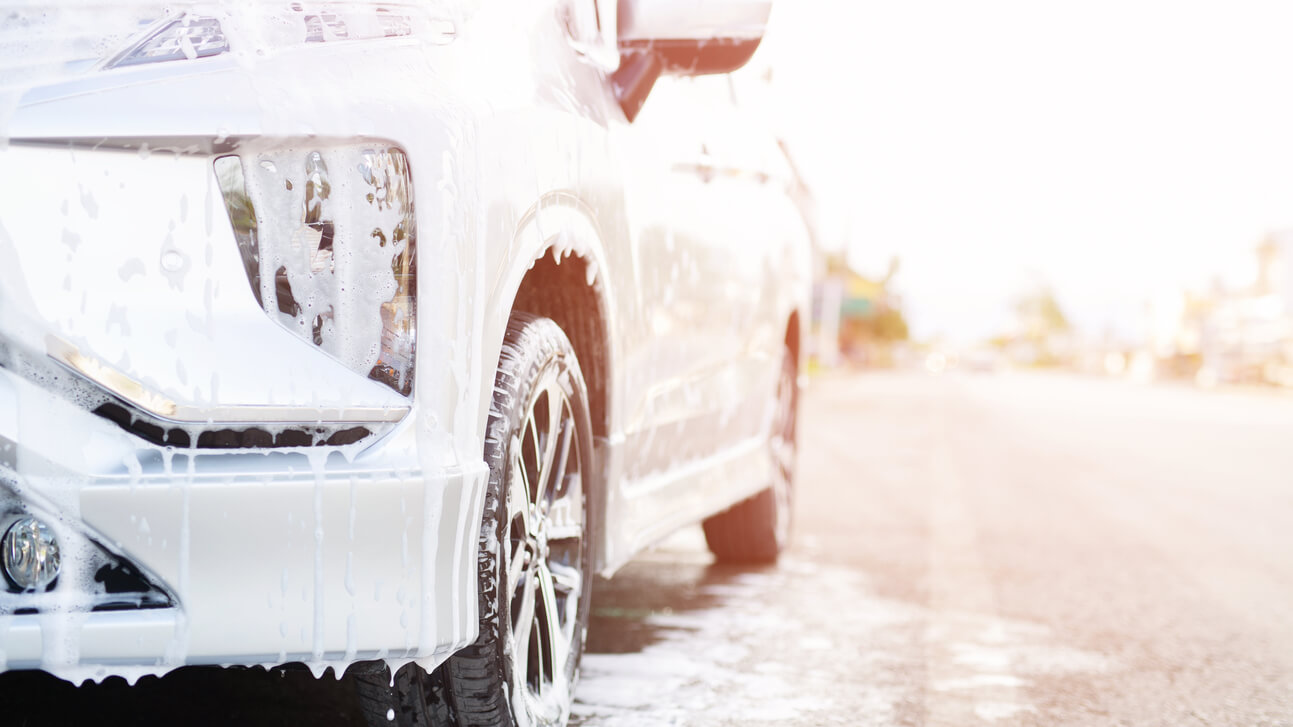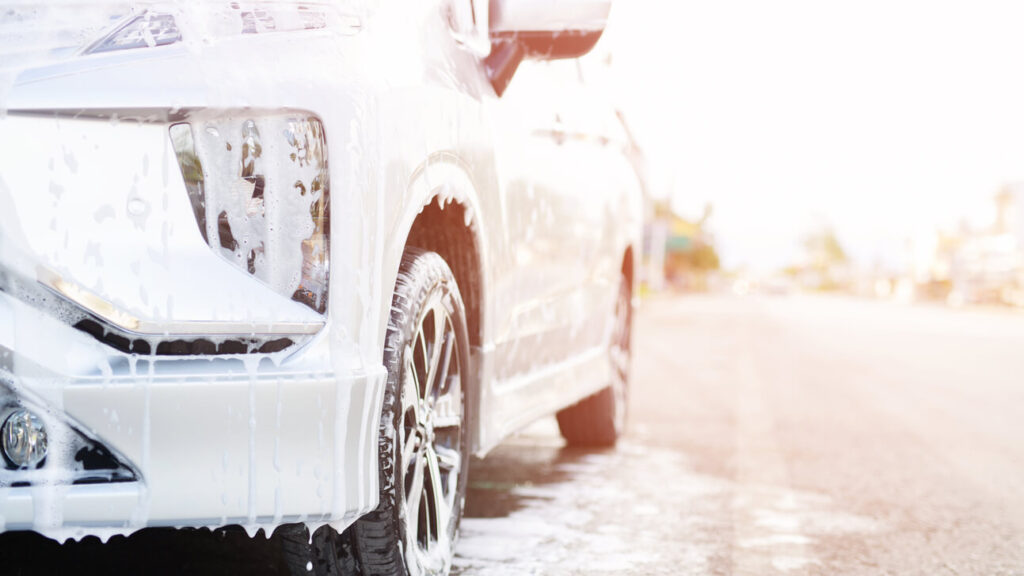 In most cases, you need to act fast to combat the harmful effects that contaminants can have on your car's paint coat
If it's about dirt and grime, you should make sure that you wash your car often with high-quality products and that you rinse it off thoroughly. What would make a huge difference is that you also polish and wax your car from time to time.
If bugs are the ones you are dealing with, you will need to remove them quickly using a special product designed especially for this purpose. It won't do your car any good if you leave that sticky substance on its surface for too long.
And since this article aims to teach you how to remove tar from cars, you can do that by using one of the two methods we'll describe below.
However, if you want to keep your car's paint as well protected as possible, then you should look into professional detailing options. With this in mind, we recommend that you use ceramic coatings since they offer unbeatable protection and an enviable shine.
What you need to consider, though, is that a ceramic coating session with professional detailers may be costly. That's why we recommend that you choose the DIY version. All you need to do is learn how to apply ceramic coating and you can do that easily by reading the many articles online.
Sure, it takes a bit of patience and dedication, but the results are outstanding and the costs, minimal. If you want to get one of the best DIY ceramic coating products out there, you should give Nexgen Ceramic Spray a try. 
Why do we prefer it over every other similar product out there? First, because it does what it promises. And second, because it has the highest silicon dioxide (SiO2) composition you can find in a DIY ceramic coating product, which ensures protection that lasts four times longer.
How Do I Get Dried Tar Off My Car?
There are actually two ways to remove dry tar from your car, each one using totally different types of products. In the end, if you want to learn how to remove tar from a car, it's up to you to decide which one suits you best.
Method #1 – Using a Tar Removal Spray
For this, you'll need:
A tar removal product for cars – the ones that caught our attention are Chemical Guys, Stoner Tar, and Adam's Tar. More on them below.

A microfiber towel or mitt – a classic one will do just fine.

A bucket – a lot of DIY car cleaning techniques will involve a bucket at some point or another, so you definitely need one of those. Learning how to remove tar from a car is no different. The classic bucket is a savior.

Car wash soap – Professional car detailers should have the car wash soap you're looking for. We guarantee a decent price-range soap is more than enough for the job.
Steps For Applying Spray Tar Remover
Apply the tar remover on your microfiber towel or directly onto the affected area if the tar has hardened.
Wipe over the affected area insisting on the tar spots in a circular motion, using the wet, microfiber cloth. You should notice the tar getting softer — and will soon rub off. Once this happens, turn over the cloth and use the clean side.
Repeat the previous step by using a clean towel. Before you know it, all tar is gone, and you've successfully gone a step further in learning how to remove tar from your car.
Now it's time to wash your car. For this task, you'll need to have your bucket handy and filled with the car wash soap solution. Start washing from top to bottom, including the soap and the rinsing parts that follow.
Check to see if there's any residue or tar spots left on the surface. If you can see them, wipe the area again using the tar remover solution insisting on the remaining spots.

The final step here is to apply car wax and give your car that glorious shine any car owner truly craves.
Method #2 – Using Peanut Butter
This second method involves using household solutions. Not necessarily something we recommend, but nevertheless an option worth knowing about. So let's see what you'll need:
A bucket – this one is obvious by now.

A microfiber towel – you can use a cloth or pad as well here.

A household stain remover – peanut butter.

Car soap – again, it's the same professional car soap from before, which is highly recommended.

Wax – wax is a godsend for every car owner out there that wants a bit of that showroom shine.
Steps For Using Peanut Butter For Tar Removal
When using peanut butter, apply it to the tar spots and let them soak for about 30 seconds. You can also apply it on a microfiber cloth first and then rub the tar spots with it. This is indeed a non-traditional approach in learning how to remove tar from a car. Maybe not as efficient as using professional products, but definitely cheaper.

Use another microfiber or terry cloth to wipe clean this mixture of tar and peanut butter. Keep repeating this process until you don't see any more spots.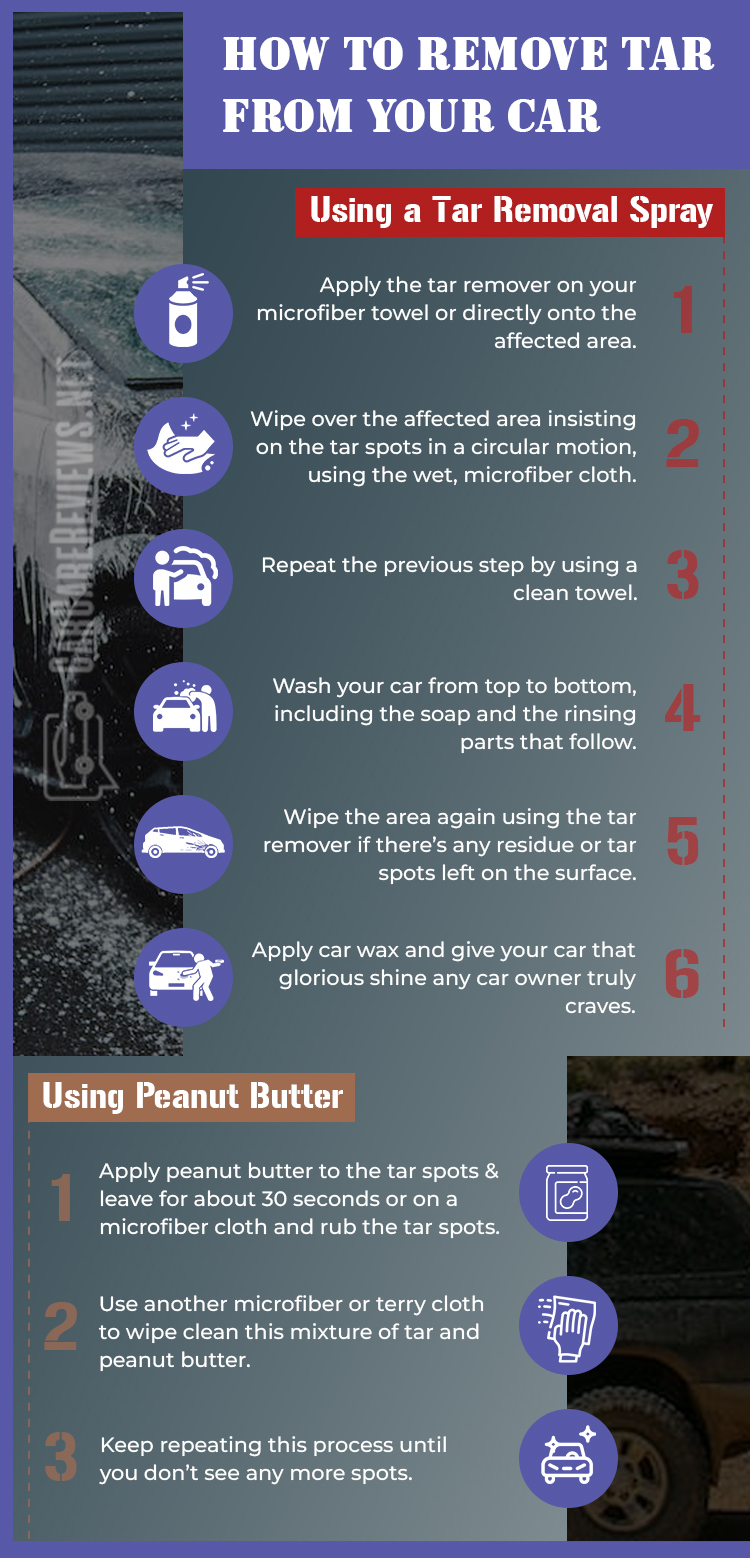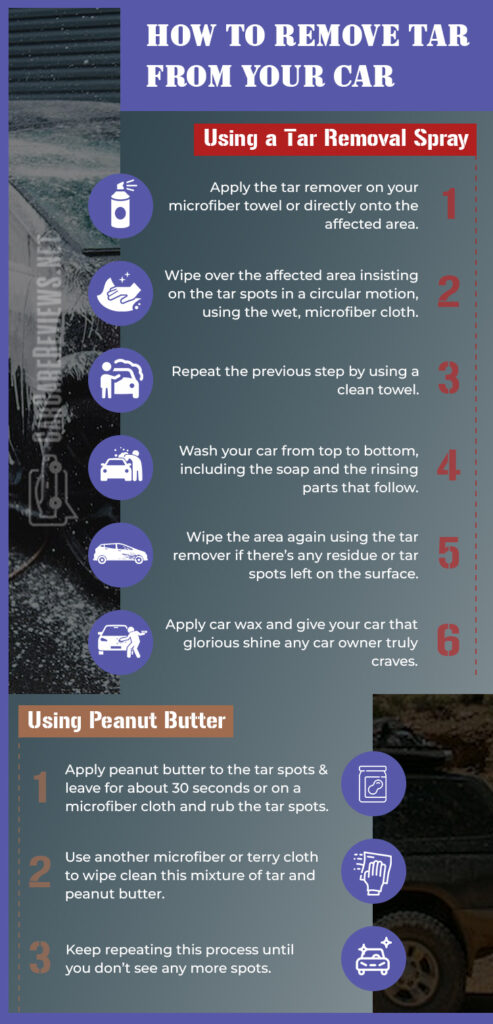 What Is the Best Product To Remove Tar From a Car?
Now that we've seen both ways to get tar off your car, let's pull back the curtains on the tar removal products we've found most efficient so far:
1. The Chemical Guys Concentrated Bug And Tar Remover Car Wash Soap For Cars
We recommend the Chemical Guys Concentrated Bug and Tar Remover for most car enthusiasts that want to learn how to remove tar from their cars. Whether you're a commuter, a courier, you own a truck, or a fleet vehicle, this tar remover is for you. In fact, it's not only good at removing tar but also grime, bugs, bird droppings, and tree sap.
As you'll notice when using it, this solution is highly concentrated, which means that one cupful is more than enough when mixed with one gallon of water.
Using this product will help you save time and energy that would otherwise go into removing stubborn grime and stuck bugs. In the long run, it will also help you protect your car from future paint damage.
2. Adam's Heavy Duty Concentrated Road Tar And Adhesive Remover
Another product we recommend to all those looking for how to remove tar from their car is Adam's Heavy Duty Concentrated Road Tar And Adhesive Remover. This solvent-based solution is great at dissolving stubborn contaminants such as asphalt, grease, sap, glue, and adhesive residues.
Adam's Tar Remover will do its job impeccably without damaging your car's chrome parts, clear coat, or paint job. As an added bonus, it will also help you remove all sorts of badges and stickers, you know, the ones you stuck for your kid and can't get rid of after.
The company guarantees this product's effectiveness, and so do the many positive reviews that vouch for the impressive results. We were quite impressed by this product too, and consider it's worth giving it a try.
3. Stoner Car Care Tarminator Tar, Sap, And Asphalt Remove
The third product that grabbed our attention is Stoner Car Care Terminator Tar, Sap, and Asphalt Remover. This one is specifically efficient for removing stubborn tar and sap, the two most harmful contaminants that can affect your car paint's integrity.
If you want to learn the secrets of how to remove tar from a car and be a total success, then you need a powerful tar remover product by your side. Most chemical cleaners are very abrasive and will ultimately damage either the clear coat or the paint layer itself.
However, the Stoner Tarminator spray is very safe for your car's surface and takes little time to act. Leave this solution for about 30 seconds on the spots, and you'll see just how easily they dissolve.
If you have chrome parts on your car, you probably know how difficult it is to find a solution that won't harm them. Well, Stoner made sure to avoid any negative consequences for your vehicle, so you can rest assured you'll successfully remove tar from it.
Still not convinced that this is the right product for you? If you don't trust us, you take a look at the reviews. There are over 2,000 people that attest to this product's quality who can give you the confidence to give your car what it deserves — the shiny and clear paint job it once had.
Summing Up The Tar Removal Process
To sum it up, removing tar from a car is quite a straightforward process with two types of products to choose from. For all those looking for how to remove tar from their car, here is a short summary of the steps we discussed:
Pick a method – with professional products or by using peanut butter.

Collect the tools you need.

Be patient and dedicated every step of the way to ensure you get the best possible results.

Wash up the treated areas. You can do this yourself after finishing the tar removal process. Alternatively, you can take your car to a professional car wash.
What Else Do You Need To Know To Remove Tar Successfully?
If you want to remove tar from your car successfully, here are some additional tips to complete the process:
If minor scratches appear during the tar removal process, you can easily buff them out with a soft cloth. Then, apply a good natural carnauba wax to give your car's paint that special shine you crave for. Wax is sort of the best-kept secret when you want to perfect how to remove tar from a car successfully and follow up on the great results.

No matter what method you choose, you must thoroughly wash the car before you start. Similarly, it's equally important that you wash and rinse the treated area really well once you're done removing the tar. Moreover, don't forget about the pampering waxing or ceramic coating session every car needs.
All In All
In the end, what you need to know is that getting tar on your car is no reason to worry. Indeed, tar spots left unaddressed can certainly cause damage to the paint coat. But by following the steps discussed above, not only will you know how to remove tar from your car, but you'll also do it like a pro!
If you enjoyed this article and are interested in finding more about car detailing tips, steps, and products, check out the rest of our blog. You might also like: