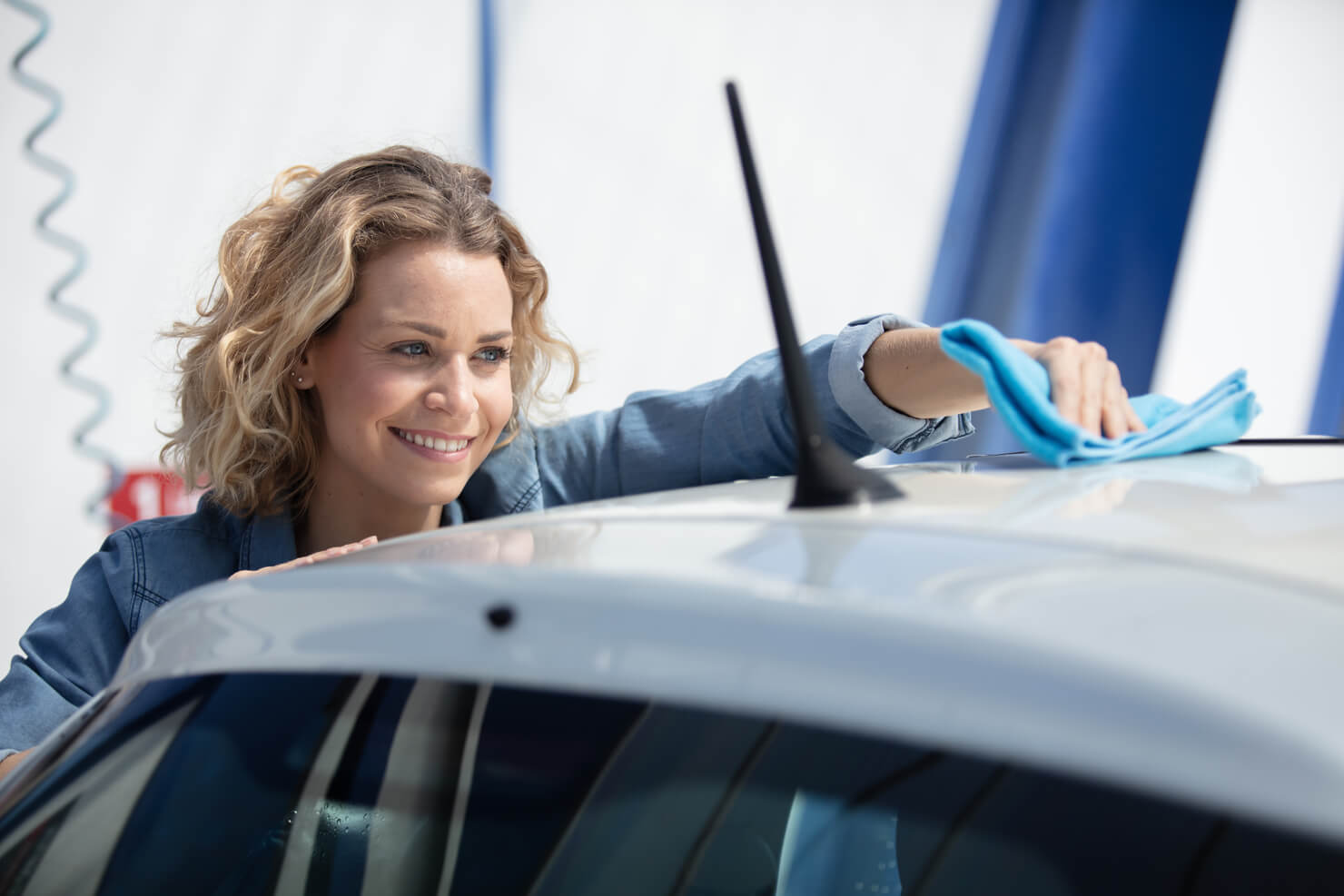 If you ever wanted to find the best microfiber car cloths, this article is for you. Read on to see what makes microfiber cloths so special, and learn how to pick the best microfiber cloths for car detailing.
Although it may not be the most exciting aspect of owning a car, detailing plays a vital role in ensuring the longevity of any vehicle. If you're a passionate driver you may know quite well that no matter how well you look after your car, without the use of proper detailing products, your vehicle will end up losing the showroom shine that attracted you in the first place.
A lack of attention to detailing is problematic not only because dirt, grime, and dull paint are unattractive, but also because most contaminants can also deteriorate your car's interior functioning. Regular maintenance is thus needed if you don't want your car to look and feel like an old piece of metal scrap within a few years.
The various surfaces of a car will always be subjected to a wide variety of factors that will negatively impact their integrity. But keeping your car in shape isn't too tough when you have the right materials. In this article, we'll walk you through the best microfiber car cloths for detailing.
Why Detailing Your Car Matters
What car owners ultimately learn by doing — or rather by owning — is that a car needs quite a bit of dedicated maintenance for it to retain its value over time, which is not to say caring for a car is difficult. It only requires you to give it your attention and to use the right materials.
These materials can make all the difference in the world — regardless of how passionate you are about keeping your car clean and tidy, if you use the wrong materials, it could all be for nothing.
Thankfully, one of the best cleaning cloths you can use, as it's already universally agreed upon, is the microfiber cloth. However, with so many microfiber cloth options out there, it's difficult to know which will actually be the best one for your car.
Perhaps there isn't even a single absolute one, but it pays to know what a great one is made of, what its properties are, and what its recorded car cleaning effects are.
In this article, we'll focus on helping you learn everything you ever wanted to know about microfiber car cloths and their utility, as well as showing you 5 of the best ones out there. This way, you'll be able to make an informed decision and choose the one cloth that suits your needs and leaves your car looking spotless.
But first, let's have a quick look at what makes microfiber towels so special, and why you even need them in the first place.
Are Microfiber Car Cloths The Best For Cleaning Cars?
Understandably, you may want to find out what the best microfiber towel for car detailing is. But are microfiber towels really that good at cleaning a car?
To make it short, microfiber towels are not good. They are excellent! It's what professional detailers always use when washing, drying, and detailing a vehicle. But let's see why:
1. Microfiber Cloths Are Very Soft
Something that almost everyone knows about microfiber towels is that they are very soft. Made from a blend of polyamide and polyester, and with each fiber in their composition being 1/100th the diameter of human hair, it's no wonder that softness is what describes these items the most.
In case you didn't know, polyester gives them most of the softness. So if you're trying to choose the best microfiber towel for your car, pick the one with the highest percent of polyester in its composition.
Ultimately, when it comes to car care products, it's important to get into the habit of checking the label of the products, their online description, and online reviews.
2. Efficient In Cleaning Grime
When comparing cotton towels with microfiber ones, cotton cloths only serve to spread dirt across the surface of your car.
On the other hand, the fibers of a microfiber car cloth are so small and so closely packed in together that they lift grime right off. The microfibers also tend to create an electrical charge which attracts dirt and dust.
When comparing cloths of similar sizes, it's been shown the microfiber ones are simply denser than the ones made of cotton and have a surface area that's four times larger. This is why they are actually much more efficient in removing bacteria than cotton towels.
3. Extremely Absorbent
Another top quality of microfiber car cloths is their high absorbency level. They are known to absorb around eight times their weight in water, making them extremely efficient in drying your car thoroughly. As a bonus, rest assured that, when using a microfiber cloth, it's less likely to leave any water spots behind.
Microfiber cloths also dry very quickly, which eliminates the risk of them growing bacteria and other microbes. When it comes to efficient and safe car detailing, a microfiber cloth is your safest possible bet.
4. Scratch-Free Material
Microfiber towels are great when comparing them to other types of materials. As we've said before, cotton towels will simply just push the dirt around the surface of your car, and this may even cause micro-scratches, which is not desirable at all. This is why it pays to find out which the best microfiber towel for car care is.
On the other hand, we also have the renowned chamois, which is also a fabric highly recommended for car care, thanks to its very absorbent nature. However, if used incorrectly, a chamois will leave marks on your car. Moreover, it also takes much longer to dry than a microfiber towel, making it more inconvenient to store.
Why Do You Need Microfiber Towels In Your Car Care Routine?
As invincible as they may seem at first, cars are just like any other goods out there: fallible. They will eventually deteriorate, and it's up to you, as a car owner, to slow down this process as much as you can by engaging in really effective car detailing routines.
Having said this, choosing the best microfiber car cloths for detailing and using them regularly when looking after the car can make a world of difference.
But what exactly happens to cars with time, and why is it so important for you to properly take care of your vehicle?
Abrasive Cleaning Substances
Yes, they exist. The automotive industry is not exactly perfect when you look at all its nooks and crannies, so you can expect to find the one-off cleaning substance that will absolutely wreak havoc on your car's paint and maybe even on your clear coat.
Cleaning your car with a rougher cloth can only add to the previous damage created by these substances. Ultimately, it pays to invest time and resources in choosing the best microfiber cloth for car detailing to keep your beloved possession scratch-free for as long as possible.
Dirt And Dust
No matter how often you drive your car or how clean the roads are, dust and dirt will still find a way to settle on its surface. Even after washing your car, some residue may still remain, and by using a soft cloth, you can make sure that you are not pushing the dirt around and create tiny scratches all over the car.
Other Types Of Contaminants
Unfortunately, car owners have to deal with a lot of contaminants that can affect the integrity of the car's paint. Apart from those mentioned above, and the occasional rust that can happen in specific circumstances, some contaminants are simply unavoidable and will take a toll on your car if left unaddressed.
Having the best microfiber towel for car care in handy, as well as a powerful car detailing product can turn things around before they get sour.
Marks And Spots
Even after washing and cleaning, you may notice water spots and swirl marks that are not aesthetic at all. Thankfully, a great microfiber cloth can turn things around in this case. We're talking about bird droppings and tree sap, both of which can happen at any time. It only takes a couple of hours for them to sink in the paint and permanently damage it.
It will be to your advantage to not only wash your car, but also use car detailing products that enhance protection and shine. Simply washing your car regularly is not enough.
We're talking about polishing and waxing your car, as well as applying a ceramic coating for durable protection. For this, we strongly recommend the Nexgen Ceramic Spray, which offers protection that lasts four times longer than the average ceramic coating product on the market. 
Ultimately, for all these car care procedures, you'll need a premium microfiber towel you can count on to do the job efficiently and leave the car streak-free. Read on below to discover the 5 best microfiber towels for car care and discover their characteristics.
How Do I Choose The Best Microfiber Towel For My Car?
As you've probably noticed, most microfiber towels are similar. They only differentiate from one another when it comes to the finer details, and that's why it's important to understand the basics of how a microfiber towel is made to further explore its specifics.
Key Features All Microfiber Cloths Share
All microfiber car cloths have polyester and polyamide in their composition.
Absorb water with tremendous efficiency, which makes them perfect for a car drying session.
Contain microfibers, which are pretty dense in composition.
Are reusable and can be washed in the washing machine.
Are very durable, although they have a soft microfiber texture that can fool an inexperienced buyer.
These are all standard features, and you are guaranteed to benefit from them regardless of the microfiber towel you use. But if you're really looking for the BEST microfiber car cloth out there, we've got you covered.
When going for a top-quality microfiber car cloth, you should take the following into consideration:
The Polyester/Polyamide Ratio
As mentioned before, the higher the polyester content, the softer the microfiber cloth will be. This ratio is usually 70/30 or 80/20. Polyester makes it softer, and the polyamide gives the towel its ability to pick up lint and dirt while also absorbing water.
Their Softness
You're going to want the ultra-soft microfiber towel, so simply test it by running it across your skin. The softer it is, the safer it is for you vehicle.
Their Absorbency Level
You can also test this quite easily. Simply drop a bit of water on a counter, run the microfiber towel over the water splash, and see how quickly and how much it absorbs.
Microfiber towels are designed to absorb water and lift dust as much as possible, so don't overlook this kind of test, as it will tell you enough about the job it will do once you use it on your car.
What Is The #1 Microfiber Car Cloth Product?
Even with all the testing and probing, it can be hard to figure out the best microfiber car cloths. This is why we've created a list of the 5 BEST microfiber towels available out there, so you don't have to spend hours researching!
1. Nexgen – Premium Microfiber Towels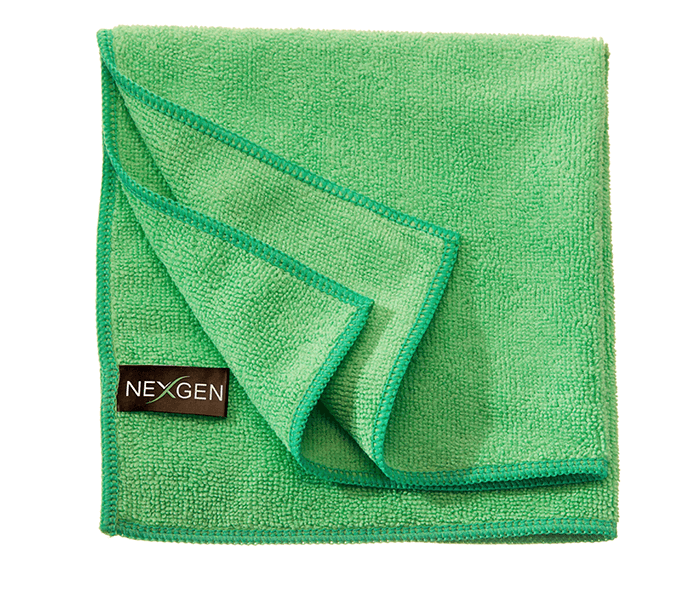 The Nexgen Microfiber Towel is made with 100% highly-absorbent microfiber. This towel is soft, durable, and super resistant. It will last through 40+ uses before it needs to be replaced, and will never leave any residue or streaks on your vehicle.
The microfiber in this towel is what makes it so effective at cleaning. The tiny fibers trap dirt and grime like a magnet, lifting it off the surface of your car as you wipe. The Nexgen Microfiber Towel is large, measuring 16" x 16", so it's easy to get a clean, streak-free finish on any car, truck, or SUV. The soft, luxurious feel of microfiber is pleasant on your hands, and it's safe to use on any paint finish.
Nexgen's towel is suitable for many different types of applications, including car washing, detailing, cleaning windows, and more. And because it's lightweight and easy to store, it can be taken anywhere you need it. It is an excellent choice for people who need a convenient way to clean on the go. All in all, I would rate the microfiber towel from Nexgen with a 10 out of 10.
2. The Rag Company – All-Purpose Microfiber Terry Cleaning Towels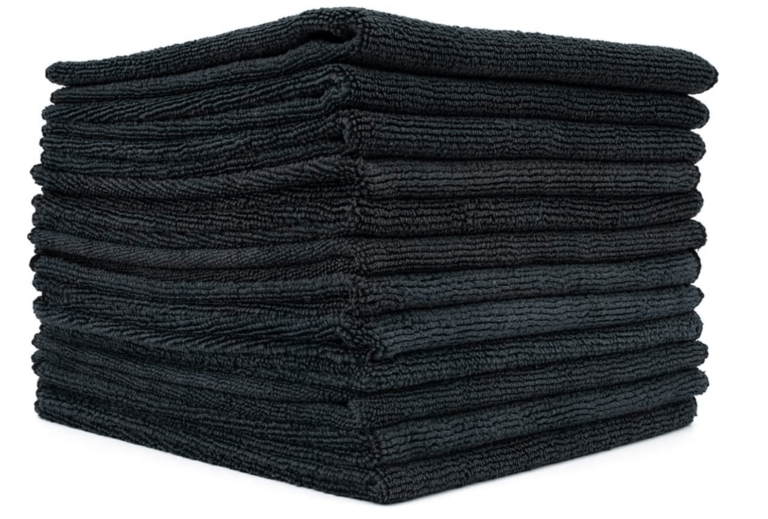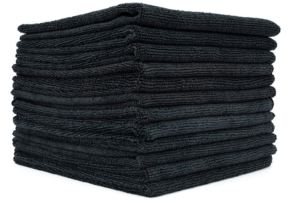 In your search for the best microfiber car cloth, you'll see a few powerful contenders. The microfiber towel created by The Rag Company has an 80/20 polyester-polyamide ratio, which, of course, means that it's very soft and extremely efficient in cleaning the car without leaving a scratch in sight.
The Rag Company All-Purpose Microfiber Terry Cleaning Towels have over 200,000 fibers per square inch and come in different sizes, in 12-packs — just choose the one that most suits your needs. The thread count is 300 grams per square meter, so no wonder as to why they're absorbent, lint-free, scratch-free, and super soft.
An added bonus is its durability, considering it can withstand hundreds of washings.
Rag Company's microfiber towel is a go-to product for most detailing tasks, and I can easily rate it with a 9 out of 10.
3. Chemical Guys MIC1995 Gray Woolly Mammoth Microfiber Dryer Towel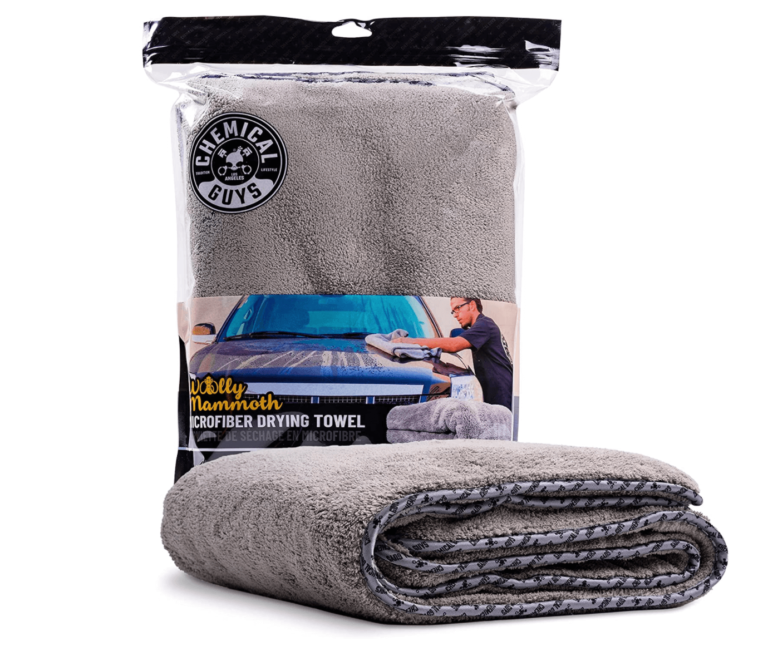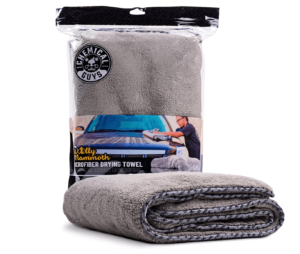 Coming in third, we've got Chemical Guys. Drying your car in one swift pass is absolutely possible with this Chemical Guys Gray Woolly Mammoth Microfiber Dryer Towel. Any leftover dirt will be trapped deep within the fibers of this cleaning cloth, which means your car will quickly be spic and span. Its 36″ x 25″ size makes it large enough for you to be able to clean your entire car in one go.
While more than 1,500 car owners have used this microfiber towel and can vouch for it, the Chemical Guys company already has an incredible track record with a plethora of high-quality car care items to stand behind it. And this one is no different! Although I prefer the Professional Grade more, I definitely recommend this product and give it a 9 out of 10.
4. Zwipes Professional Microfiber Waffle Drying Towel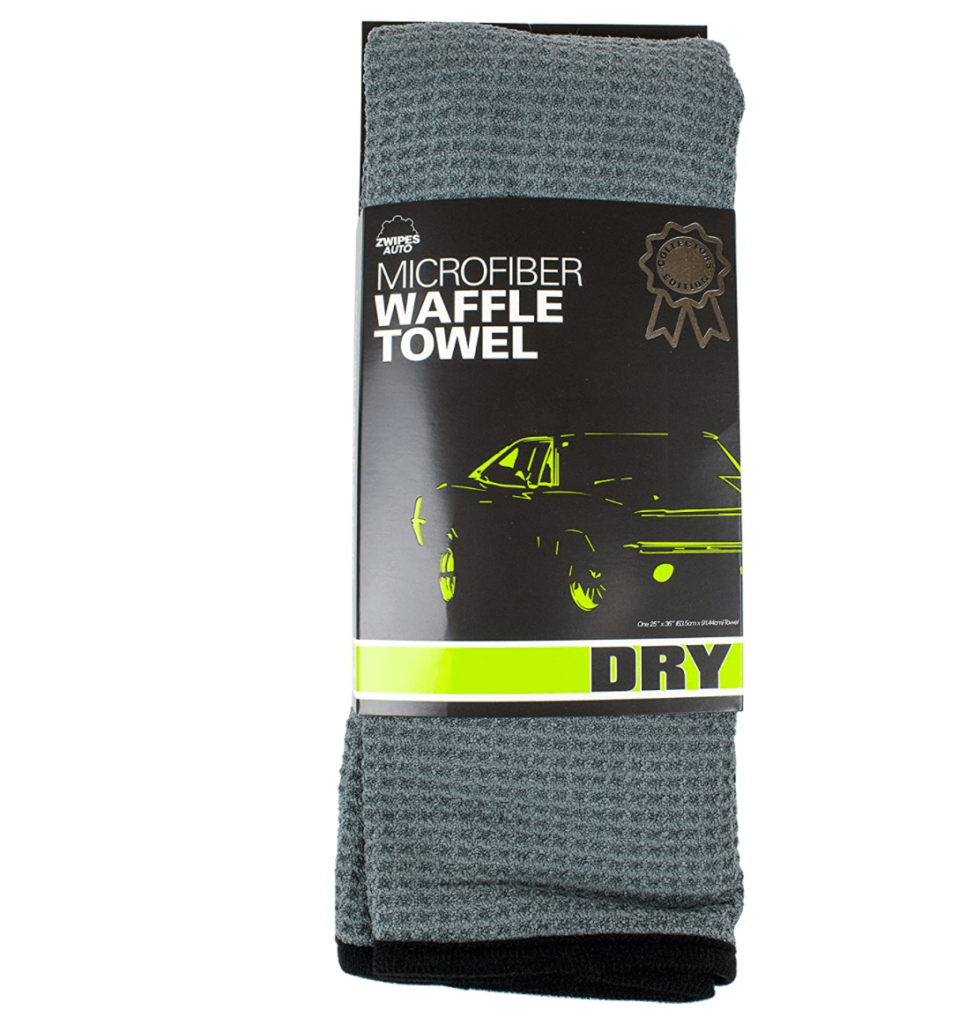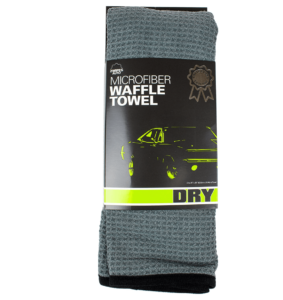 Considering its extra-large size, 12.99 x 5 x 2.01 inches, the Zwipes Professional Microfiber Waffle Drying Towel is perfect for SUVs, trucks, RVs, and even boats, allowing you to considerably cut back on the drying time. This waffle drying towel is definitely on our contenders' list, aiming to become the best microfiber towel for car detailing.
I found this microfiber car cloth to be super soft and can be reused hundreds of times – simply wash it in the washing machine, separating it from your regular laundry. The great feature about this cloth is that it has waffle weave pockets that create a high degree of liquid absorbency.
Upon using this cloth on and off for the past 2 months, I found it to be good, but not as good as some other ones I tried. I think the waffle design negatively affects the absorbency, so I'm giving it an 8 out of 10.
5. Chemical Guys MIC 506 03 Professional Grade Premium Microfiber Towels, Gold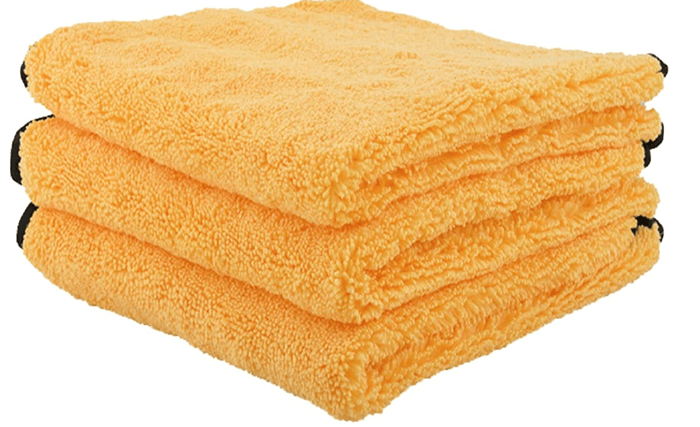 One of the best premium microfibers you can buy is created by the Chemical Guys and comes in a pack of three, so you will also have spares. The Chemical Guys Professional Grade Premium Microfiber Towels Gold have been positively backed up by over 17,000 reviews, which speaks volumes about their quality.
I tried them too, and after using them a few times when detailing my car, I can definitely understand what the rave is all about.
If you are looking for the best microfiber towel for car care, then look no further! The one from the Chemical Guys is designed to be completely swirl-free, lint-free, and scratch-free whenever you use it on your beloved vehicle. This towel is also created to offer effective cleaning, regardless of the car being wet or dry.
The silk bandaged edges are meant to add extra softness to the cloth and improved performance when cleaning your car. It's 100% machine washable, which means you can use and reuse it many times, without having to worry that its quality will diminish.
These towels also come in a 12 or a 24 pack, it's up to you to choose. The only downside was that these "microfiber lint-free" towels left an insane amount of yellow lint all over my car, which took an extra hour for me to remove (I used Nexgen's microfiber car cloths to remove the lint, which worked like a breeze). This is why I'm placing it last and giving it an 8/10.
All In All
When all is said and done, this is the ultimate list of microfiber cleaning cloths you'll need to successfully navigate your car detailing journey. These are the best quality you can find, and the thousands of other car owners that have tried them certainly tip the balance in their favor.
The world of microfiber towels for cars is vast, which can make it difficult sometimes to distinguish between them and pick the best microfiber car cloths for squeaky clean detailing.
And as you can see, it's the composition and extra features they have that sets them apart from the crowd. Our favorite, by far, is the Nexgen Microfiber Towel.
If you have any questions about the microfiber car cloths you can use on your car, reach out to us. We will be more than happy to share our knowledge with you and support you in getting the best possible car detailing product out there.
If you enjoyed this article, you might also like: