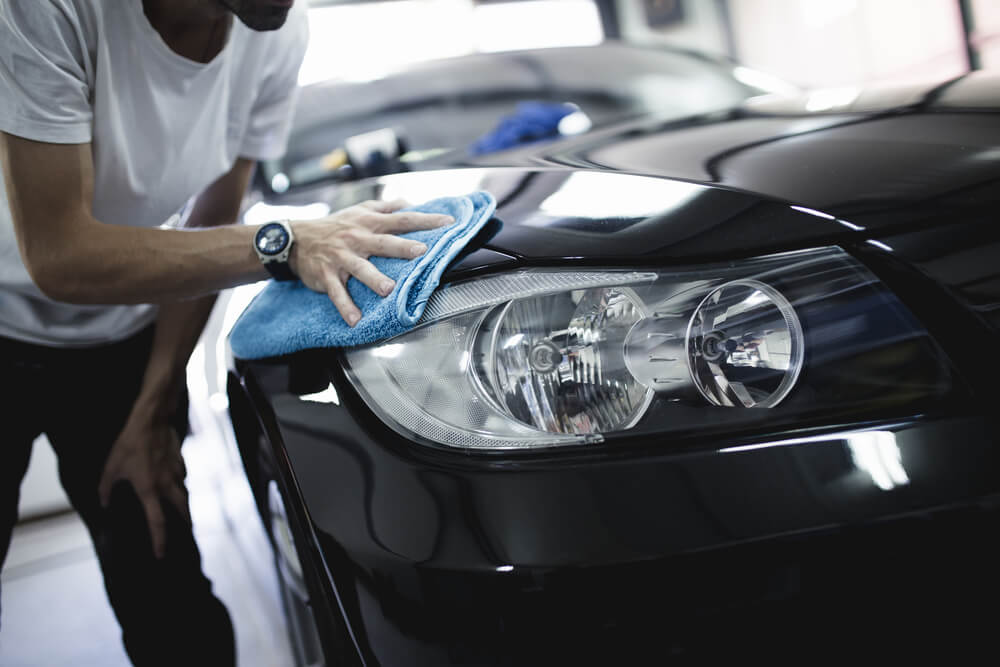 In this article, we'll look at the main differences between car sealant vs. ceramic coating to help you choose the best solution for your vehicle's paint coat. Read on to find all the insights you'll need to decide.
Nearly everyone owns a car these days. Buying a car is more affordable than ever. There are plenty of models to choose from, and many people have a necessity for one. Maybe to travel comfortably, commute to work, take the kids to kindergarten, or the dog to the vet.
But still, actually becoming a car owner is a very special moment. Maybe you've had your eye on that specific car model for a long time, and you've saved up little by little until you could finally afford it. What a joy!
That New Car Feeling
Your car is finally here, parked where you can see it, where you can touch it and marvel at its new-car smell while catching a glimpse of your own reflection on its glorious surface. You take note of every single detail that makes your vehicle so beautiful, and wonder what kind of detailing geniuses made it look so stunning.
However, if you've been a car owner for some time, you probably already know this feeling doesn't really last for too long.
At some point, your car will have lost its shine, its showroom gloss, and the overall look will simply not compare to what it used to be. You may even notice all sorts of marks, water spots, and scratches on its surface.
Even though you may feel a sense of disappointment and even panic noticing this, you should know this is a completely normal process and that all cars lose that initial shine.
Having said this, the key takeaway here is that you have many options at your disposal to prevent your car's paint from dulling down and being negatively impacted by contaminants.
One of these options is applying a car sealant to your car, while the other noteworthy option is applying ceramic coating.
But where do you even start telling them apart, let alone decide which one offers the most lasting protection?
When deciding between paint sealant vs ceramic coating, the arguments are strong on both sides.
So, today, we hope to shed some light on these two paint protectant options to help you better understand which one fits your needs the most. We'll go into the details of what each option brings to the table, what it requires, and what the costs are.
But before we delve deeper into the subject, let's take a look at the reasons why car paint may need a car sealant in the first place.
What Threatens The Integrity Of Your Car's Paint?
It's crucial that we first talk about what happens to car paint over time since many factors contribute to slow deterioration. Most of them are unavoidable or simply difficult to veer away from, and what is left behind is pretty unpleasant.
For one, car paint deteriorates in two different ways: one is through oxidation, which causes the paint to fade, and the other is through the direct impact of contaminants on the car's surface.
This is why we recommend that you apply either a car sealant or ceramic coating to your car. It's ultimately up to you to draw the winner in this paint sealant vs ceramic coating battle.
UV Rays
Among the most negatively impactful contaminants to your car's paint coat is our dear friend, the Sun. For one, by leaving your car in the sun, you'll most likely need to face the grueling process called oxidation. Oxygen will have a sneaky way of getting into the under-layer of the paint coat and, once this happens, there's no turning back.
Oxidation will take over your car's best features.
In fact, you don't even need to leave your car directly exposed under the sun for the paint to take a hit. It's actually all in the UV rays! They cause the most damage to the paint coat. This is why you must offer your car top-quality UV protection by applying either a car sealant or ceramic coating. While both of them can protect your car from harmful UV rays, you'll discover which one is best suited for you later on in this article.
Abrasive Cleaners
By including auto cleaners in this section of this article, we don't mean to say that you can't trust professional car detailers. It's just that some of the car care products out there are not as good for your car as you'd think. They have abrasive components in their composition that will ultimately dig into your car's clear coat and expose the actual paint.
Pollution
In high-density cities, it's only natural that air pollution is also high and can be felt all around.
Cars are impacted by it too, since polluted air is heavy with rough contaminants that will take a toll on the integrity of a car's clear coat. It's the same pollutants that cause acid rain too. This clear coat is, in fact, the layer of protection that's been given over the actual paint coat, and any car out there has it.
Once this is broken through though, nothing protects the factory paint anymore. What's left is mayhem for your car, and sadly, there's little for you to do anymore other than considering car paint restoration.
All this can be avoided if you apply a car sealant or ceramic coating to your car — the paint sealant vs. ceramic coating battle really is tight.
Salt
This one is another important factor to keep in mind when it comes to car paint deterioration. Salt is very common in cities by the sea or ocean, and it usually settles anywhere it can on your car, causing tremendous damage. Once it settled, though, the next step is rust — otherwise known as instant death for your car.
Other Types Of Contaminants
The ones mentioned above are not the only factors to harm your paint coat's integrity. In fact, by simply taking your car out of the garage and using it for what it's meant to be used for, you expose it to all sorts of contaminants. Of course, you can prevent all this from happening by applying a car sealant or ceramic coating to your car.
First of all, you'll have all the dirt and road grime sticking to your car. Even in clean urban areas, you still can't prevent dust microparticles from settling on it. What you need to know is that they're rough, quite damaging to the paint, and have the potential to create a lot of micro-scratches.
Then there are also swirl marks. These are like bundles of micro-scratches on the surface, and typically appear as a result of improper washing and drying. A high-quality car sealant session will get these out of your hair for a long time.
Rock chips will also bounce from the road and straight onto the surface of your car. Considering their weight and the speed you're traveling at, the impact will cause quite some damage.
But there's a solution!
You can give your car a much longer life span by applying extra protection, such as a car sealant or a ceramic coating.
Is Protecting Your Car Even Worth It?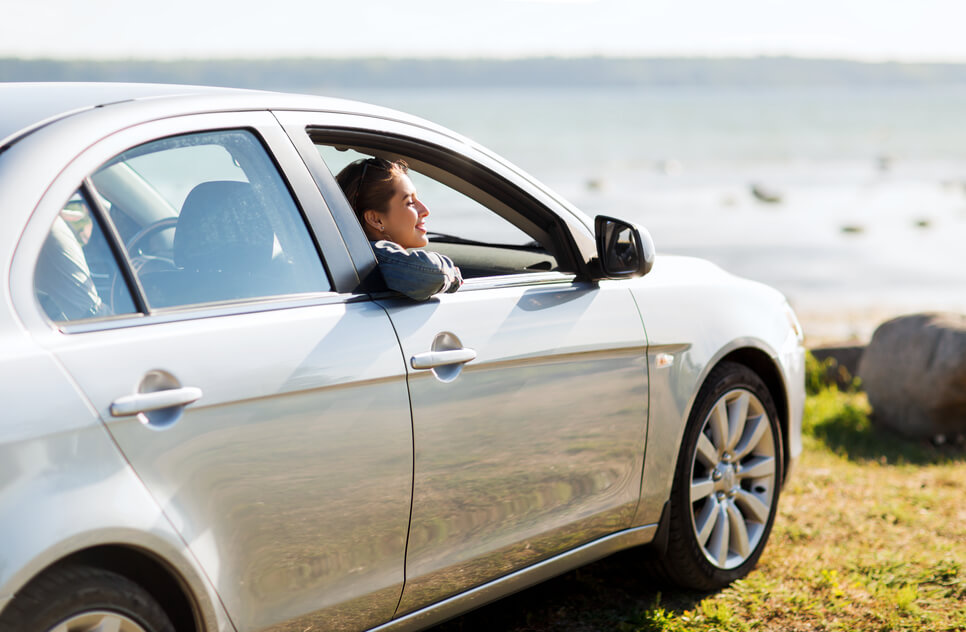 It may seem like such a hassle to go the extra mile to invest your time and resources into getting professional car care procedures that are meant to protect your car from damage.
If all these things mentioned above are going to happen anyway, what's the point of even trying to avoid them?
And if your car is going to deteriorate in time either way and the paint will simply fade into its lackluster version, why would applying an extra protection layer make any difference at all?
Is looking into getting a car sealant even worth it?
These are all perfectly understandable questions, and it's only natural that it doesn't all seem worth it just yet. However, getting that extra layer of protection means that your car will have an additional shield in the future against contaminants that can harm the paint's integrity.
Many daily drivers have come to understand how important it can be to invest in a sealer that thoroughly protects the paint.
The bottom line here is that a thorough protection layer will keep your car clear from any damage to the actual surface for a longer period. In other words, this serves to maintain your car's value in the long run, which for you will ultimately translate into a higher reselling value. This is why it actually pays to invest in a car sealant or a ceramic coating for your vehicle's coat paint.
On Top Of That..
The state of the auto paint is the one to make a first and long-lasting impression on any potential buyer, so it's best if you can maintain that high gloss for your entire vehicle for as long as possible.
Apart from this, extra car paint protection also means less frequent car care activities for you. Less waxing, less polishing, seeing less of your microfiber towel around.
This is simply because this kind of protection lasts longer and is apt enough to keep the more regular micro-scratches at bay. Now the only thing we need to see is which one is better suited for your needs — a car sealant or ceramic coating.
How Can You Better Protect Your Car?
While all the damaging elements we've talked about above are natural and will negatively impact your car, to some degree or another, there is also good news!
So what are the procedures that are designed to protect your vehicle from all the threatening contaminants out there?
Over the years, professional detailers have come up with ways to better protect your car by applying a myriad of procedures. The three top car care procedures in the automotive industry you need to know about are: car wax, car sealant, and ceramic coating.
Let's learn a little more about each one of them.
Is Sealant Better Than Car Wax?
Before we can decide which one is best, let's take a look at each procedure;
Car Wax
First of all, let's take a closer look at the reasoning behind car waxing, its formula, and its benefits.
A good car waxing session can bring forth an enviable deep gloss, creating a mirror-like surface that's not only stunning but also serves as durable protection. The most known and appreciated wax out there is carnauba wax, derived from Brazilian palm leaves and whose natural properties are very beneficial to any car's paint coat.
Carnauba waxes last between 6-8 weeks — not that long if you think about it, but this all-natural composition makes it all worth it for many car owners out there. Other car owners will simply prefer a car sealant though, for the very same durability-related reasons.
Spray wax is typically easier to apply and will last longer, which may be an advantage.
There's also the synthetic version of wax, which is built to last anywhere between 3-6 months. It all comes down to testing each of them to see which one suits you the most.
If waxing is done right, polishing may even become a less frequent necessity since the mirror-like shine is already there, and it's something you can count on for months to come.
Car Sealant
Let's get to the bottom of things! Simply put, a car sealant is a fully synthetic product, primarily meant to offer your car sturdy protection while also creating an impressive shine. The sealants you can find on the market today are designed using polymer technology to enhance performance. So, we can safely say the advances in paint sealing surface chemistry should be highly considered!
You can find car paint sealants online or at your closest brick and mortar shop. You can find them cheap, or you can find them at a steeper price. There's quite a variety of products out there! You just need a bit of thoroughness to sort through them.
How Long Do Car Sealants Last?
While we always recommend high-quality car wax if you want your car to shine beautifully like no other, keep in mind that when it comes to protection, it's the car sealant that takes the cake.
For that matter, car sealants can last up to five times longer than car wax, but at the same time, they may highlight the car paint's imperfections more than wax would.
In the end, it's up to you to decide which one is best, depending on what you value most. Our recommendation is a paint sealant from the Chemical Guys, with a thousand reviews that do it justice. It's up to you to draw the winner in the car paint sealant vs. ceramic coating contest!
What Is Ceramic Coating Then?
As you can see, all these procedures are linked to one another to some degree. Ceramic coating is a chemical polymer solution applied to the car's exterior surface to protect it from external paint damage.
In other words, ceramic coating is a nano-ceramic shield that goes on top of a car's clear coat. Ceramic coating simply offers sturdier protection than wax does, and it will shield the paint finish from UV rays, heat, environmental elements, and contaminants, as well as abrasive detergents.
While ceramic coating may be easier to apply by professionals, granted, of course, you have a comfortable amount of money to spend, you can also go the DIY route and do it on a budget, by yourself, at home. All you need is the right materials and a good blend of patience, passion, and determination — a winning formula for any car sealant out there.
The silicone dioxide in the composition of a ceramic coating bottle can make all the difference when it comes to ceramic coating products and, in this respect, we can wholeheartedly recommend the Nexgen Ceramic Spray. It has a whopping 13% silicon dioxide composition that, compared to other products on the market that only reach a meager 1%, propels it all the way up to a leading position on the market — consider this our personal review of the Nexgen Ceramic Spray. 
This high SiO2 composition gives your car that specific 'wet' look and offers protection that lasts longer by about four times than that offered by other products on the market.
As a bonus, it also makes it more apt to repel water than similar items.
So when it comes to getting a car sealant, is it all worth it?
Are Car Sealants Worth It?
If you want long-lasting and durable protection against the elements, you should definitely pause everything and get a proper car sealant. Of course, you can just stick to carnauba waxes, which do an excellent job in delivering shine themselves, but car sealants are truly the way to go if you want long-term protection.
The bottom line about car sealants is that they're polymer paint sealants, similar to wax. The only difference and quite an important one, we'd say, is that they seal much better, which means increased protection from a wide variety of contaminants out there.
How Do You Choose The Best Car Paint Protection?
All in all, it's safe to say your car will do much better with a protective layer to shield its clear coat and, together with it, the factory paint coat.
It will save you plenty of headaches down the road, will require you to do less polishing, and spend less time and money. A high-quality car sealant will save you lots of potential trouble.
What's more, such strong protection through either a paint sealant or ceramic coating will ensure your gorgeous car will look sharp for a long time.
When the time comes for you to upgrade and let someone else enjoy your vehicle, you'll know it will have maintained its value on the market getting you the price you want.
It's really tough to choose the best car paint sealant out there, and it comes down to a variety of factors: durability, the range of elements it protects your car from, the level of gloss it delivers, permissiveness towards already existing blemishes, pricing, and so on.
The best car protection you can get will be tailored to you and your car's needs precisely once you weigh in all we mentioned above. Thankfully there are plenty of car sealant and ceramic coating options already available on the market, so make sure you do your thorough research before deciding on any one of them.
We really hope this article has been helpful. If you have any questions at all, please reach out to us, and we'll be more than happy to offer additional advice. What matters to us is that you stay a happy car owner for as long as possible!
You might also enjoy: