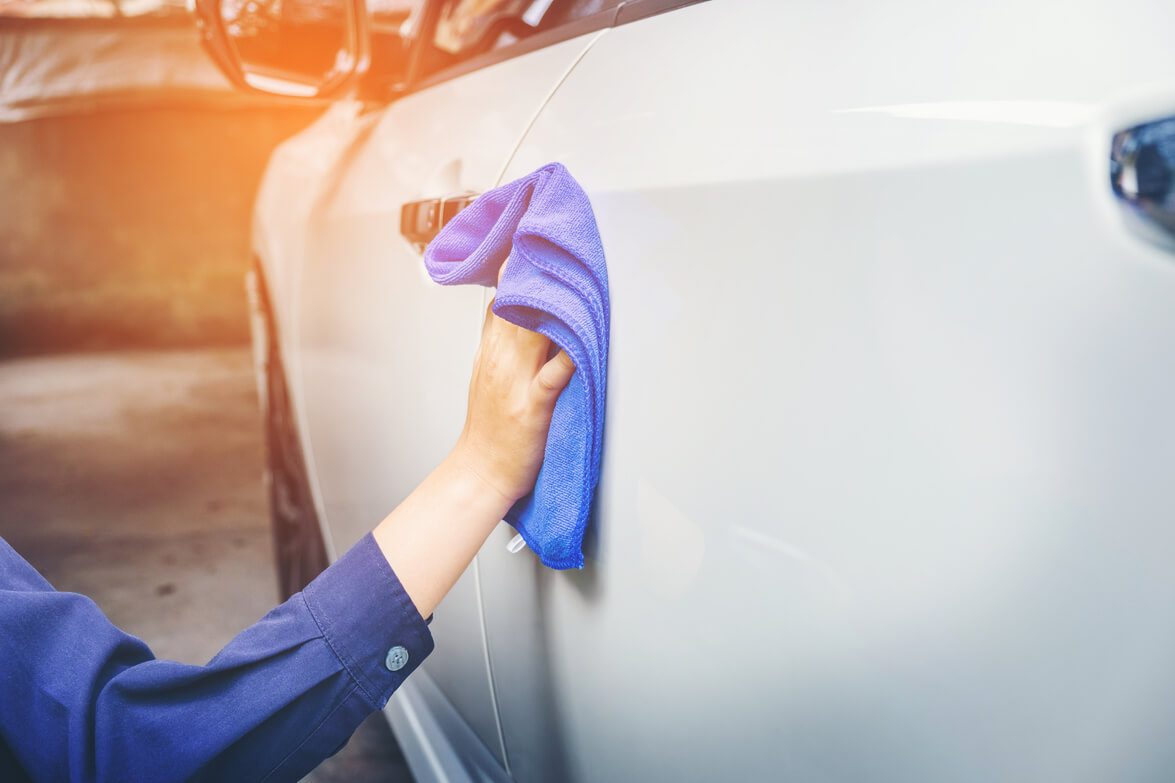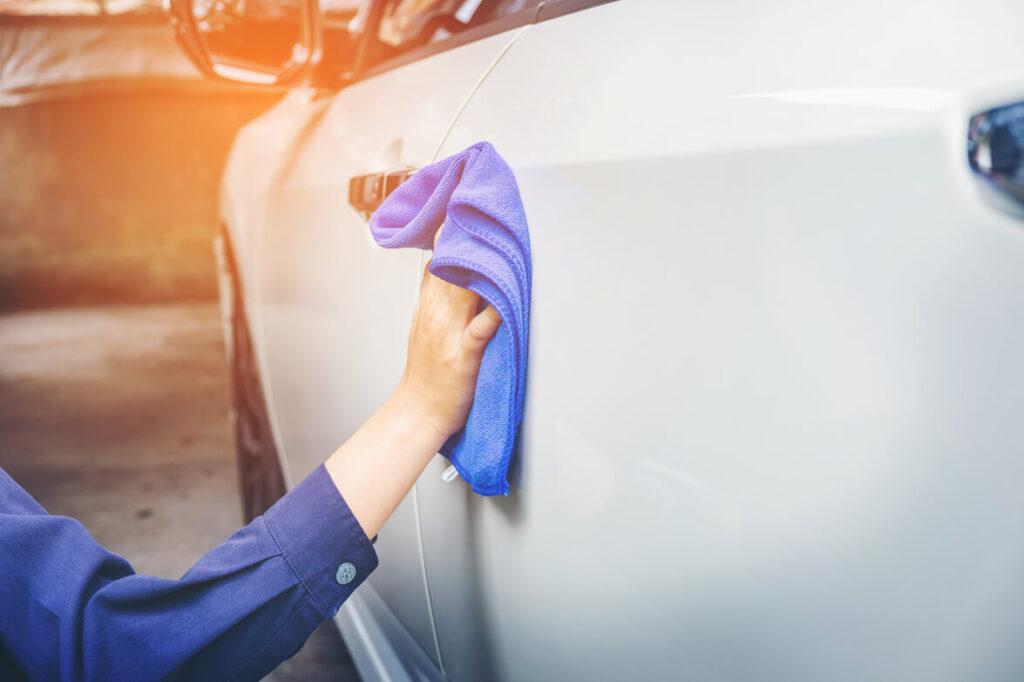 In the winter, and even in the milder months of spring and fall, you may find yourself needing to dry your car. A wet or dirty car is not a great look and can lead to other issues such as water spots. But if you have limited options for drying it, where do you start? In this case, getting the best quality towel you can find will be the key.
Not all towels are created equal, some leave streaks and lint behind, while others may cause scratches and swirls in the paint.
When shopping for a car towel, you want to look for one that is soft and highly absorbent, as well as one that will not scratch your car's finish. There are many different types of materials used for towels, including cotton, terrycloth, microfiber, and chamois.
I've researched various types of drying towels for cars and come up with this list of the best six. With this being said, this article is a must-read for those keen to keep their car looking fresh and clean!
What To Look For In Your Car Drying Towel
Wiping down a car can be done with any decent cloth. But the job will go much faster and easier if you use a towel specifically designed for this. Durable and absorbent, these towels can remove dirt particles and grime quickly. They should also be easy to wring out, so they don't take forever to dry your car.
Many types of towels claim to be car drying towels, but oftentimes they're just regular kitchen towels without the durability or absorbency needed for a good wipe-down — definitely not the best.
When looking for the best car drying towel, look for one that's thick and heavy-duty and has large loops, so it will be easy to wring out. It should also have reinforced seams so it won't tear easily.
The best type of towel for drying your car is made from cotton or microfiber. These materials are great at absorbing water without leaving lint behind. If you want to avoid dye transfer on lighter-colored cars, wash the towel separately before you start drying your vehicle. You also want a towel with no finishing treatments like sheen or shrink resistance, as these can cause issues when wiping down your car.
In your search for the best car drying towel, consider the following:
Type Of Material
Some car drying towels are made with a cotton blend, while others are made with microfiber or chamois.
Cotton Towels
Cotton towels are made from pure cotton fibers that are woven into a fabric. Cotton towels are the least expensive option but tend to be less absorbent and leave lint behind. It's a good idea to use a cotton towel for drying your car as it will not cause any swirls in your paint. But, if you want a towel that will last longer and provide more benefits, we recommend using one made from microfiber or chamois.
Terrycloth Towels
Terrycloth towels are made of loops of cotton yarn and have a terry texture. The loops come in various lengths, colors, and thicknesses. Terrycloth towels are one of the most popular choices as they are inexpensive and easy to find.
On the downside, they can be less absorbent than other types of towels, meaning you may need more than one to dry your car. And because they have loops, they are not as soft on your fingers or paint as other materials can be.
Microfiber Towels
Microfiber towels are made from a blend of polyester and nylon fabrics that are fused together to create a soft yet durable product. Microfiber is super absorbent, which makes it ideal for wiping down your car after you dry it off with a hose or power washer. It will not leave lint or streaks behind like other types of materials might do, as long as you don't rub too hard to dry off your car's exterior surface.
Size
You also need to consider how big your car is before buying a towel. For example, larger cars require larger drying towels to cover all surfaces. The best way to determine the size of your drying towel is to measure the length and width of your car and then divide that number by two. This will give you the number of centimeters you should buy for your drying towel.
Price
The price will vary depending on the quality and size of your towel. You'll generally get what you pay for! If you're looking for a higher-quality towel, then you can expect it to cost more. A good brand will guarantee top-notch towels that are made to last.
Additional Considerations
How you plan on using your car drying towel also matters.
Microfiber towels can get dirty or torn if used for something other than what they were intended for. When purchasing, make sure to get one that's versatile enough to handle just about anything that comes its way.
Tips For Using Your Towel
Choosing the best car drying towel is not enough if you don't know how to use it.
One of the first things you'll want to do when you get your towel is to wash it. Use a mild detergent and a warm water cycle for about 10 minutes, then hang dry. This will help remove any dust or particles.
When drying your car, try to use long motions. This will ensure that your entire vehicle is dry and avoids creating streaks or spots on the paint — which could eventually lead to needing some car paint restoration. Another tip is to avoid using soap when cleaning your car as this can create residue on the paint, and make it more difficult for the towel to absorb water.
How To Store Your Towel
When you're not using your towel, it's best to hang it up. If you just leave it on the ground, it can get dirty and start to smell bad. Plus, if it gets wet in the storage bag, then anything else in there will get wet as well. The worst part of it touching the ground is running the risk of getting dirt on it before you use it again. This could result in this dirt being scrubbed up against your vehicle's paint the next time you use it, which is a recipe for scratches. It's best to use a hanger that has clips on the back so you can hang your towel up. This way, you'll be able to dry off your car without worrying about getting dirty and smelling like mold.
The Best 6 Car Drying Towels For Your Car
With so many brands of car drying towels on the market today it's not always easy to choose the one that will work best for you. To help you decide, I've put together this list of six towels that will do the job right. And since I didn't want to just rely on other people's opinions, I've tested them all myself!
1- Chemical Guys Waffle Weave Drying Towel ($8,49)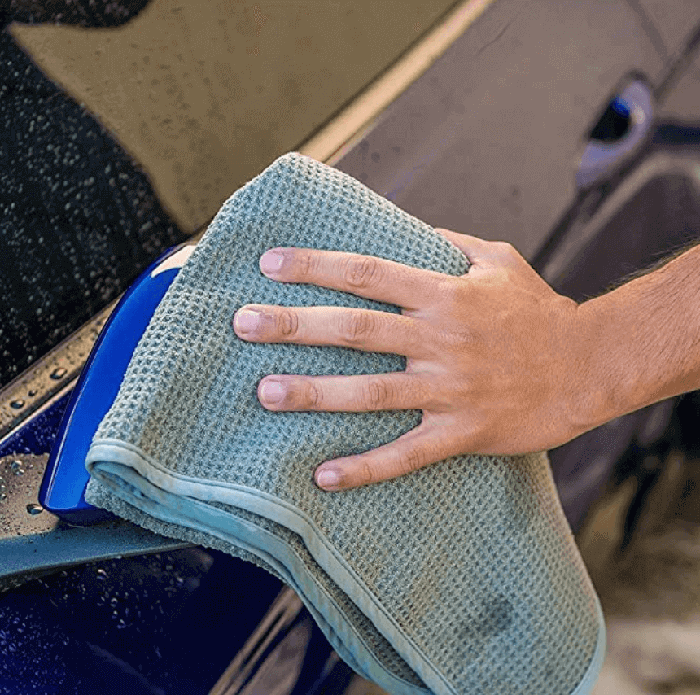 The Chemical Guys Waffle Weave Drying Towel is made of a polyester/polyamide blend. It's got a nice texture which makes it feel like an old-school waffle weave towel, but with more softness and less scratchiness. This towel isn't as absorbent as some of the others, but it works well when you only need to wipe off a little bit of water from your car's surface.
This towel is larger than most, and it's great for drying off a large SUV or truck — or even a boat. It's got some decent strength to it, so you can also use it for buffing off wax and sealant.
2- Zwipes Auto Professional Microfiber Waffle Drying Towel ($11,51)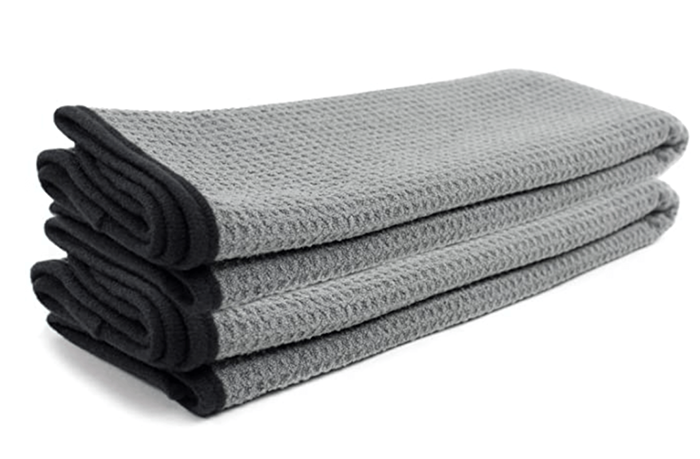 Second on my list of the best car drying towels is the Zwipes Auto Professional Microfiber Waffle Drying Towel.
This towel has a nice waffle weave texture that feels pretty good on the paint, but it's not nearly as soft as other microfiber towels I've used in the past.
The weave of this towel is pretty tight. When wiping water off your car with it, there will be times when the water just puddles up in spots instead of being spread out over the car's surface.
One thing I really like about this towel is that it holds an insane amount of water when you wring it out after using it!
If you're looking for an extra-large, decent microfiber towel to get your car clean, this is the towel for you.
3. Nexgen Exterior Premium Microfiber Towels ($3.95 to $ 28.85 For a 10-Pack)
This list wouldn't be complete without the Nexgen Microfiber Towels. Each of these towels is advertised to last over 40+ uses, and I must say that claim is true so far. I like that they aren't too big because I usually prefer to keep a few of these handy instead of folding the same over and over. Also, when I'm cleaning or detailing my car, their size allows me to get into smaller spots — kudos for versatility!
If discussing quality vs. affordability, the Nexgen towels bring it home. A 10-pack is $28.85, but you can get just one if you prefer for only $3.95. I'm yet to find a single spot or scratch left behind by these ultra-soft microfiber towels.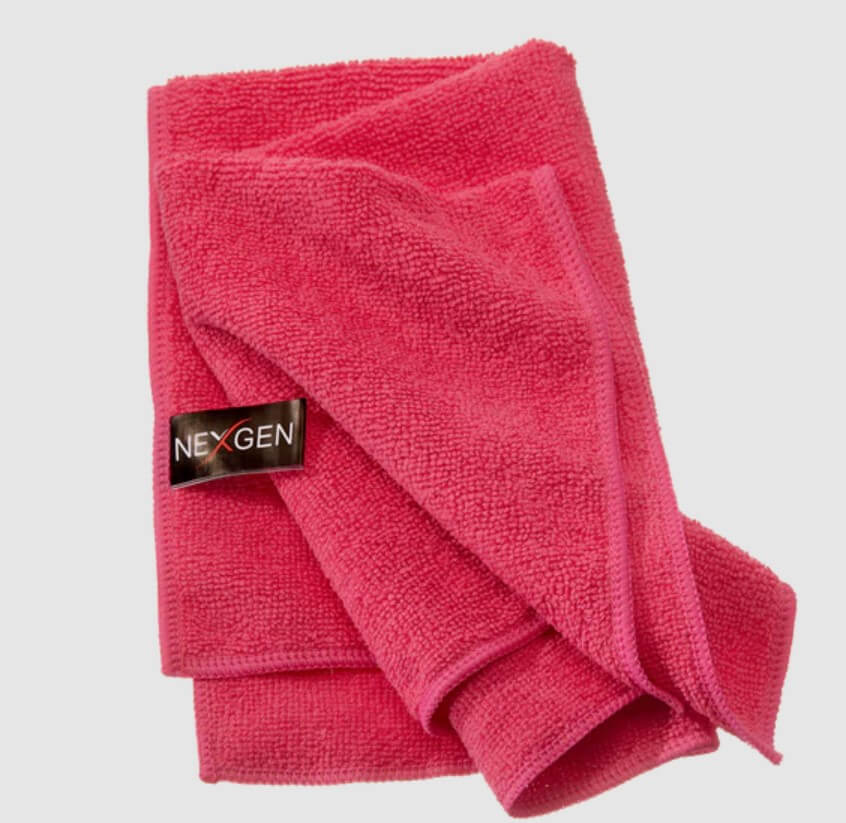 4- Meguiar's Water Magnet Microfiber Drying Towel ($10,63)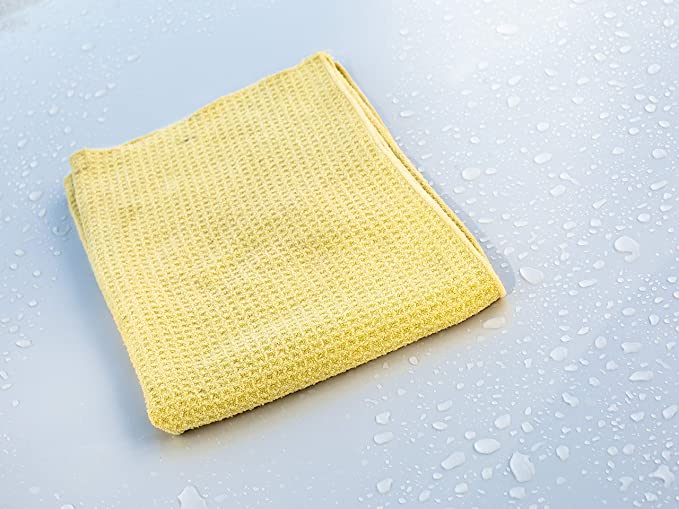 The Meguiar's Water Magnet Microfiber Drying Towel is a good choice for those who prefer a more plush microfiber towel. This one is very soft and has a nice waffle weave texture that does a great job of spreading water over the surface of your car's paint. It holds a decent amount of water when you wring it out, but not as much as the Zwipes Auto. The quality of this towel is really nice — definitely one of my favorites on this list!
5- Chemical Guys Professional Grade Premium Microfiber Towel- Pack Of Three ($12,74)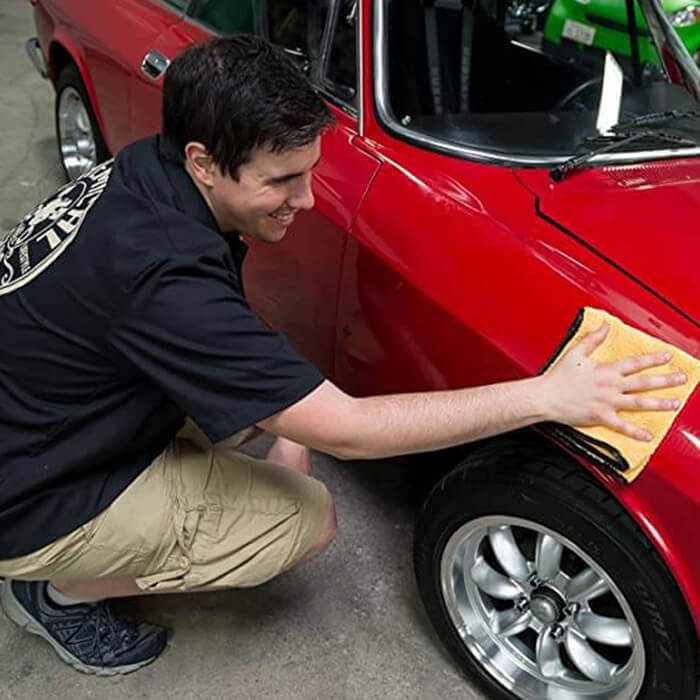 I love the look and feel of this orange Chemical Guys Professional Grade Premium Microfiber Towel. It's got a really nice feel, and it's super soft and comfortable to use. This towel is not as absorbent as the Zwipes Auto, but it holds a fair amount of water when you wring it out.
Using this microfiber towel gives me the peace of mind of knowing I'm not scratching my car's paint when using it, as it doesn't leave any lint behind.
6- AIDEA Professional Microfiber Drying Towel ($9,95)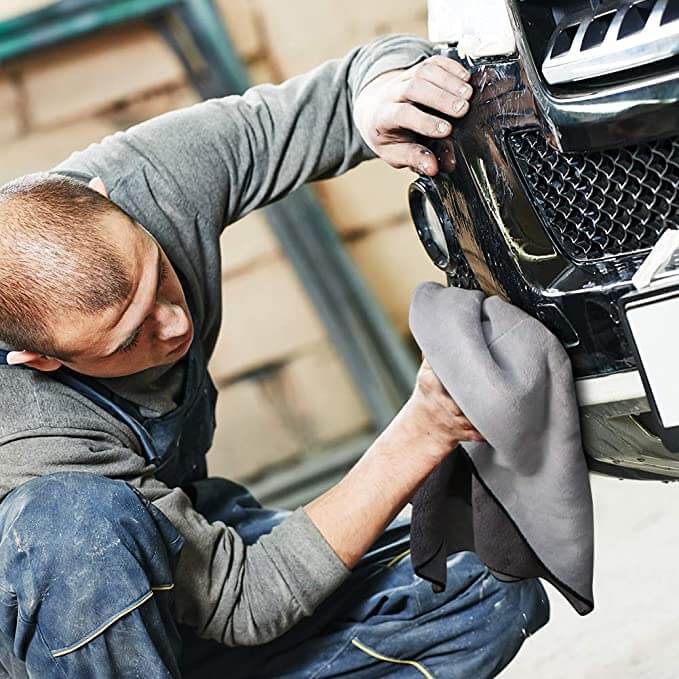 If you're looking for an affordable microfiber towel that will get your car clean and dry, look no further than AIDEA's Professional Microfiber Drying Towel.
This towel doesn't have the same waffle weave texture or softness as some of the other towels on this list, but it will do the job. It's made with a Silk banded edges technology for scuff-free, scratch-free results. I like the fact that this towel is machine washable and can be washed and reused hundreds of times without worrying it will shrink or fall apart.
Wrapping Up
When it comes to drying your car, towels are a must. But not just any towel will do. A car drying towel is designed to wipe away water quickly and easily. And while they may seem a little pricey, they are worth the investment.
There are a lot of towels out there to choose from, but the six I discussed above are definitely worth your consideration. As you can see, there are pros and cons to each one. Ultimately, it's up to you to decide which drying towel is best for your car and your needs.
If you have any questions or need more clarification on what product to choose for a scratch-free drying process, feel free to contact us.
You might also enjoy: