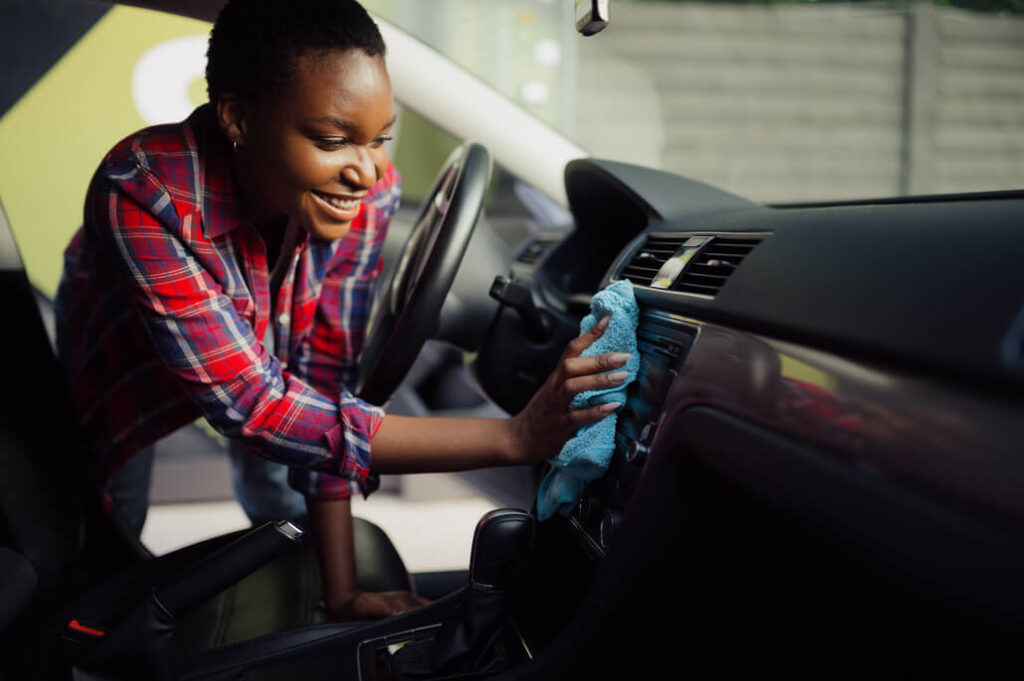 Ready for some great interior car detailing tips? Read on to learn how to get your car interior spotless.
Car owners are more connected to each other than they might think. Apart from knowing how to drive and owning a vehicle, they are united by an undeniable sense of pride stemming from their beloved possession.
After all, this is the beauty of owning a car.
Regardless of the model you have, the year it was built, or if it's your first or fifth purchase, there's likely a joyous feeling every time you drive it around.
You get comfy in your chair, adjust the rear-view mirror, start the ignition, and let endorphins flow.
Cars are truly wonderful inventions, built using a myriad of materials carefully bonded together to make them look like seamless state-of-the-art machines. It's not all magic, though. It's science, and science has plenty of clear-cut instructions behind it.
Why All Cars Need Proper Care
However wonderful a car may be, it will be subjected to wear and tear over time, and you're bound to see signs of this process unfolding before your eyes. This applies to both the outside and the inside of a car, but in different ways.
With car-lovers discussing exterior and interior car detailing all the time, if you are new to this world, you might be left feeling a little confused. What does it mean to detail the interior of your car? What parts should you clean and, most importantly, how should you clean them?
In this article, we'll talk about your car's interior detailing extensively. We'll also give you ten tips to follow straight from professionals themselves so you can improve the lifespan of your vehicle, enhance its appearance, and increase its resale value.
What Is Interior Car Detailing, And Why Is It So Important?
If you talk about exterior car detailing, that would include processes such as ceramic coating, waxing, and polishing. But, the truth is that for a car to fully maintain its looks and head-turning qualities, it will require you to regularly care for its interior as well.
In other words, you need to learn how to do exterior AND interior car detailing.
Interior vs. Exterior Detailing
While the exterior of a car is made of hard materials, it's also more subjected to the harsh conditions of the environment such as hail, tar, and water spots. On the other hand, the interior is made of softer materials prone to collecting dust, pet hair, greasy fingerprints, or whatever else can sneak inside.
Many people tend to overlook the importance of detailing the interior of their cars, thinking that no serious harm could be done if they turn a blind eye. However, this is far from the truth.
The surfaces of your car's interior will collect debris, dirt, and other contaminants at impressive speeds, and, before you know it, the harm is done. If you don't trust our word on that, just leave your car unattended for two or three weeks and see how all of this dirt and junk adds up fast!
After all, without proper maintenance, the seats, consoles, and other features can wear down almost as quickly as other vital parts of the vehicle, decreasing its overall value. This is why detailing your car's interior often is a must! It will help you keep the inner space looking new, so you enjoy getting into your vehicle each and every time.
As you can see, detailing your car's interior surfaces is more important than anyone might initially think — and not purely for aesthetic reasons.
What Does a Car Interior Detailing Session Include?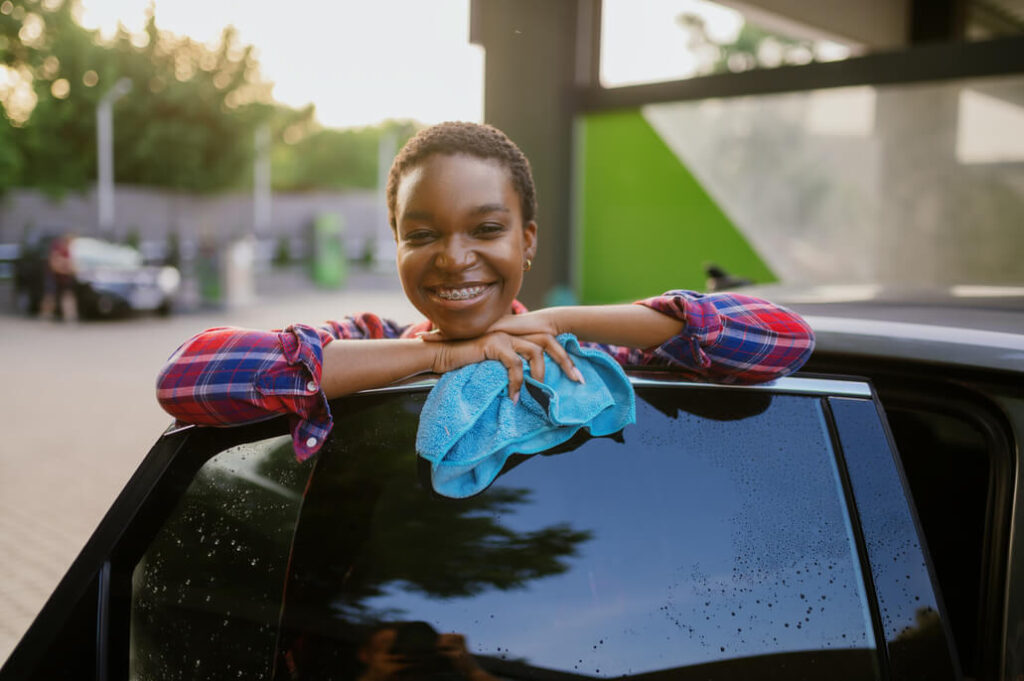 People talk about interior car detailing as if it's the most natural thing in the world. But what does this procedure really entail?
If you want to do it right, be sure to not miss any of the following;
Windows And Window Seals
While windows may seem like a pretty obvious choice, window seals are often overlooked.
Air Vents
Since they're designed to ensure only fresh air gets into the cabin of your car, they must be cleaned properly.
Carpets And Mats
The flooring of a car's interior is just as important. Carpets and mats are dirt-collecting machines, so make sure to include these on your list.
Upholstery
One of the largest and most trafficked surfaces of your car's interior is the upholstery. If you want your car to look top-notch, this too needs extra care and attention.
Air
Odor Removal is just as important for interior detailing as the other actions on this list.
An air freshener would be a good idea, as it may also remove cigarette smoke and other unpleasant smells. Remember that time your kid sprinkled your car with a milkshake, only to leave it smelling like soured milk forever!? We know.
All these parts of a vehicle's interior require careful detailing. Just like exterior surfaces, they need the best dedicated products on the market.
Should You Do DIY Interior Car Detailing?
You'll see there are many car care professionals out there that are committed to giving your car a full interior car detailing session. And many of them will do it pretty well.
They will use top products for the job and take all the time needed to do it right. But what does a professional auto detailing session mean to you?
Obviously, this usually means a higher price tag. But above that, if you are a car enthusiast, you will likely grow to love detailing its interior. You can go at your own pace, choose your favorite products, and feel accomplished at the end. Some people even take before and after pics!
All in all, it's worth putting in the time and effort to make your car's interior shine regularly, while also saving money you would otherwise spend with a professional detailer.
So should you do DIY interior car detailing? In short? Absolutely!
The Supplies You'll Need
As much as you may be eager to get started and invest all attention to detailing your car's interior, the job may never truly shine without the proper supplies;
Two unused garbage bags – You'd be surprised how many loose items you'll find lying around your car waiting to be discarded.
A special auto vacuum cleaner – Make sure it has crevice tool attachments that make it easier to reach those tight spots. It's the only way to make the most of this interior car detailing session.
Special detailing brushes – These detailing brushes are designed especially for that very fine cleaning procedure you'll need to perform on certain surfaces inside your car.
At least one microfiber towel – Microfiber towels are sacred for car detailing. They are accessible and very efficient in removing any loose dirt.
A good interior detailing kit – You can't really clean the car without the right products! We recommend getting a high-quality kit that will do your car justice.
Safety gloves – They will be useful in protecting your hands from harmful contaminants.
Leather cleaner – If you have leather seats, you must get a leather cleaner. No, you can't substitute it with something else, or you'll risk ruining the leather and the entire interior car detailing session.
Car carpet shampoo – This will come in handy! Professional carpet shampoo is specifically designed to help you clean the mats of your car more professionally.
Glass cleaner – These products usually contain solvents and surfactants that adhere to the glass surface and lift away dirt and grime, providing windows extra sparkle.
10 Interior Car Detailing Tips From The Pros
Ready to restore your car's interior to the beauty it once had? Check out these ten interior car detailing tips from pros that should help you turn the entire process around for the better:
1. Empty Out Your Car
Any detailed cleaning job starts with a generalized action. First, remove all your personal items from the car and everything else in the way of your cleaning. Use the garbage bags mentioned above.
2. Clean Your Dashboard, Door Panels, And Center Console Like a Pro
Detailing refers to a series of different actions you can take to spruce up the interior of your car. You can start with the dashboard by spraying some interior car detailing solution on your microfiber cloth and then applying it to the dashboard.
Just make sure that you don't apply it straight on the surfaces where it may come in contact with electronics and ruin them. Make your way to the door panels and center console and use a second towel to dry off any excess product left behind.
3. Brush The Air Vents And Crevices
We can't talk about interior car detailing if we don't talk about, well, detailing.
Going into detail during your cleaning session will make all the difference in the world, so now is really the time to clean out all those tight spots like air vents, for example. For this, you will need the detailing brush we mentioned earlier — it's sure to deal well with all those nooks and crannies.
4. Remove The Floor Mats
Floor mats are only there to protect your carpets, but they should be removed, so you can quickly get to the matter of things…the carpets. Their texture is the kind that traps in plenty of dirt, grime, crumbs, hair, and everything else you can think of, so cleaning them extensively will really make the car look and feel cleaner.
5. Vacuum The Mats, Carpets, And Seats
Now it's time for a proper vacuuming session. In fact, this is where all the cleanliness of an interior car detailing session starts to make sense.
You'll want to get all stuck dirt, grime, and dust out of the way before you perform anything more in-depth. Vacuum both the mats you just got out and the carpets underneath. Then do the seats and make sure to insist on that tight angle between the backrest and the actual seat.
6. Cleaning Your Vinyl And Plastic Surfaces
You'll need special cleaning agents for each of these materials, which may suffer serious damage if treated with the wrong kind of product. Spray this on your detailing brush and use a microfiber towel to remove excess product. Detailing professionals do it just the same.
7. Eliminating Odors And Disinfecting
If you want a clean car interior, you need to clean it thoroughly. This means you must clean it more than just to make it sparkle. You need to disinfect it too. If you don't have a steam cleaner, disinfectant sprays or wipes should do the job.
Use them on the steering wheel and on the door handles, among others.
8. Shampooing Carpets
First, lightly spray the area you're working on, and then use your stiff brush to do some proper surface cleaning. Leave it to air out after for a little while.
9. Removing Pet Hair And Dander
Pet hair and dander in cars is no laughing matter. Too much of it can become troublesome to get out. Thankfully, you can either use the traditional duct tape to pull it out or the quirky velcro to remove it — one of the best-kept interior car detailing secrets!
10. Drying Glass Strategically
Sometimes when you dry glass, it can be difficult to tell on which side the streaks are on. So make sure that you're drying each side of the window in different directions.
How Much Does It Cost To Detail a Car Interior?
While professional car detailers may ask an amount ranging from $100 to $300 for a session, you may finish the entire job with much less — anywhere between $50-$100.
It's up to you to decide if this difference in money is worth your time and effort. When thinking about the pros and cons consider that a car's interior detailing needs to be done frequently — and that the amounting costs will quickly shape up to be sizable.
The Takeaway
At the end of the day, a car's interior detailing is a job that all car owners can do by themselves. Moreover, it's a job that pays well since it helps restore your car's previous glory days.
Regularly detailing your car yourself will save you money and help keep its market value high.
As long as you follow these ten interior car detailing tips and use high-quality products to maximize your efforts, you will be on the right track!
If you have any questions at all regarding the cleaning process we just described, simply contact us. We will be happy to share our expertise with you.
You might also enjoy: