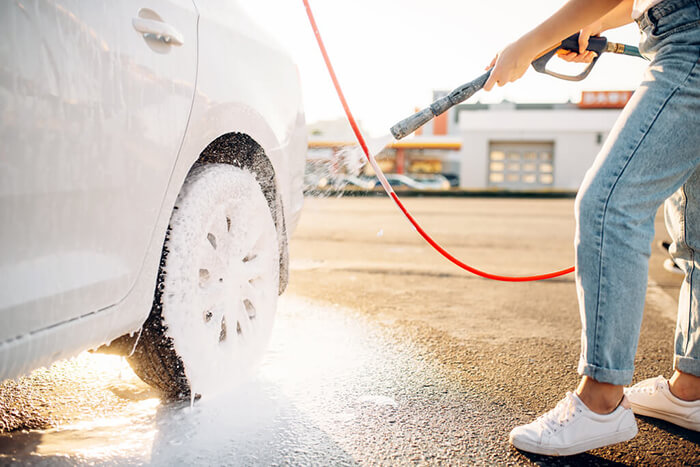 The Importance Of Ceramic Car Wash Soap Use
As many car enthusiasts out there can attest, when you're passionate about your vehicle, you like to keep it looking shiny and new at all times. But, while you might be aware of the effectiveness of high-quality ceramic sprays to protect your car's surface, there's one more thing you should know! And that's how important it is to use the RIGHT ceramic car wash products when cleaning your vehicle.
Why You Shouldn't Let Dirt And Grime Build Up
Sticking to a regular ceramic car wash schedule has multiple benefits. Other than keeping your car looking good, it can also help protect its coat from accelerated wear and tear.
When driving our cars around, or even when we leave them parked outside, sun, dirt, bird droppings, tree sap, and other environmental factors will take their toll on the paintwork. The longer you wait to wash your car, the tougher the task will be, and some of the damage will even be too late to reverse.
The deal with dirt and grime adding up is that these won't only make your car look old and tired, but will also lead to advanced wear. The paintwork will start to show signs of marks and corrosion that, if left unchecked, can cause full-on rust.
If you don't maintain your car properly by washing it as often as it needs, the resulting negative effects won't only affect your overall driving experience, but will make your car's resale price drop.
Getting your car sparkling clean can be done in two different ways: by either taking it to the car wash (which could leave your car damaged by improper washing techniques) or by cleaning the vehicle yourself.
Washing your car at home will require a little muscle and elbow grease. However, using effective soaps and proper equipment will make the job easier and faster. Spend more time driving your car and fewer hours cleaning it!
For this article, we've tested some of the best ceramic car wash soaps on the market in search of those that are effective, easy to use, affordable, won't damage the paintwork, and will offer enhanced protection.
But, before looking into them, here's some tips;
Tips On Giving Your Vehicle Some TLC
Washing Is Not For Special Occasions
Washing your car should not only be reserved for special occasions. After a few days on the road, and especially when the weather isn't friendly, or after driving through areas with lots of dirt, mud, or snow, cleaning your car is essential.
Start by rinsing the car thoroughly with water, and then clean all the surfaces with a quality ceramic car wash soap.
We always recommend that you rinse the car off first with a hose or pressure washer before you start properly washing it. This will remove any excessive amounts of dirt and other grime that can accumulate over time.
Work From The Top
Work from the top of the vehicle down to avoid kicking up any dirt, and knock off the job in sections. If you aim to clean up the entire car in one go, some portions could dry before you get to them.
Use The Famous Two-Bucket Method
Why do we always insist on this? Because when cleaning your car, bits of hard dirt and other objects can get trapped in the wash mitt. If you push too hard, these can scratch the paintwork.
Here's a quick reminder of how the two bucket method works. Fill both buckets with water and add soap to one of them. The second bucket (without added soap) will be used to trap loose dirt and allow you to rinse your wash mitt thoroughly before you put it back in the soapy water.
To avoid water spots, dry the car right away by using some soft, highly absorbent drying cloths to soak up the water without scratching or removing the ceramic coat.
Apply a Protective Ceramic Coat
As you might have probably seen from our blogs so far, we recommended to all our readers to apply a protective ceramic coat.
You can either use professional services or, for a fraction of the cost, buy a high-quality product like Nexgen Ceramic Spray and apply it yourself. In addition to keeping the car surfaces looking good, ceramic coatings will also help repel dust and grime, and protect your vehicle's paint from oxidation and UV rays.
Be Prepared For Spills
Keep a bottle of car wash and a sponge in the car to take care of spills seconds after they occur. Some stains are easier to clean if you handle them immediately.
Use Specialized Products
When looking after your car, use products that are specially formulated for use on leather, rubber, or glass. Also, stay away from harsh and toxic chemicals. This will ensure that you don't apply the wrong ingredients on surfaces where they can cause damage.
Top Factors To Consider When Choosing a Ceramic Car Wash Soap
If you want to get the best ceramic car wash soap for your four-wheeled treasure, you'll want to choose a maintenance product that simply cleans the surface.
You should avoid anything containing harsh ingredients that will eat into the ceramic coating or leave residue on top of it. And, since we know quite well how hard finding the right product can be, here's what you need to consider;
Choose a Ceramic Car Wash With a Neutral PH
Although many over-the-counter ceramic coatings are strong enough to put up with harsh weather elements or the destructive effect of UV rays, it's always better to try and protect the ceramic coating as much as possible.
If you want to use a car wash soap to enhance your ceramic's potential without causing scratches or swirl marks, try to always use a pH-neutral car product.
Choose Newer Generations Of Products
New generations of ceramic car wash soaps are made with tailored ingredients that can better penetrate and lift dirt or other soil types from the vehicle's surfaces.
These superior-performing products also allow you to use less water to wash your vehicle, as they feature better soil-penetrating and loosening capabilities.
Most of these car wash soaps also contain additives such as self-curing polymers. These provide protection and durability to all vehicle finishes, not only the paint.
Products With No Wax Added
Car wax can be great. However, when it comes to waxes, and especially carnauba wax, these products are great at enhancing paint shine, but they can leave a residual layer on top of your car's surface. These leftovers can reduce a ceramic coating's hydrophobic properties, increase the potential of water spots, and lead to excess collection of dust and dirt.
Products Without Any Harsh Ingredients
More ingredients in a product don't always equal better. Especially if we are talking about ceramic car wash soaps! Certain ingredients are designed to strip off any waxes or ceramic products from the car's paintwork.
For a non-ceramic coated car, these soaps are more than fine, but we don't recommend their use if you have a ceramic coating applied.
So make sure you carefully read all the product's ingredients and stay away from the ones that are way too aggressive. If you aren't sure what some of the ingredients mean, ask a professional for help. There are many products you might pick up by accident, not knowing what they are intended for.
Products That Include SiO2
Not familiar with what SiO2 is and how it can benefit car wash products?
Car soaps that include SiO2 are formulated for the unique cleaning requirements of vehicles that are coated.
SiO2 offers a protective layer for your ceramic coating and can make a big difference to the hydrophobicity of the paintwork. Soaps with SiO2 are also good at making your coating look almost new.
Products That Are Ultra Foamy
Foam is not only fun, it will also give the grit a place to be encapsulated, lift grime away from the paint, and remove contamination build-up for a clean car surface. The more suds a ceramic car wash soap produces when you wash your car, the easier it will be to clean it thoroughly.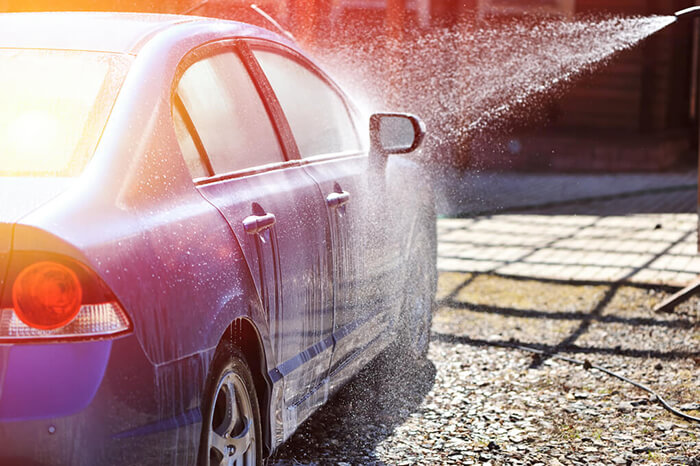 The Best Ceramic Car Wash Soaps We Tested
There's a myriad of different types of car cleaning products on the market today.
Some are made to clean. Others are intended to enhance ceramic car coat protection and shine. Finally, some are used to break down existing sealants.
A long time ago there was just a "one-size-fits-all" type of product you could use for all your car's necessities. But not anymore!
Car wash brands have long understood that soap chemistry goes far beyond bubbles and scents. They are now producing more environmentally-friendly items, while also being more effective at improving cleaning results.
Among all these, for today's blog, we tested the 5 best selling ceramic car wash soaps on Amazon. We are sure there are many other good car soaps out there, but for the accuracy of this blog, we just stuck with the ones with the most positive reviews. Both from professional and regular customers.
Our goal was to determine whether these reviews are accurate and real. This way, we can help you make an informed decision when shopping around for the best ceramic car wash soap around.
The test lineup includes products from well-known car maintenance manufacturers such as Chemical Guys, Nexgen, Turtle Wax, and Armor All.
All of them claim to remove dirt, mold, bird droppings, or tree sap, and to enhance the protection and shine of ceramic coatings and waxes.
So let's see which ones hold their promises, and which ones….well…don't!
Chemical Guys CWS21364 Mr. Gold Foaming Car Wash Soap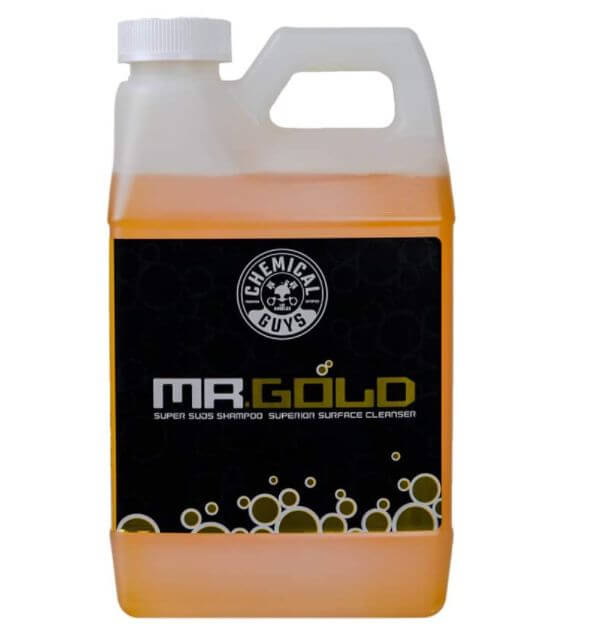 Chemical Guys CWS21364 Mr. Gold Foaming Car Wash Soap is a best seller on Amazon, with almost 20,000 positive reviews. Now, when you see so many people raving about this product, it's just natural to want to give it a try. And that's exactly what I did!
Although I was a bit skeptical at first of this product's capabilities, after giving it a go on my extra dirty Honda I must say that I was quickly sold. There are different viscosity levels and different detergents and additives in all kinds of soaps and shampoos, but this one has just the right combination of everything.
Mr. Gold is advertised by the producer as ideal for weekly use when washing your car either through the two bucket method or with a foam gun.
I used the foam gun and got lots of foam that didn't only help with the washing, but also entertained my little ones.
As this product is pH-neutral, it won't damage the paint or other materials such as metals, glass, vinyl, rubber, and plastic trim pieces. It also has a slick formula that easily glides off your car, ensuring you won't scratch it while washing.
Thanks to its powerful suspended polymers, this car wash soap removes grime and built-up dirt. All without removing the ceramic coating or waxing.
One other thing I was happy to discover was that this product is wax-free. As we already mentioned, using waxes and ceramic products by themselves is much better than washing your car with ceramic car wash soaps that have added wax in their composition.
Other than its amazing cleaning qualities, Mr. Gold also smells great and leaves a nice clean shine on.
I can definitely say that Mr. Gold deserves a 10 out of 10.
Nexgen Premium Ceramic Car Wash Soap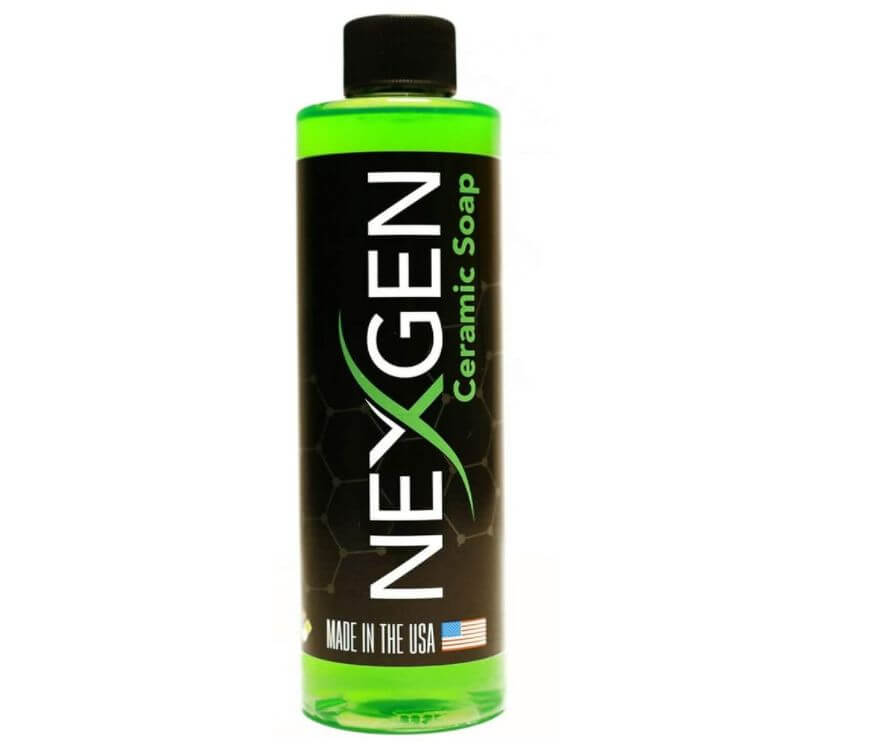 Hello again Nexgen!
I saw this ceramic soap rated among Amazon's top choices, and, given how much I love Nexgen Premium Ceramic Car Wash Soap, it was obvious that this washing product will be included in my review list.
When it comes to car detailing products, cost and efficiency are everything! In all honesty, Nexgen has never let me down regarding both. Not surprisingly, when compared to all the other products I tested when cleaning my car, Nexgen stands way, way higher than the rest.
Here's what you can expect from Nexgen ceramic car wash soap:
With 8 ounces of formula, this product is so concentrated that you will only need 1-2 ounces per wash regardless of whether you are using a low-pressure foam washer or a simple bucket wash.
A single bottle of Nexgen ceramic car wash soap should last up to 4 washes, covering most car owners washing needs for about a month.
The way I used it was by adding a cap full to my foam cannon. The results? Plenty of soap to cover not one car, but two.
This all-in-one professional-strength solution contains powerful emulsifiers and ceramic elements that dissolve grime, dirt, dust, bird droppings, bugs, and so much more. Plus, it's incredibly easy to use!
Being so gentle, you can safely use it for all standard applications – as well as for use on vinyl-wrapped vehicles, PPF clear bras, vinyl decals, and fiberglass surfaces.
Nexgen's ceramic elements and polymers help seal and revitalize surfaces and flush the microscopic pores, all while also laying down a thin layer of protective, hydrophobic coating.
So let me tell you about the amazing outcome. My Honda came out as if I had washed and waxed it, with a strong shine that I never get from regular car washing soaps. Not to mention that my car was left sparkling clean and with no swirl marks!
All in all, very pleased. I give Nexgen Ceramic Soap a 10 out of 10.
Turtle Wax 53411 Hybrid Solutions Ceramic Wash and Wax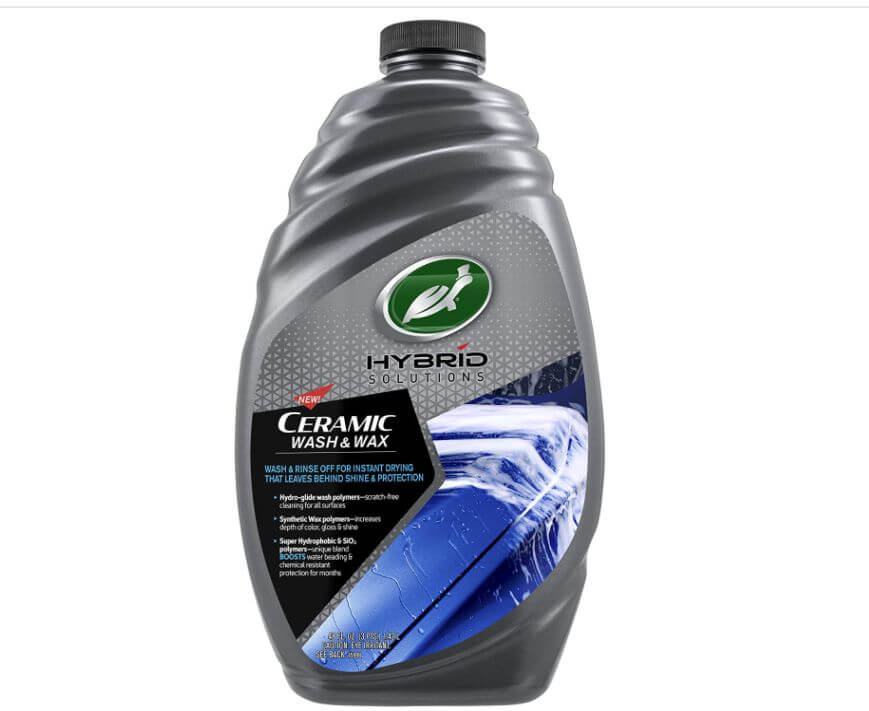 Turtle Wax Ceramic Wash And Wax is a hybrid solution promising a scratch-free cleaning for all surfaces and a brilliant shine with chemical-resistant protection that lasts for months.
Now, this seems to be a bit fishy from the start as I don't really believe that a cleaning soap can lead to a shiny surface that will last for months. This capability is generally reserved for the best DIY ceramic coatings.
Turtle Wax also markets their product as made with superhydrophobic & SiO2 polymers. These should create a durable barrier for both coated and uncoated cars, which boosts water beading and sheeting, saving time while drying.
So let's see what I found!
My first impression was that the Turtle Wax wash solution felt slick when applied. Maybe a bit too slick for my liking. Exactly as I expected, this product produces very low amounts of suds.
Now, I've tried many different soap products in my foam cannon, but this one was my biggest disappointment.
Not only that this product didn't produce a decent amount of foam, but it seemed to make the car's surface slick. This concerned me because my car could end up with swirl marks from the dirt that might build up over time if using this product often.
For $11.98 per bottle, you'll get a few good washes which is a fair result for the price. But, if you expect your car to look like it was covered with inches of thick, delicious whipping cream, you'll be in for a disappointment. As far as ceramic protection, I just don't believe this soap will do this for you. Especially since it contains wax which, as mentioned before, doesn't help your car washing endeavors much.
The only good thing I noticed is that The Ceramic Wash And Wax seems to provide some water beading protection. But still, when you have a coated car, the water beads can be easily blown off, making drying your car a breeze. This product somehow clings to the paint enough to where the beads just don't want to roll off.
Turtle Wax Ceramic Wash And Soap was quite a disappointment for me so it gets a 6 out of 10.
Chemical Guys CWS20764 Extreme Bodywash & Wax Foaming Car Wash Soap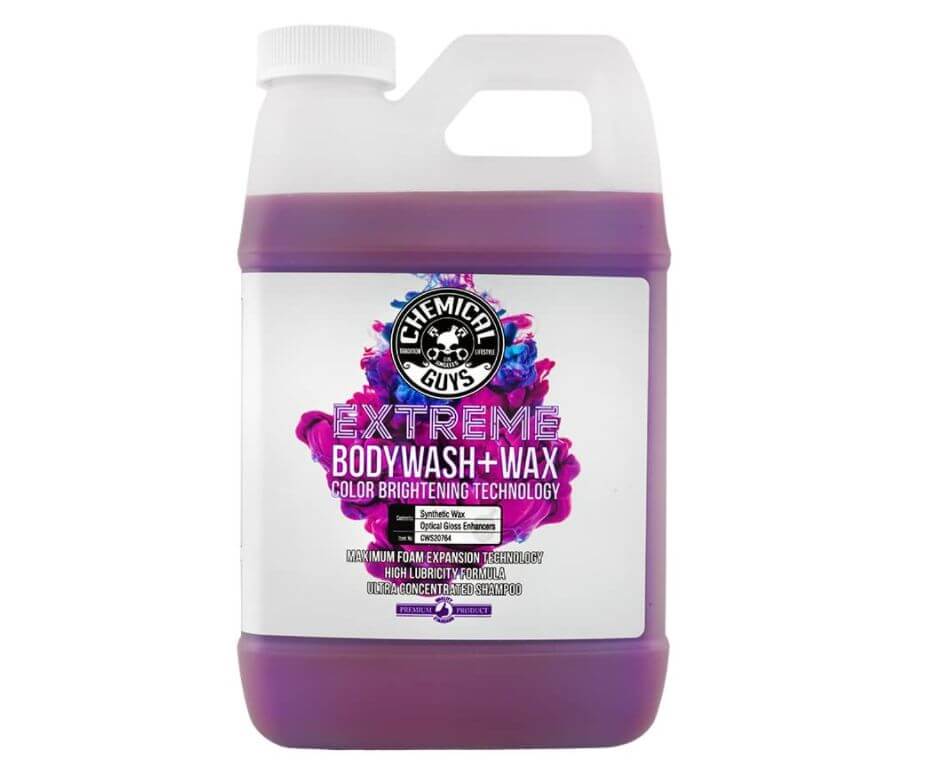 I must say that, up until now, I liked most of the products made by Chemical Guys. So although the Extreme Body Wash + Shine has added wax in its composition which is something I try to stay away from, I was still curious to see how this soap performs.
If you check out their page, you'll see that Extreme Body Wash & Wax is presented as a premium car wash soap. Blended with two different waxes, it restores the bright shine of a brand new car and provides durable protection against the elements. It's also recommended for weekly maintenance wash and promises to lubricate dirt and grime for scratch-free cleaning on any car paintwork.
When checking the ingredients, you can see that this product is pH-balanced and biodegradable, an added benefit for all of us who care about environmental safety.
The first surprise I got when I started washing my car with this product was just how thick the suds were. You know how much I love suds, don't you? My car looked just like it had been buried in snow again! What's more, this soap is extremely concentrated. You can use about half as much when producing foam with a pressure washer and foam cannon.
Other things I liked are:
The scent – this car soap has a pleasant berry scent that doesn't feel over bearable or fake
Makes suds with or without a hand cannon
Washes well and cleanses easily
Lasts long enough to be used for many washes
What I didn't like though was that this product is advertised as doing much more than it can actually do. There's a lot of mumbo-jumbo about color brightening, long-lasting shine, and many other fancy claims.
All in all, I liked this product and can recommend it as a good choice for anyone wanting to keep their car looking fresh and clean. But this is pretty much all you can expect from it.
Overall, I would rate this ceramic car wash soap an 8 out of 10.
Armor All Car Wash Formula, Cleaning Concentrate For Cars, Truck, Motorcycle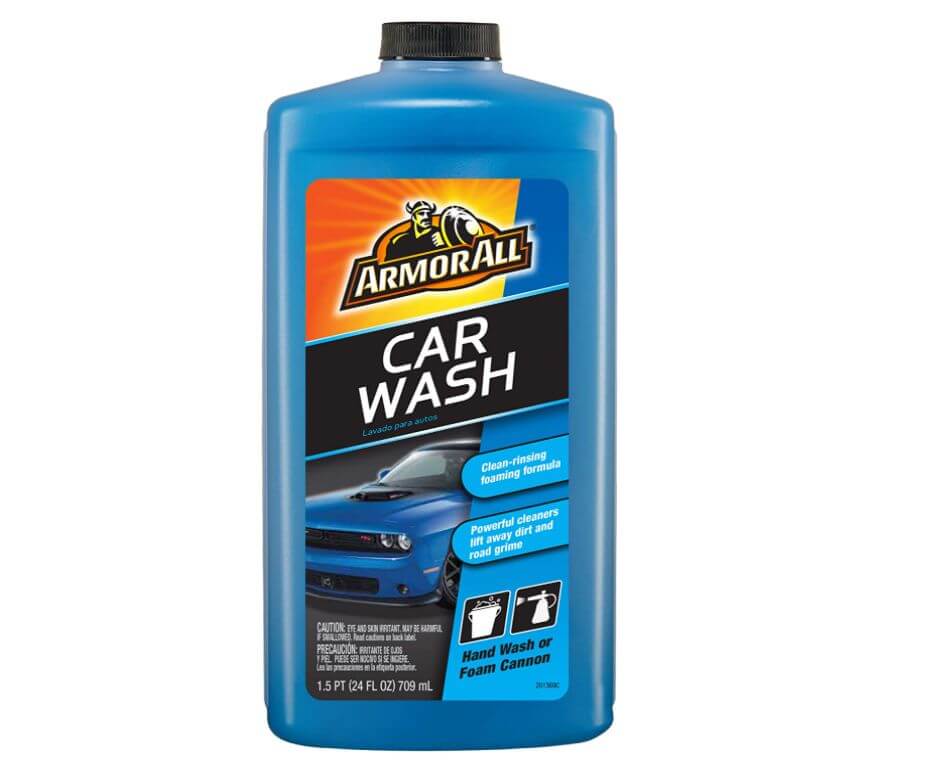 The Armor All's Car Wash Formula is the last product on my list today. Without being advertised with fancy trendy words, it's presented as powerful enough to lift away dirt and road grime for a beautiful shine. It's also gentle enough to not strip wax and safe for all automotive finishes, including clear coats.
The Armor All's Car Wash Formula is also supposed to work well on all vehicles including cars, trucks, and motorcycles.
Without promising the moon and stars, this product actually works great. I tried it after a long weekend in the mountains that left my car covered in mud and dust. It seemed to remove dirt easily, and all the surfaces of the car looked great once I was done! Even my windows ended up sparkling and shining without having to add extra window cleaning products.
It's very concentrated, so a little goes a long way. It's also priced extremely fairly, coming at $8.62 for 24 ounces.
All in all, I liked this product a lot, so I give it a 9 out of 10.
The Best Ceramic Car Wash Soaps, Conclusion
When it comes to ceramic car wash soaps, Nexgen Ceramic Car Wash Soap, Mr. Gold Foaming Car Wash Soap from Chemical Guys, and Car Wash from Armor All have my highest all-around ratings.
All these three products are concentrated, wash the surface extremely well, and protect the car's paint. They are safe to use on fiberglass, vinyl, metal, glass, plastic, and rubber surfaces.
And rest assured that when I say that something is good, it's always backed up by years of experience. Every single product on this list has been thoroughly scrutinized!
Armed with my test winners, you'll be giving your car the best care when it comes to washing and enhancing ceramic protection!
If you liked this ceramic car wash soaps review and would like to find out more about some other car care products I recommend, have a look at: