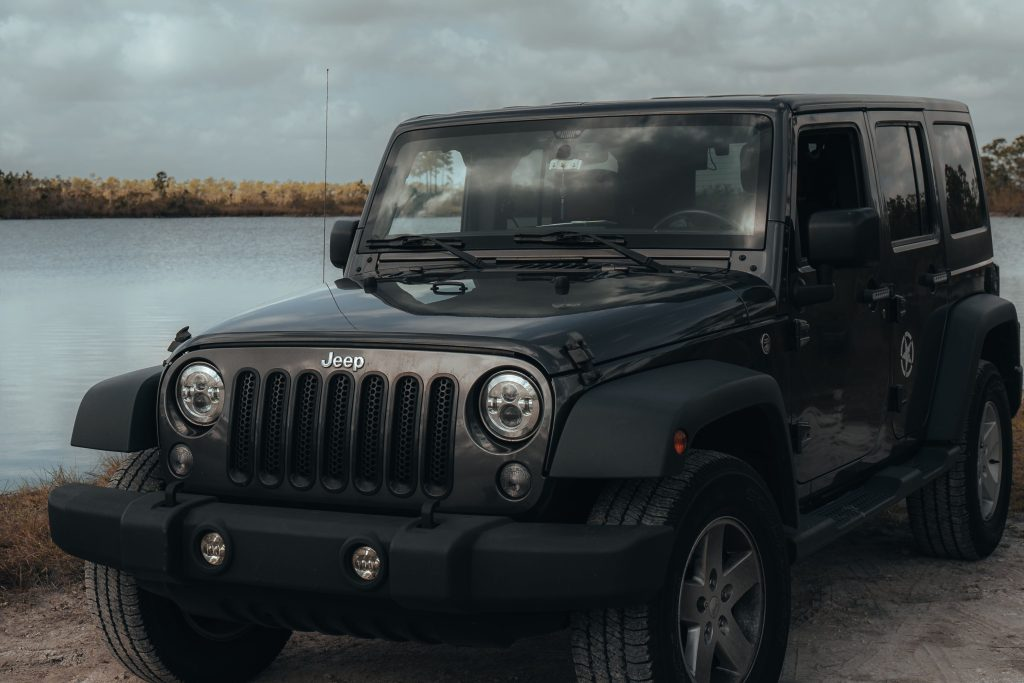 When we think about ways to restore and make our rides look younger we often think of silky paintwork and shiny glass. Both are surefire ways to breathe new life into your vehicle, but there is still a simple, yet commonly overlooked product that will refresh your car's appearance.
One way to make your ride look brand new, without spending a ton of money, is to restore the car's trim. Over time UV rays will dry out and cause the plastic to fade and deteriorate. This alone will lead your car to look older and less vibrant. Using a black trim restorer will bring a new level of glamor. A smooth, dark black finish will make your paintwork pop.
Of course, we don't want a weekend-long task that costs us hundreds of dollars. So I've run through about 17 products and found one in particular that I think will meet our needs. Mothers Back to Black Trim & Plastic Restorer is by far my favorite based on the results I got, the price, and the ease of access to the product.
What is Mothers Back to Black Trim & Plastic Restorer?
Sale
Mothers Back-to-Black Trim & Plastic Restorer
Renew your exterior trim, restoring its deep black color and providing protection against UV damage. Easy to apply, dries quickly, and leaves a non-greasy finish, making your trim look like new again
While the product is labeled as a trim and plastic restorer, it's much more versatile than that. Mothers Back to Black Trim & Plastic Restorer can be used on rubber and vinyl. The cowl, windshield wipers, base of your side mirrors if those are plastic, sidebars, and top of your bumper. If you have a plastic console and dash in your car, you can refresh parts of your interior as well.
This isn't like putting makeup on your car. The chemical solution effectively removes light oxidation, residue left over from wax, and general surface film. Once those pesky items are taken care of, the solution soaks deep into the pores of your rubber, plastic, and vinyl to not only create a dark, moisturized look and feel, but also provide a protective barrier against UV rays, water, and other contaminants.
How to apply it?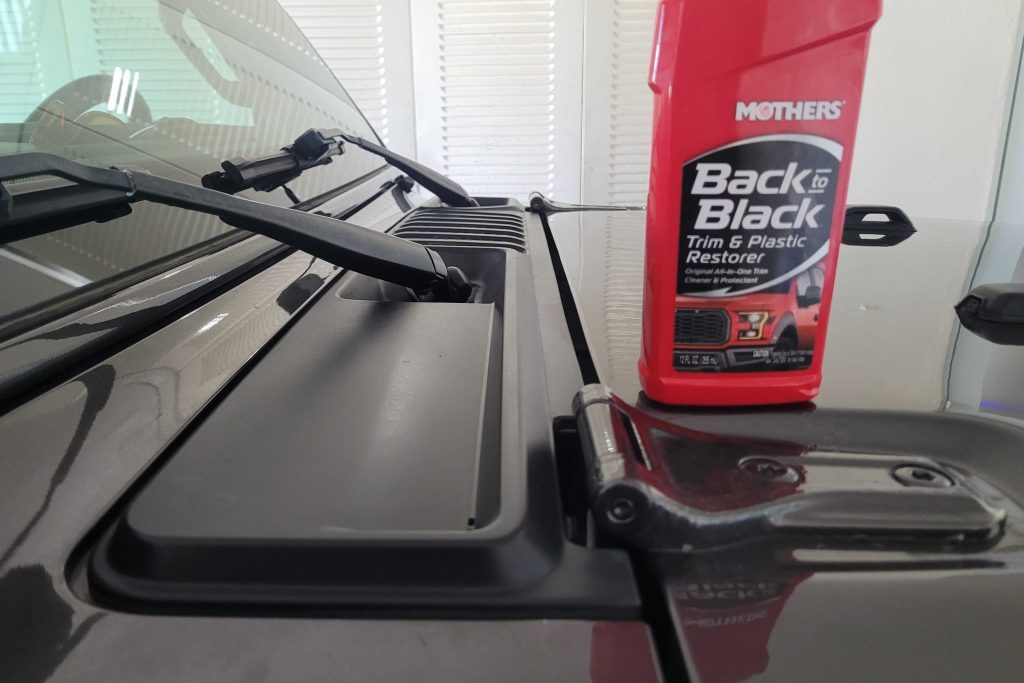 The two most important things you need to do before applying the product are to move your car out of direct sunlight to prevent the product from self-drying too fast, and to make sure your surface is clean and dry. Optionally, you can use an isopropyl alcohol to cut through any lingering grease.
Mothers Back to Black instructions are pretty easy to follow. You just massage the formula into your trim and black plastic with a microfiber cloth or applicator pad, wait for it to dry, then buff away excess fluid.
If your first pass doesn't yield the results you were hoping for, you can repeat the process, building on the product until you're happy with the appearance. Additionally, if the product looks like it's streaking, simply reapply and repeat the process to smooth it out.
Make sure your car is not in direct sunlight and is cool to the touch
Hand wash the sections of plastic and rubber you plan to restore
Wipe the surface with isopropyl alcohol to remove any remaining grease (optional)
Apply Mothers Back to Black Trim & Plastic Restorer to a microfiber cloth or application pad
Agitate the solution into the areas you plan to treat
Allow the product to dry, then buff it off with a clean microfiber towel
The suitable areas for its application
Mothers Back to Black Trim & Plastic Restorer is a little more versatile than the name would lead you to believe. All of your rubber and black plastic trim can be revived with this product. This includes plastics inside the interior car as well.
However, you want to be careful during application. If you apply too much and don't buff away excess liquid you'll have sling on your paintwork. Additionally, when applying the product, make sure you're able to stay within the lines of the piece you're working on. If you get the trim restorer on a surface it should go on, wash it off quickly to prevent smudging or staining.
-Black exterior car trim
-All black exterior plastic and rubber
-Black interior plastics and rubber
-Vinyl
Do Not Apply:
-On your cars paintwork
-On any auto glass
-Headlights and mirrors
-Screens
-Fabric seats
-Carpet or seatbelt straps
How long does it last?
Let's review the longevity: Two weeks in, I've driven on the freeway several times and through heavy rain twice. I'm starting to see slight fading on the mudguards and very minimal fading on the bumper, but the rest is still holding up with no changes.
Surprisingly, the hydrophobic properties are still in effect. So far, no sheeting and the beading is still tight. Given the low cost of this product, I expected the hydrophobic properties to fall short. This aspect alone has been pleasantly surprising. While I'm only two weeks in, I can easily see this stuff lasting for the rest of the month.
The results from using it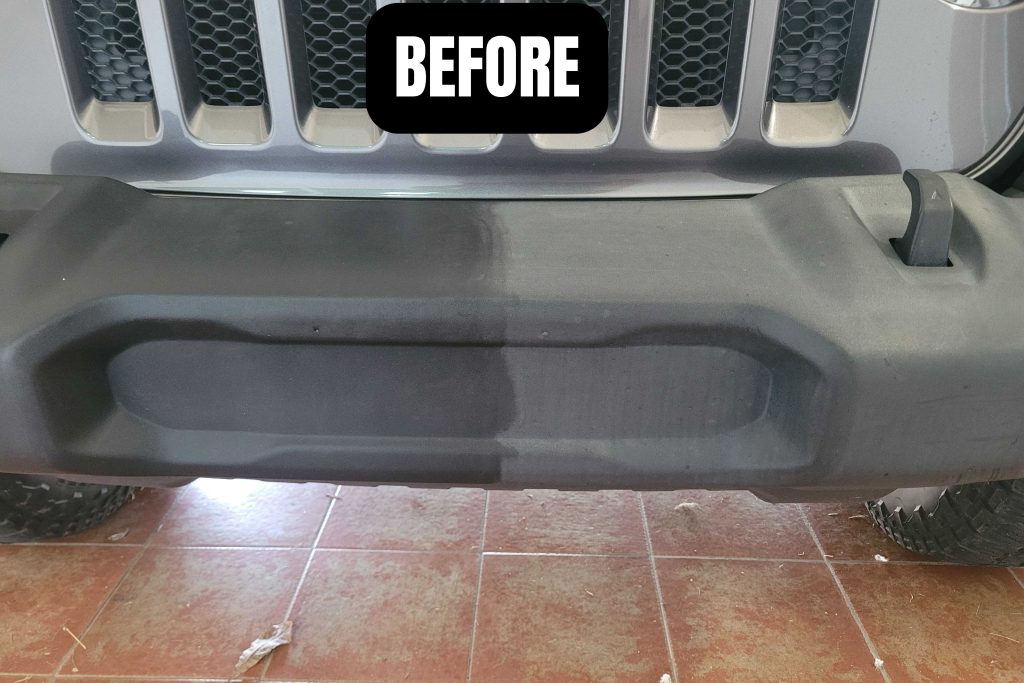 I'm not just here to hype up some random product. I actually use this stuff and will outline my own experience of Mothers Back to Black Trim & Plastic Restorer for you.
I started on the bumper of my jeep but only applied the product to the left half. Once applied, the treated side of the bumper was visibly several shades darker. A pretty good start, but it's not just about the immediate appearance. We want something long-lasting, and to get our time and money's worth, right?
Happy so far, I continued to apply Mothers Back to Black Trim & Plastic Restorer to each relevant surface. The product couldn't be easier to apply, so the process is pretty quick. I chose to do two coats for a deeper, smoother black finish.
Pros and Cons
No product is perfect. I can't just state that Mothers Back to Black Trim & Plastic Restorer is the best black trim restorer and leave it at that. I would be doing us all a disservice if I didn't also mention the downside to using the product.
There were two specific issues I ran into. Both were user errors and were easy to solve. I also found that a lot of other consumers made the same mistakes I did. Most of them figured out the solution, and a few others trashed the bottle.
The first mistake I made was using too little product. Instead of applying a generous amount like the instruction said, I used a small amount and spread it out as far as I could. Once the product dried my panels went back to looking almost like they did before I started. The thing is, plastic and rubber are porous and need enough moisture to fully soak deep into those pores.
After learning my first lesson I got a little too loose with the bottle and poured on far more than I could massage in at once. This leads to a streaky appearance. Again, all too easy to fix. Once I buffed away all of the excess fluid the streaks were barely there. As a perfectionist, I chose to start over on that panel. If you run into the same error I did, simply dry the area completely and reapply the product more carefully to level it.
Pros:
Visibly darkens black plastics and rubber
Hydrophobic
Cost-effective
Easy to find
Helps to remove scuff marks
Lasts through a regular hand wash
Easy to use
Cons:
Will streak if you apply too much at once
Might need multiple back-to-back applications depending on the condition of your rubber and plastic
Needs to be reapplied about once or twice a month depending on your car's exposure to the elements
Compared to other products
I find that Mothers Back to Black Trim & Plastic Restorer gives a more consistent finish. A lot of the competitors fall short of consistency. The other products that are priced similarly aren't bad, but I haven't used one that provides as even of a layer as Mothers. I also find that I don't have to apply as many coats to get the depth of color I want each time.
As far as versatility goes, Mothers knocks it out of the ballpark. The chemical makeup creates an effective, vibrant lubrication that can be used not just on trim, but on all plastic, rubber, and vinyl. Since it's dry to the touch right after application, you don't need to worry about smudging or getting residue on your clothing if you choose to drive shortly after application.
Quite frankly, it's hard to find a product that is cheap and works. It's even harder to find a product that's cheap and works better than products priced a bit higher. Where most car trim restorers leave a sticky or greasy finish, Mothers is dry to the touch.
Car trim restorer tips
For best results, clean the plastic trim with isopropyl alcohol to remove any grease of road grime
Don't apply cleaners or restorative solutions when your car is hot or sitting in direct sunlight
Use a microfiber cloth or foam applicator to apply the trim restorer. A regular towel or sponge will absorb the product, meaning you'll run through a lot more of it.
Never allow the product to fully self-dry. Self-drying causes streaks and blotches
To prevent sling, wipe off excess product with a clean microfiber towel and allow the surface to fully dry before operating your vehicle.
Skip the harsh drive-thru car washes that leave swirl marks and micro scratches, and opt for a quality hand wash instead. Handwashing will prolong the life of many restorative and protective layers you put on your car.
Conclusion
While Mothers might not make the most high-end DIY car trim restorer on the market, they certainly did succeed at making a quality product while providing the most bang for your buck. As a consumer, you're getting a darker finish, a deep moisturizer, UV protection, and a hydrophobic barrier that won't fade after your first wash. I would say this product is well worth its price of about $11.
Related: