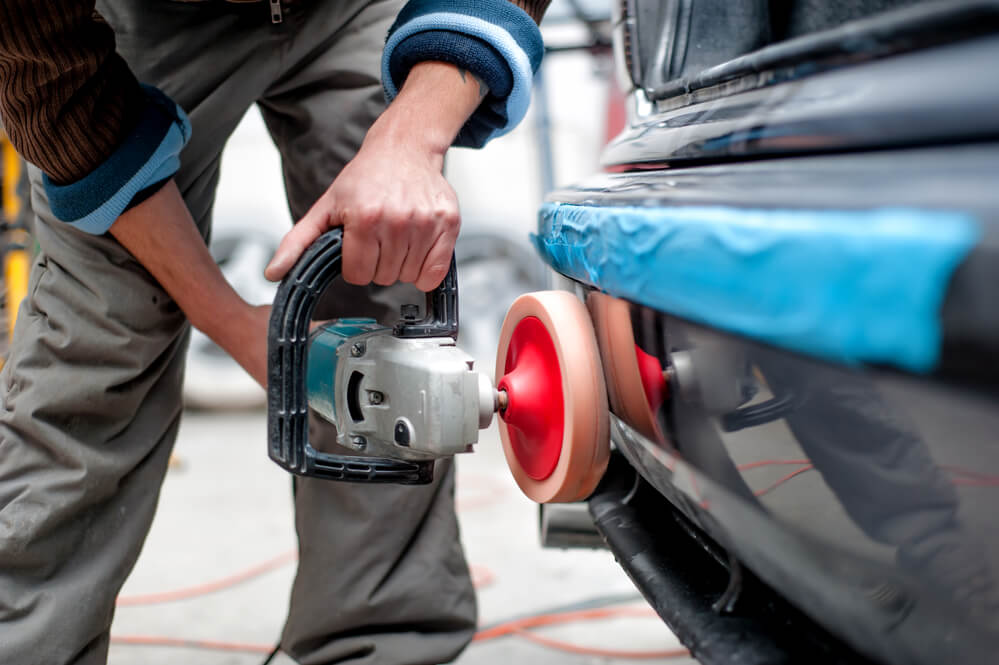 A car scratch remover can help you repair minor scratches on your car's finish, repel dust and grime, and protect the paint from further damage by filling in the scratch. In this article, we discuss 5 of the best ones on the market and show you how to use them on different types of scratches and swirl marks.
If you're a car owner, your vehicle might likely be one of your most prized possessions. You'd do almost anything to keep its paint coat in prime condition, just like it was when you first bought it. So you wash it thoroughly — maybe even by hand — polish it, wax it, and turn to look at it from every angle to ensure it's dazzling for everyone to see.
When it comes to caring for your car, we all know that scratches are a real eye sore. They make the car look old and cheap. Plus, they are also highly visible. As much as we like to think of our car as indestructible, it's still made of metal and prone to easily getting scratched, more so in an urban setting.
The solution? You need a good car scratch remover!
While these products can be effective, you must consider a few things before purchasing. First, you must make sure the product is safe to use. Second, that it actually works. And lastly, that the price point fits your budget. In other words, don't be afraid to do some research before deciding.
To save you the headache, here's a list of five of the best car scratch removers out there and selected products that work on both shallow and deep scratches. But first, let's have a quick look at the different types of scratches that can appear on your car.
Types Of Scratches On a Car
Scratches on a car can be caused by many different things, including bird droppings and tree sap. They can also be caused by people. For example, if you park your car in an area with a lot of foot traffic, you are more likely to get scratches than if you park in a quiet area where no one walks by.
There are several different types of scratches on a car, including shallow scratches, deep scratches, and swirl marks. Shallow scratches are those that go only part way into the paint job. Deep scratches are those that go all the way through the paint layer. Swirl marks are caused by light rain or snow that has collected on the hood or roof of your car overnight — to prevent this, winterizing your car is essential.
The best way to repair scratches is to avoid them in the first place. Keep your car clean and polished, and use only premium-quality car waxes and soaps. Use rags to wipe away dirt and oil smudges as soon as they appear.
Which Car Scratches Can Be Repaired With a DIY Job
There's no one-size-fits-all fix for scratches, but one of the oldest tricks in the book is to cover them up. Yes, it's true: covering scratches can work wonders as many can be fixed by sanding down the surface of the vehicle or by using a scratch repair kit. However, if you'd like to fix deep scratches, you'll need to take your car to a professional body shop.
A sanding job is usually done by hand, using fine-grain sandpaper. You can go for a toothpaste-and-water mixture or something more abrasive like toothpaste mixed with rubbing alcohol. The idea behind this technique is to fill the scratch and smooth out the surface so that it doesn't show through.
Another option is a wax job. This involves applying an adhesive wax over the scratch. Once it dries, you buff it out and then apply another coat to finish it off. This can also be done by hand but is probably best left to professionals if you have a big scratch.
And then, of course, are the car scratch remover products and kits that we'll discuss next.
Decide Which Type Of Car Scratch Remover You Want To Use
The first step before you buy any car scratch remover is to know what kind of damage it can repair. Most scratch removers can deal with minor scratches or even scuffs on the paint of your car. Others are designed to remove deep scratches on the paint that have been caused by grit or sand.
Try to be careful and selective about which car scratch remover you use. Some can also be used to remove light oxidation or stains on the surface of your car's paint — but only those specially formulated for that purpose. If you use the wrong scratch remover on the wrong kind of damage, you might end up making the situation worse.
To help you make an informed decision, here are 5 of the best car scratch and swirl remover products on the market.
1. Nexgen Scratch And Swirl Remover
Nexgen Scratch and Swirl Remover is, hands down, one of the best car scratch removers on the market. The Nexgen team has done a terrific job with this product, created to successfully remove anything from minor to moderate scratches.
It comes with a dual-action formula that contains diminishing abrasives. As it removes scratches, the formula breaks down into a fine polish. Nexgen Scratch & Swirl Remover not only fully removes fine scratches, but also leaves your paint shining, leveled, and smooth.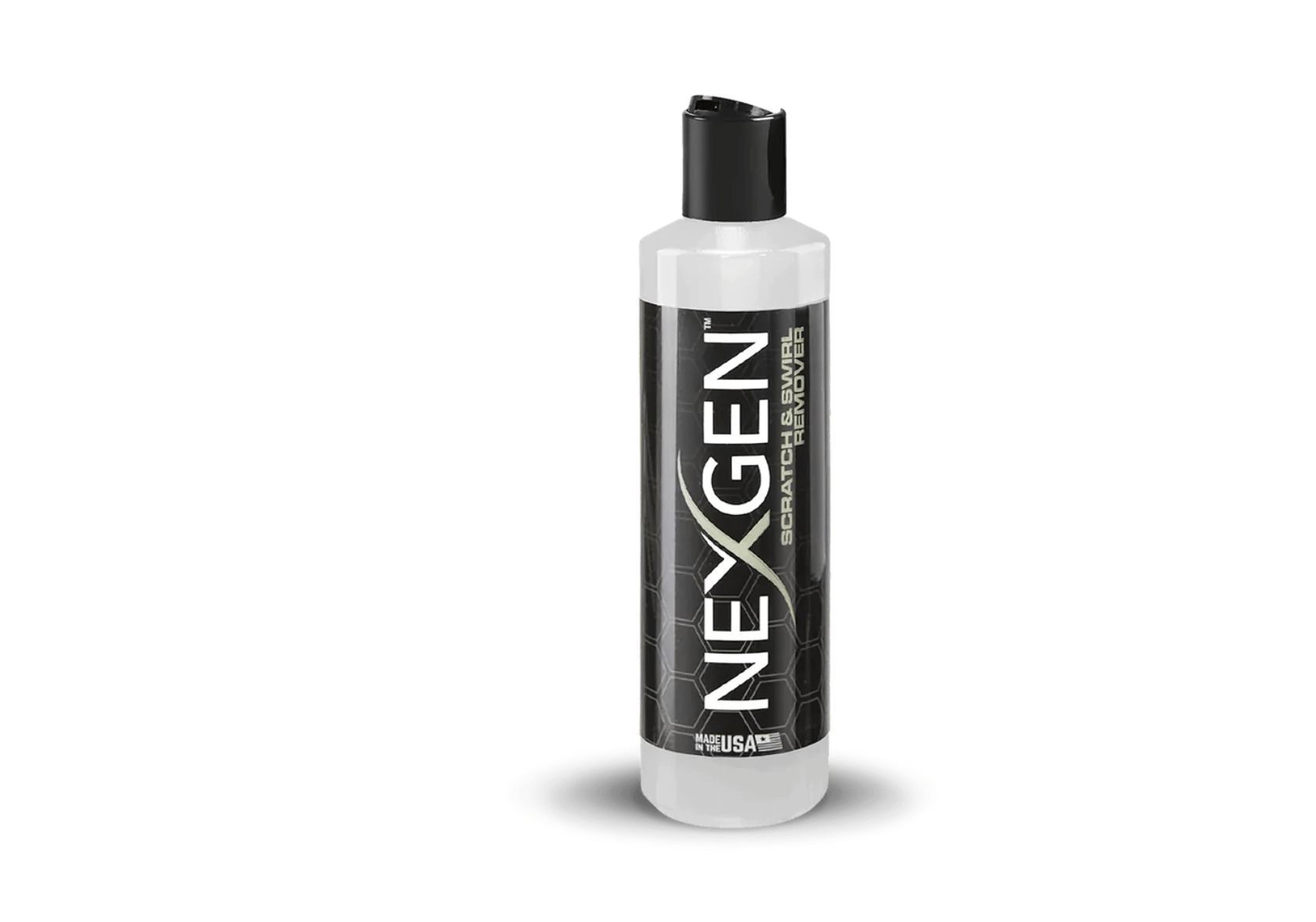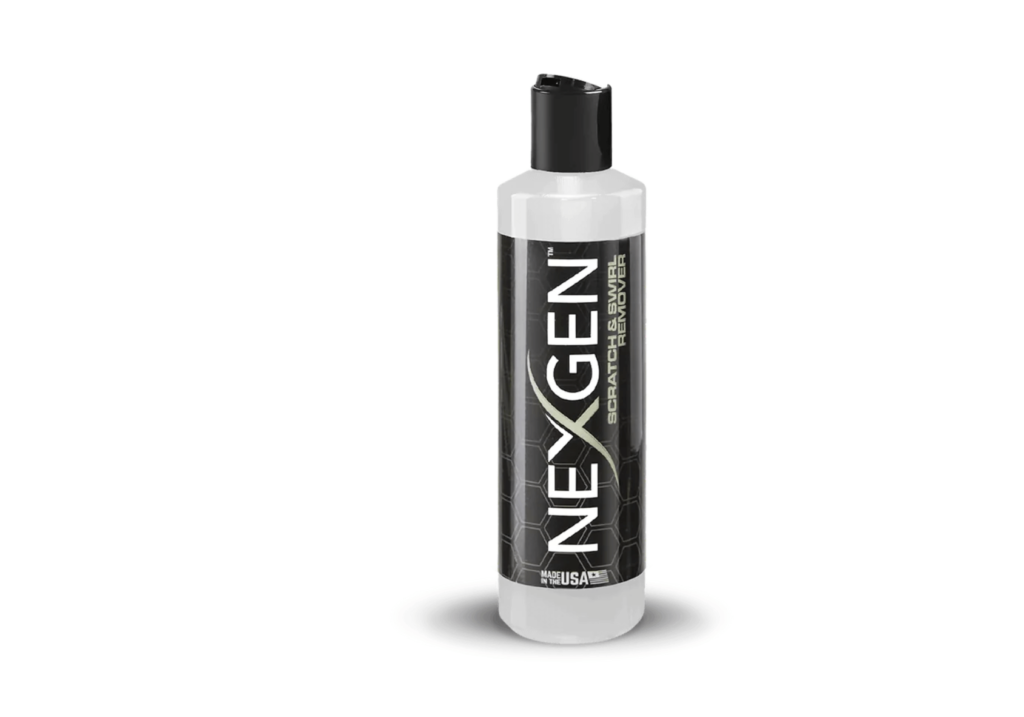 To apply this car scratch remover, use a buffer pad and work on small areas at a time — it's more effective this way. Only apply medium pressure using a back and forth motion to ensure the best results.
It works really well on all types of paints and will leave no residue behind, so you can count on a smooth finish once you've completed the job. Either way, for peace of mind, you can keep a premium microfiber handy, just in case.
With its easy application and quick results, it's no surprise why this is the most recommended product by detailers and car aficionados.
It comes with a 100% money-back guarantee, so you have nothing to lose by trying it.
2. Carfidant Black Car Scratch Remover
Carfidant Black Car Scratch Remover is specially formulated to effectively remove scratches from any dark or black paint. In fact, it's also designed to work well on a clear coat and any type of paint, regardless if it's single-stage or multi-stage. This kit also contains a practical buffer pad that you can use to apply the product onto the affected area.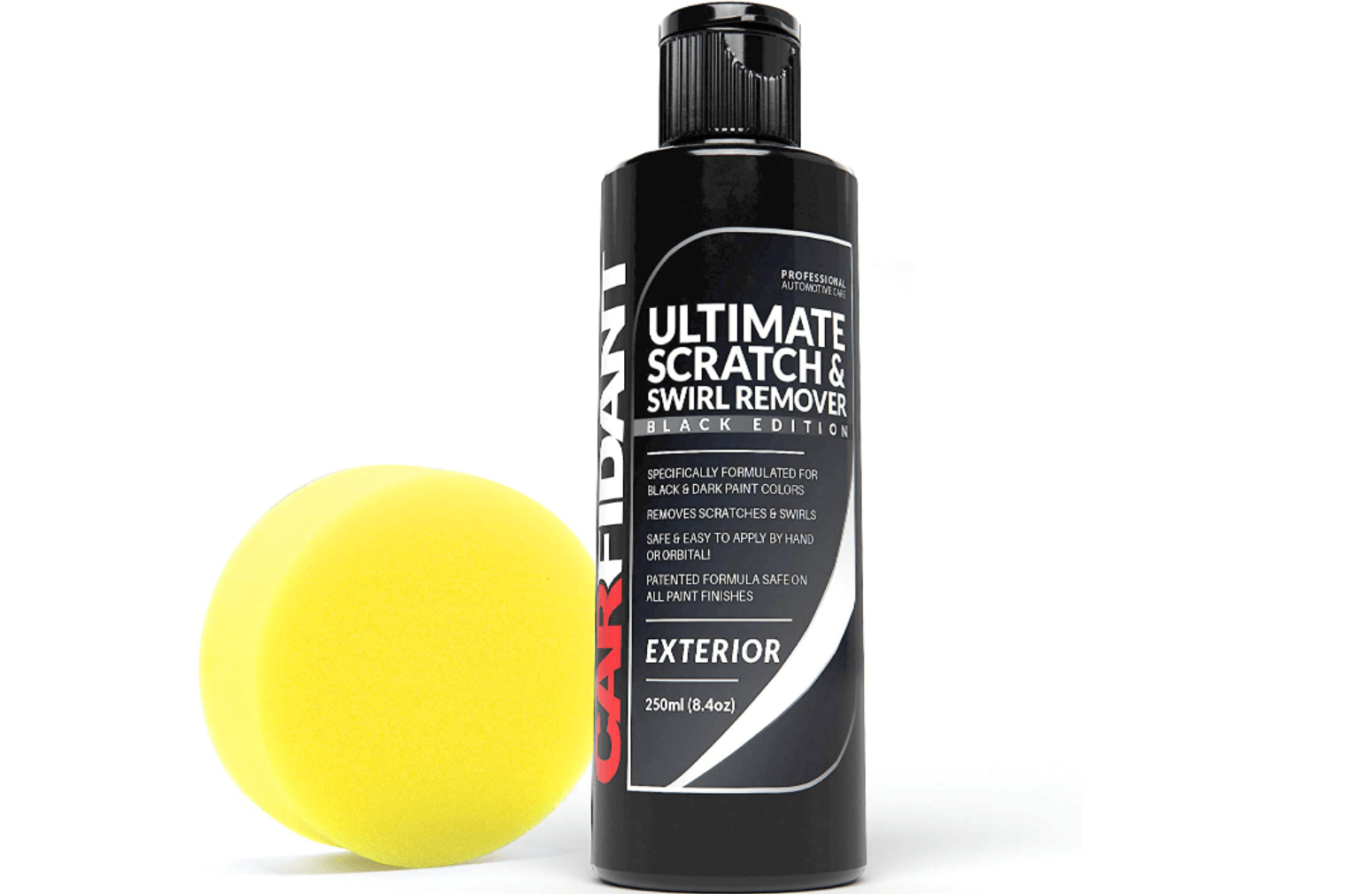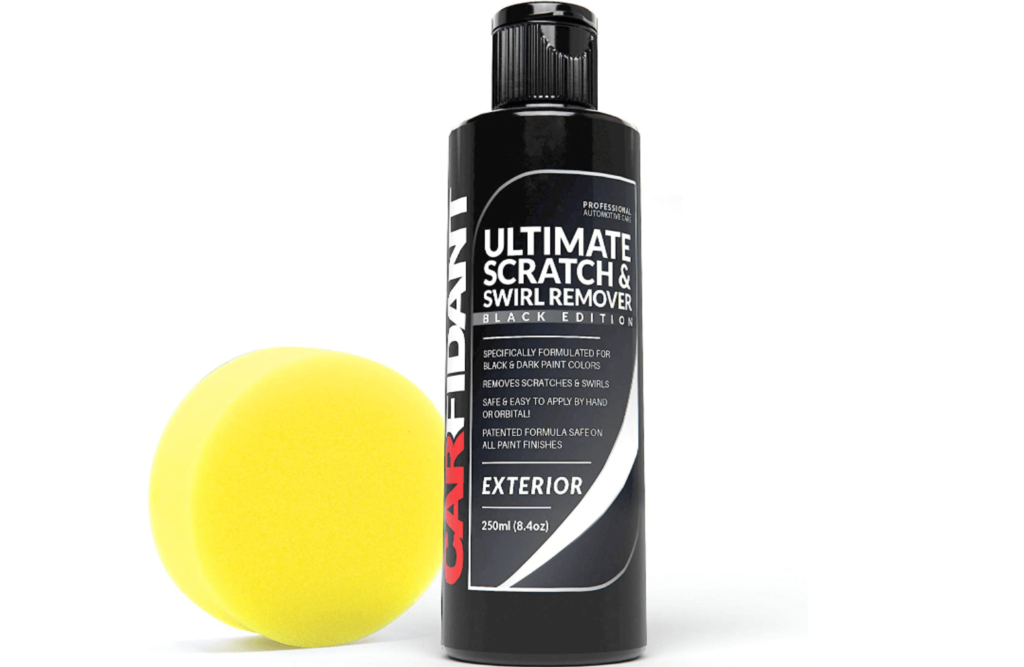 Carfidant doesn't use any unnecessary color scents or dyes, ensuring the formula is as clean as possible. It's important to remember, though, that you cannot use this car scratch remover on deep, heavy scratches — the kind you can easily feel with the tip of your fingernail.
3. Meguiar's G190200 Quik Scratch Eraser Kit
Another one on my list is Meguiar's Quik Scratch Eraser Kit. This is a very popular item and for good reason. It comes with everything you need to repair minor scratches on your car's paint job.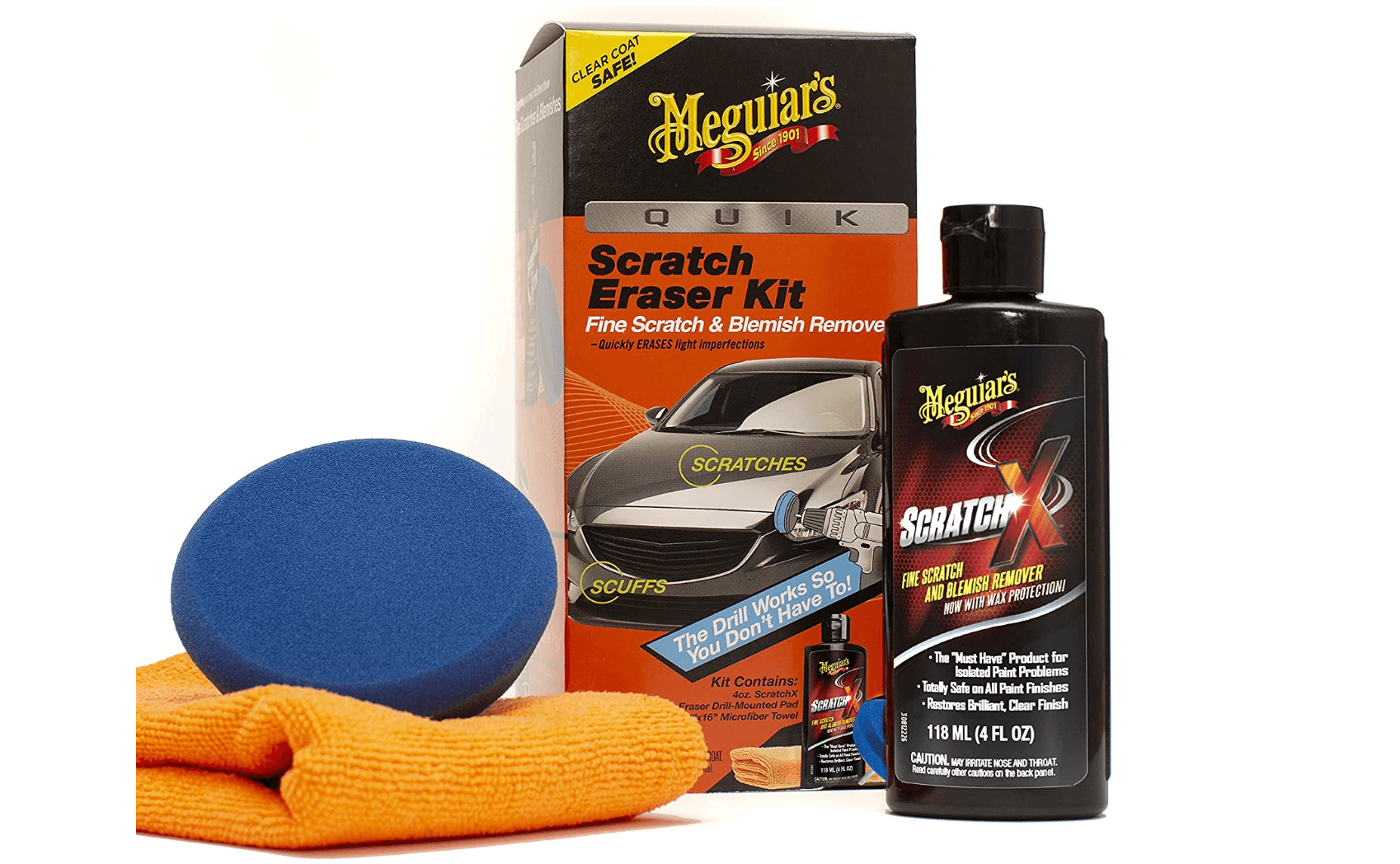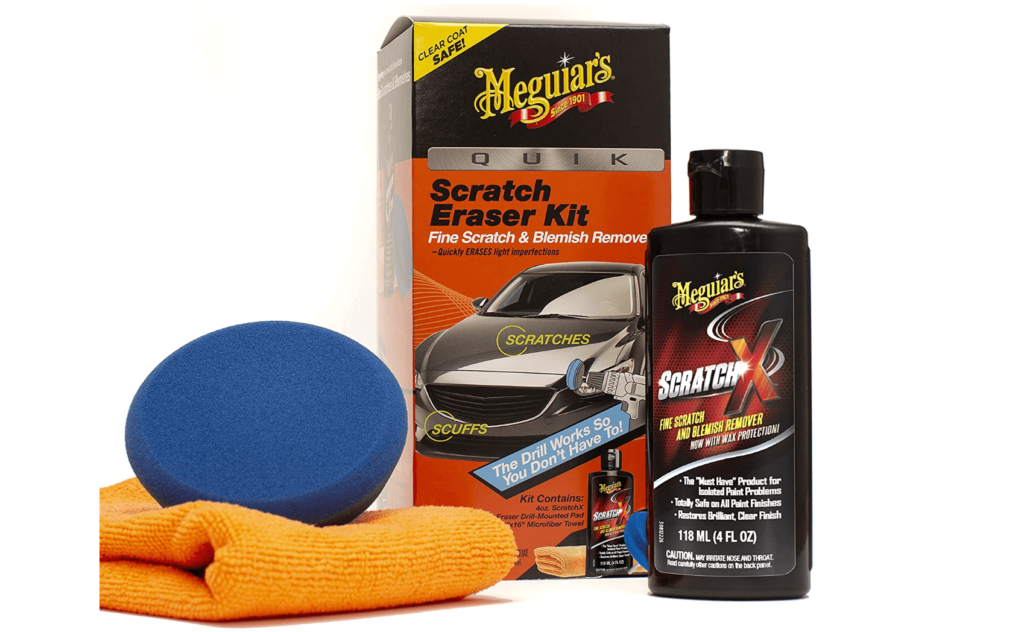 The Quik Scratch Eraser Kit includes:
A paint cleaner
A microfiber towel
A 4″ scratch eraser drill mounted pad that goes on any household drill. Use it to apply the cleaning solution.
The Scratch X paint cleaner included is designed to remove small scratches and other blemishes while also restoring shine. The premium microfiber cloth included in this car scratch remover kit is ideal to remove all residue from the paint cleaner.
What's really nice about the Quik Scratch Eraser Kit is that it can be used on all types of paint, including metallic and solid paint jobs.
4. Turtle Wax 50935 Scratch Repair & Renew 7 Oz.
Turtle Wax Scratch Repair & Renew is another product I've considered for an effective scratch removal process. It's created with a seal and heal technology that safely removes paint transfer, swirl marks, and water spots, among others. Light and heavy scratches are also something it claims it can deal with.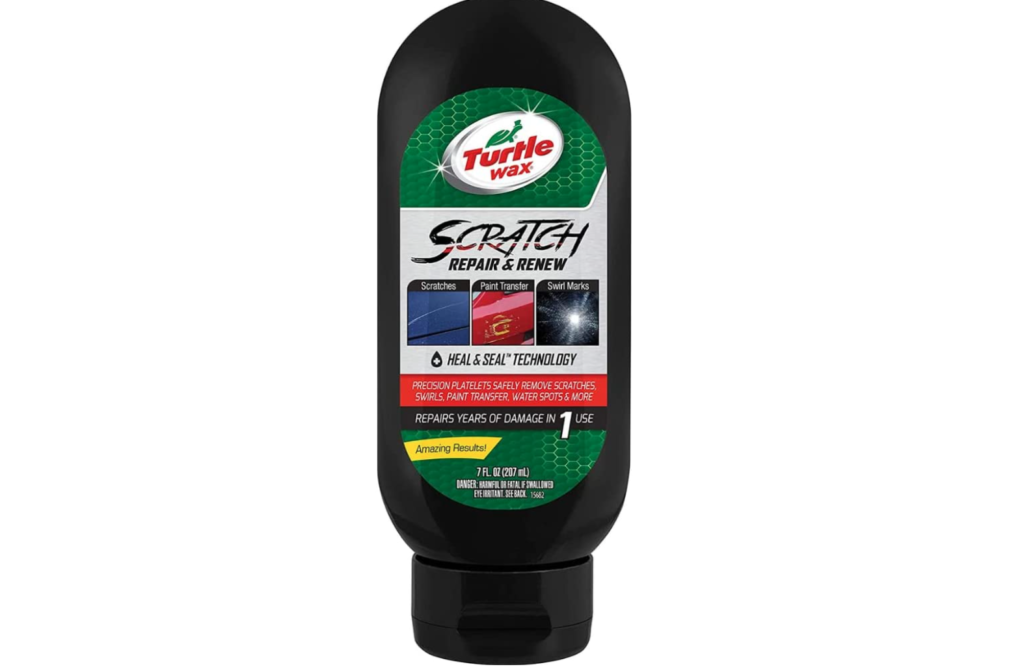 I tried to see if the promise is real and the truth is that while it works on heavy scratches as well, they'll still be there in the end — only less visible. Where it doesn't deliver quite as well on scratches, it does a good job with the shine, making this a redeeming quality.
5. Chemical Guys Scratch And Swirl Remover (16 Oz)
With their Scratch and Swirl Remover, the Chemical Guys are another top contender on the market when it comes to effective car scratch removers.
This product is designed to act as a compound, a polish, and a cleaner. You can expect decent results when fixing your paint job and clearing it from blemishes and small to slightly heavier scratches. We say this because it usually takes professional intervention of another kind to fully fix deep scratches. Still, many compounds on the market will at least reduce their severity.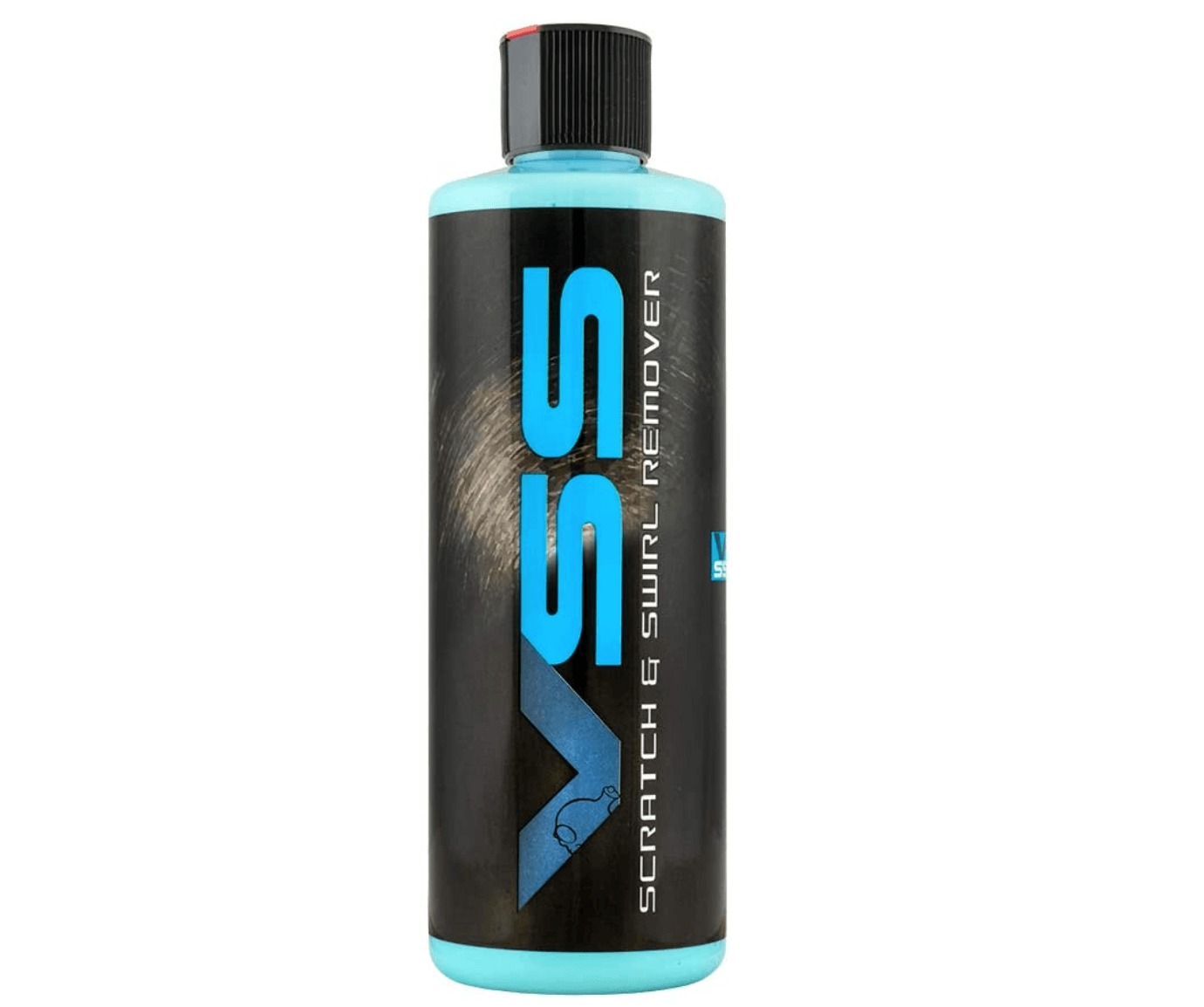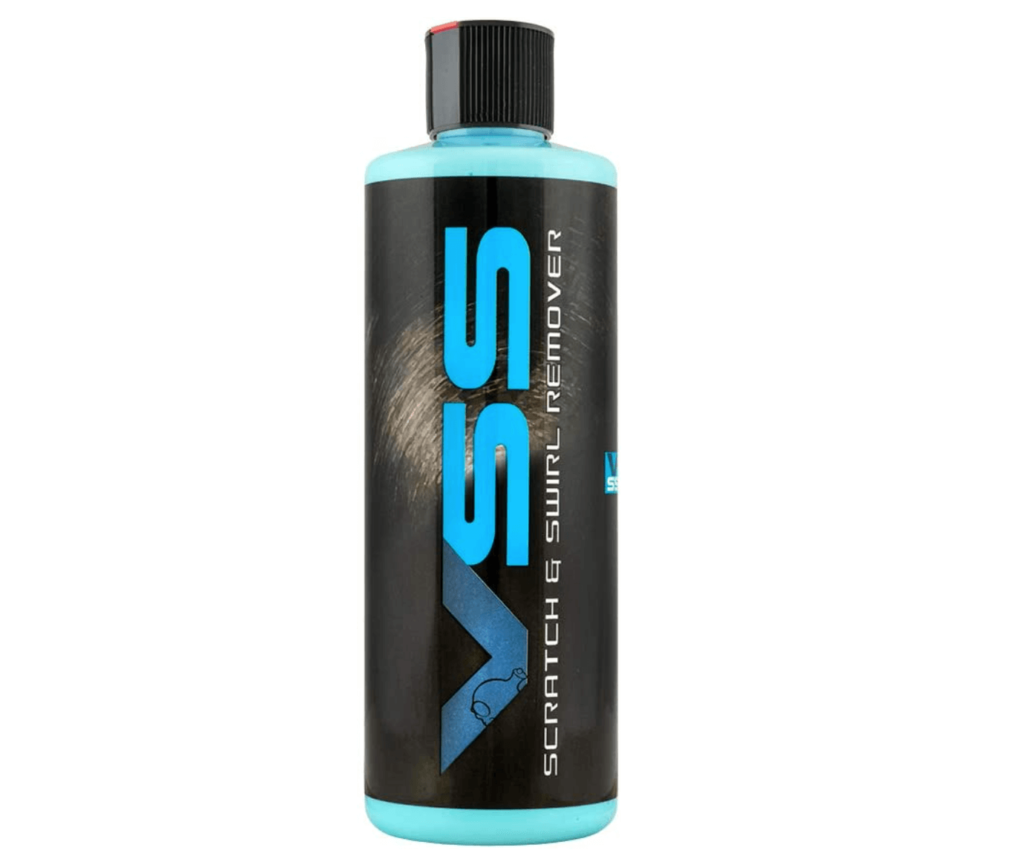 Finally, this one works in all colors and contains no wax or silicone. Overall, a more than decent product.
Using a Scratch Remover: Step By Step
There are a few steps you need to follow to make sure the car scratch remover you're using gets the job done safely. Here they are:
Clean The Damage. Before you start the process of removing the scratch, ensure the car is clean. Start by washing it and removing any dirt or dust with a good car wash. You can also use a cleaning agent to ensure the car is as clean as possible.
After washing the car, make sure you wipe it down thoroughly. This will ensure that any dirt or grime left on the car doesn't mix with the scratch remover you're using. This will help you avoid having to clean the residue left behind by the car scratch remover later.
Also, it's a good idea to use a car wash sponge to gently scrub the car's surface where the scratch is. This will help the scratch remover go down deep enough into the scratch.
Now comes the fun part! You have to apply the scratch remover of your choice directly onto the area where there's damage. You must not leave any excess paste on your car as it could cause damage later down the line.
The final step for removing scratches from your car is buffing. You need to use a buffer with fine-grit sandpaper — 1000 grit or higher — and gently remove any excess polish by buffing with light pressure. Buff until no residue remains, then wipe off any remaining residue with a wet cloth or towel.
Now that you've successfully removed the scratch from your car, it's time to protect it! Use wax or polish to protect the area where you recently buffed out the scratch so it doesn't get scratched again.
A Final Word
It took quite some determination to test out these five products, but I wanted to see if the buzz around them was real or not. So I took every single car scratch remover from this list and put it to the test.
Finally, when reviewing them, I mostly considered their actual efficiency in fixing a wide array of scratches. I started by giving them an easy test to see how they'd do — blemishes and small scratches.
They all did a good job by removing these surface imperfections and adding a layer of shine.
Some were more modest in results, while others, such as the Nexgen Scratch and Swirl Remover, really took it to the next level, making the vehicle look like it just rolled out of the showroom. I also liked how the Carfidant Black Car Scratch Remover performed on my black car and how Meguiar's included the buffer pad together with the microfiber cloth in the kit.
After testing these 5 car scratch remover products, I can confirm that all of them are good, and you'll definitely find one to best suit your needs.
If you enjoyed this article, you might also like: