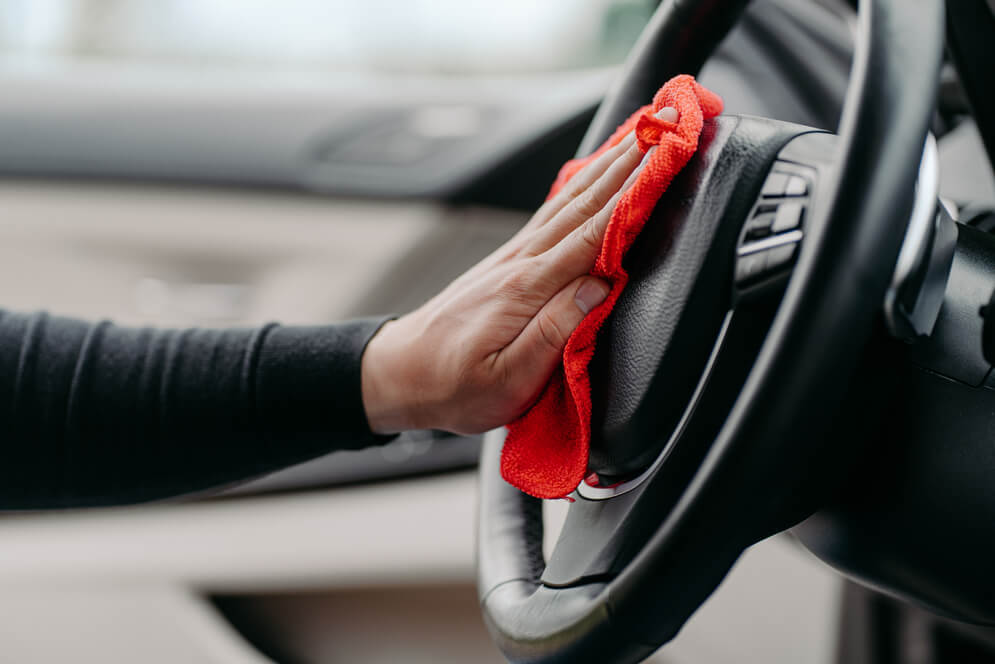 There are plenty of details that make a great car what it is. Some are worthy of true connoisseurs, while others are accessible to even first-time vehicle owners. Most people will look at the car's paint, the condition of the leather surfaces, or the cleanliness of the carpets. However, there's one element many people tend to overlook…the steering wheel!
The steering wheel is a key component of any car and an integral part of your driving sessions. It helps you steer to follow the chosen road, make quick decisions, and avoid unpleasant surprises.
However, apart from being a functional piece, the steering wheel also fits perfectly into the engineering that goes into a car's interior. And just like everything else, it gets dirty too.
Steering wheel cleaners come in several forms, including liquids, sprays, and wipes. Liquid products are the most popular because they are easy to apply throughout the steering wheel without leaving any residue behind.
The best way to use these cleaners would probably depend on what kind you've purchased. However, generally speaking, they're designed to be safe for almost every material found inside cars like plastic, vinyl, and even metal.
This means that no matter how much dirt has built up over time from driving around during rush hour traffic every day, it'll come right off!
Why Do You Need To Regularly Clean Your Steering Wheel?
While there are different surfaces inside a car, it's the steering wheel that gets touched the most, collecting dirt and grease from our hands.
It may be that it doesn't show yet, especially if your steering wheel is black. But rest assured that, most likely, it has accumulated plenty of dust, dirt, and body oil from our hands. Sometimes you may need to deal with tough, difficult grime.
Regardless of whether your car's steering wheel is made of genuine or faux leather, it will still become dirty in the end.
When dirt doesn't show yet, many car owners are tempted to skip cleaning the steering wheel, unaware of the potential issues this might lead to:
1. Bacteria
A car's steering wheel is basically a playground for bacteria. It is the highest-touched area of your car, after all. If uncleaned, it will offer the perfect conditions for germs to multiply, risking your health. This is why, by simply using a steering wheel cleaner regularly, you can reduce many unwanted health concerns.
2. Poor Grip
A heavily-contaminated steering wheel will usually feel more slippery and difficult to get a grip on. A clean steering wheel will give you a better grip, which in turn adds to your reaction response and, ultimately, to your safety on the road. In this respect, a good cleaner is so much more than meets the eye!
3. Wear And Tear
The longer your steering wheel stays dirty, the quicker it may give in to wear and tear. Many substances that settle on the leather will ultimately attack it and break it down, making it look cracked and worn.
How Can I Make My Steering Wheel Look New?
All you need to look after your vehicle's steering wheel is the right cleaner and a good microfiber cleaning cloth. Regardless of whether your steering wheel is made of real or faux leather, a microfiber towel and a good cleaner are all you need to remove the dirt. Make your steering wheel look new again!
However, if you have an alcantara steering wheel, you will need a suede brush. This is the perfect tool for steering wheels made of alcantara, a synthetic version of suede. A suede brush has rubber bristles that won't damage the delicate texture of the material.
The cleaning process is fast and simple. All you need to do is gently rub the steering wheel in a back and forth motion with the suede brush while the engine is off. Be sure to brush the backside of the steering wheel as well, to remove any built-up dirt. Repeat the process every week to keep your wheel looking clean.
How Do You Clean a Dirty Leather Steering Wheel?
A dirty steering wheel is easy to notice. You'll recognize it by that easily distinguishable shine you can find in old or neglected cars.
With most steering wheels, using a disinfectant cleaning solution and a clean wipe is enough to do the job. If made of polyurethane material or faux leather, they're much easier to clean.
However, when it comes to leather steering wheels, you can expect things to look a bit differently. Leather is quite sensitive and, if not treated properly, it can get damaged in no time.
If your steering wheel is covered in real leather, make sure to always have these handy:
Leather Cleaner
Although certain household products work well for cleaning a car's interior, it's best to use a professional leather cleaner since it's been designed to clean without damaging the surface. There's nothing a high-quality cleaner won't do for your dirty steering wheel.
Detailing Brush
Apply the leather cleaner straight onto the detailing brush and use it to clean the steering wheel. This is a gentle yet effective method.
Leather Conditioner
When you're finished cleaning the steering wheel, also use a leather conditioner to help maintain the leather's great condition.
Microfiber Towel
You can't really do any car detailing without a good-quality microfiber towel, can you? Wipe off any excess cleaner, and you'll have yourself a better-looking steering wheel in no time.
How To Choose The Best Steering Wheel Cleaner
For those looking to regularly maintain the cleanliness of the steering wheel, it's best to choose a high-quality cleaner.
But what cleaning solution should you invest in, and which ones should you ignore?
There are many different types of these products on the market, so it's important to do some research before you purchase one. Some people use dish soap or car shampoo mixed with water to wash their steering wheels off, but these can lead to early wear and tear.
If you're looking to keep things nice and tidy without hassle, there are many great products in the market, including:
1. Nexgen Interior Cleaner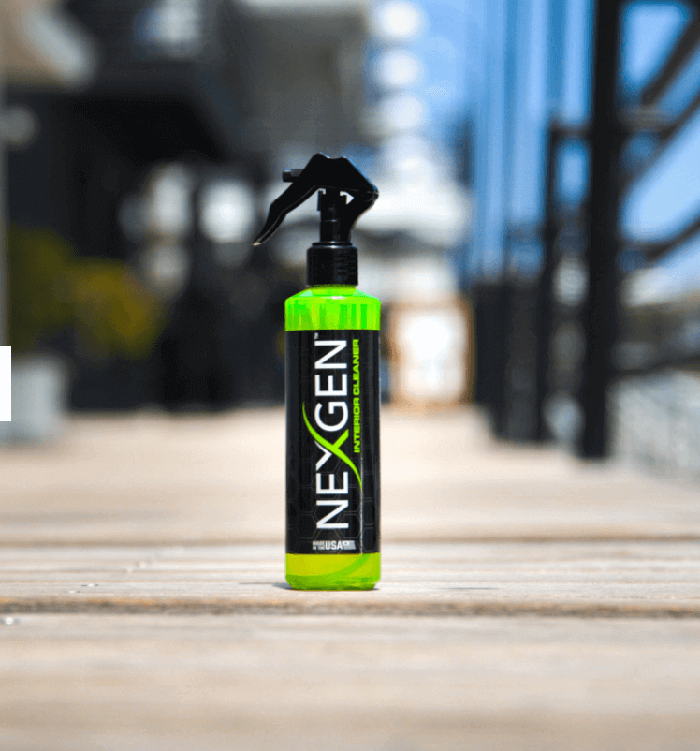 The Nexgen Interior Cleaner is specially created to see you through any detailing task you may have on your hands. While this cleaner is good for carpets, plastics, and vinyl, it's also very effective in cleaning leather, including the one on the steering wheel.
It's worth mentioning that this high-quality product cleans without damage ⁠— I've tried it and was impressed by its versatility.
This product has been created with efficiency in mind, and all it requires is that you spray it on and then wipe it off. It's a gentle formula that will remove a wide variety of contaminants, including grease, debris, grime, and fingerprints.
It wipes clean and serves to remove dirt without adding extra shine to your steering wheel. All in all, I can say that I am always impressed with the results Nexgen products deliver.
2. Cadillac Leather Cleaner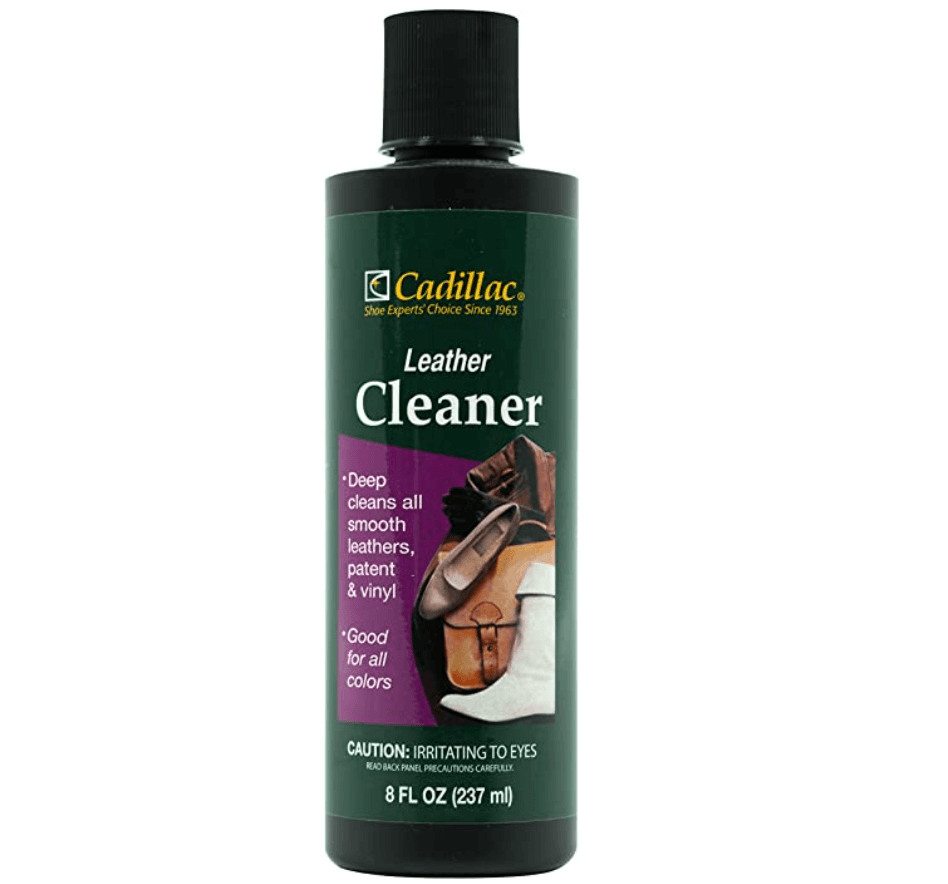 This Cadillac Leather Cleaner can be used on anything leather, from shoes to a car's steering wheel.
The formula is specially created to work well with all colors and types of leather, including the smoothest ones. After all, this is what a good leather cleaner should do!
I recommend applying a leather conditioner after using this product. This will help you keep the leather hydrated and looking like new. The conditioner will prevent the leather from drying, as well as cracks from showing — leather's biggest foe.
3. Carfidant Ultimate Car Interior Cleaner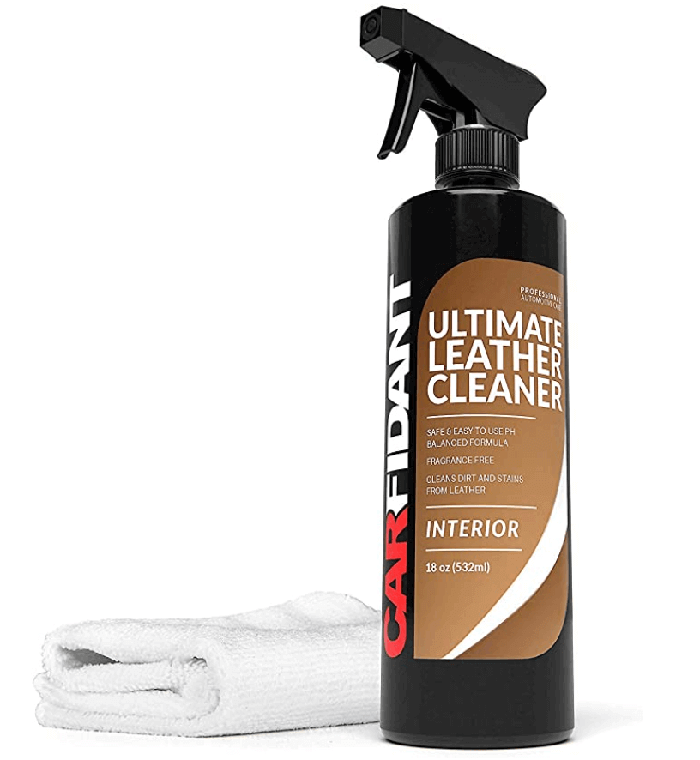 What surprised me initially about Carfidant's Ultimate Car Interior Cleaner is that, although it was developed for both car interiors and exteriors, it works well on leather. 
Its formula is meant to remove all contaminants without damaging the leather and without leaving any 'fake' scents behind – indeed, the air remains fresh and breathable.
This interior cleaner is also designed for easy use. All you need to do is spray it on and then wipe it off the steering wheel. Carfidant's cleaner doesn't leave any residue behind, and you'll be pleasantly surprised by its ability to leave the steering wheel looking and feeling like new.
4. Adam's Leather Care Kit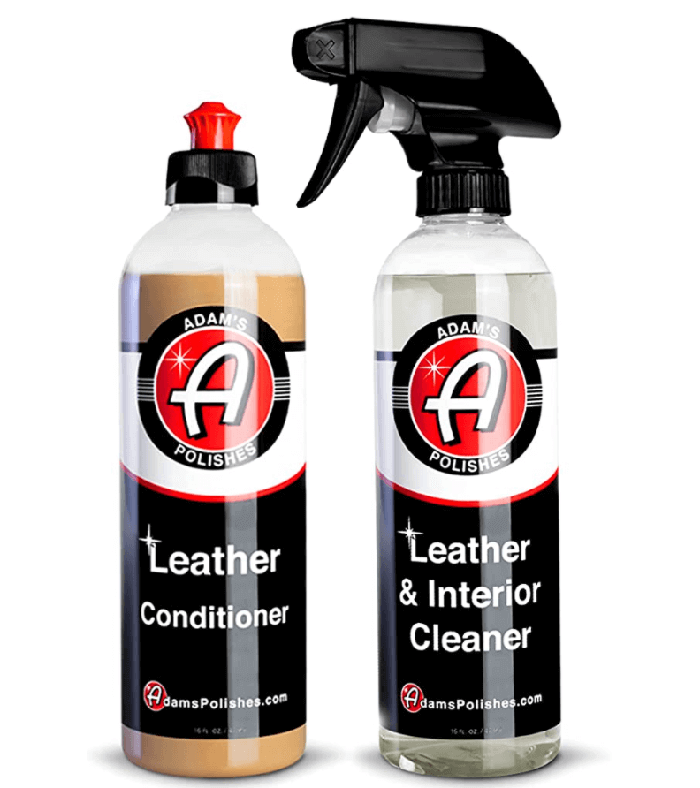 I was pretty content with this kit. It includes both a leather cleaner and a leather conditioner, so you have the entire leather detailing package in one place.
When using the leather cleaner, all you need to do is spray it on the steering wheel and let it sit for a few minutes. After that, you can gently wipe it off.
Adam's Leather Care Kit is designed to work great on faux leather too, so use it confidently. Once you're done cleaning the steering wheel, you can move on to the leather conditioner. Use this product 3-4 times a season to keep the steering wheel in tiptop condition.
5. Sonax Upholstery and Alcantara Cleaner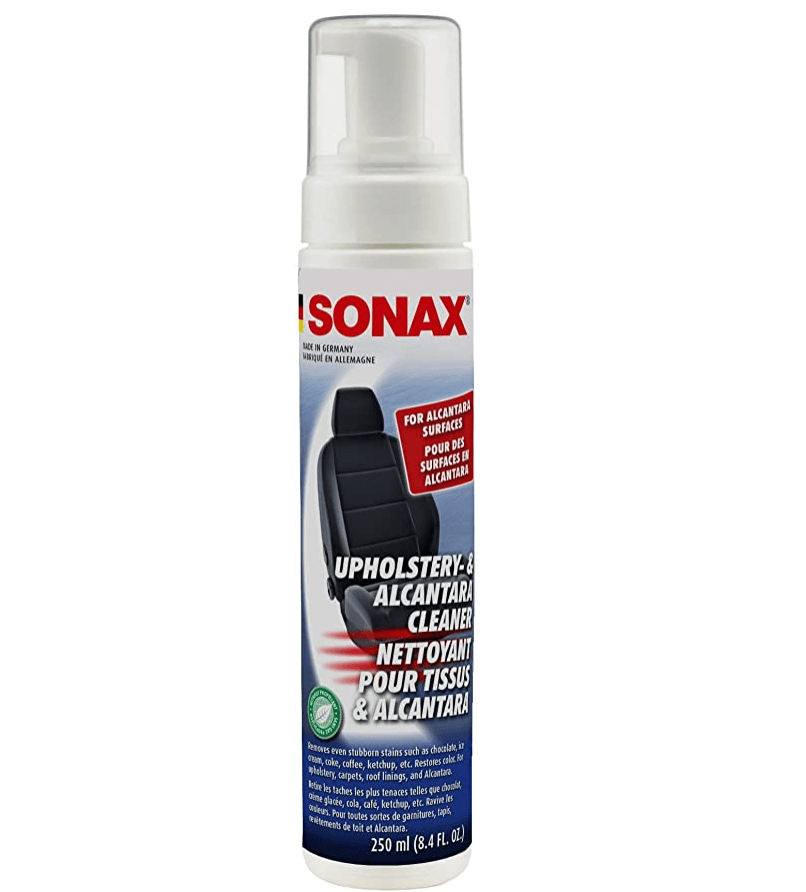 Since some steering wheels are covered in alcantara — synthetic suede — it's important to also have a steering wheel cleaner that can deal with the delicacy of this fabric.
This formula of the Sonax Upholstery and Alcantara Cleaner restores the feel and color of your steering wheel without damaging the alcantara texture. All while also providing a fresh and clean scent, which is a bonus.
All In All
These 5 products are among the best on the market for cleaning your steering wheel. Some formulations are specifically targeted at leather — whether real faux — while others are created to deal with the car's interior as a whole. In both cases, all of these cleaners will do a great job.
Ultimately, it's up to you to test them out and see which one works best for the type of steering wheel you have. But what you need to keep in mind is that more important than the product you choose is to clean the steering wheel regularly. It's best to always schedule a steering wheel cleaning session whenever you detail your car's interior as well. It doesn't take long, yet the benefits are tremendous.
If you have any questions regarding your steering wheel care, please reach out! We will be happy to share our knowledge on this subject with you.
You might also enjoy: