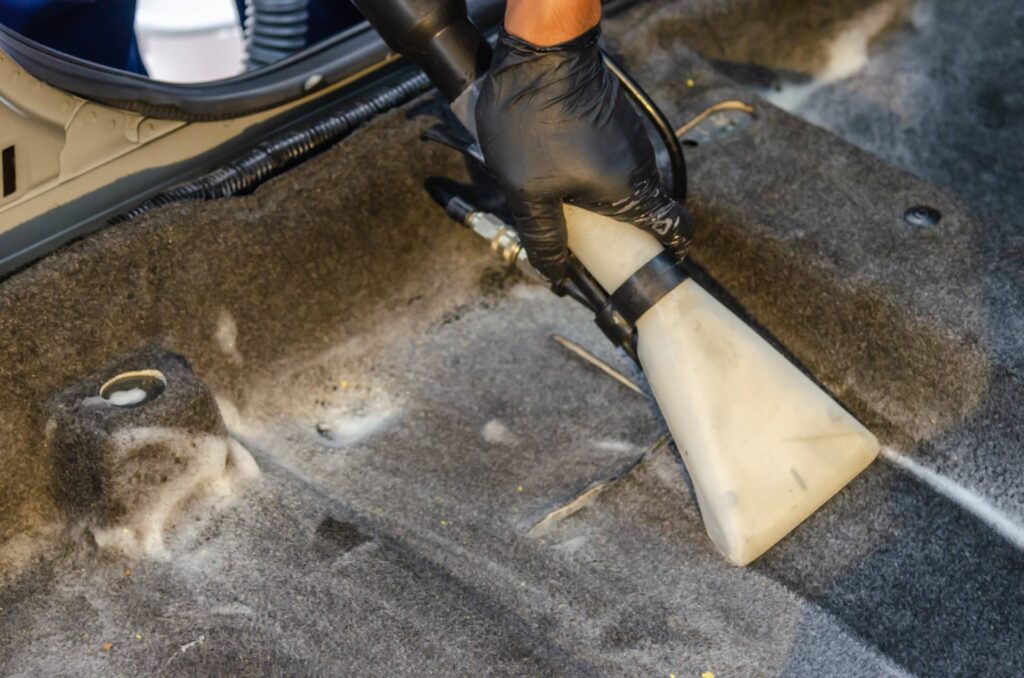 If you want to clean your car thoroughly but don't know where to start, you've come to the right place. Attempting to provide your vehicle with an at-home detail can be overwhelming and time-consuming if you don't go in with a solid plan.
Before you get started, you'll want to run through the checklist below to make sure you have the necessary tools to complete the job. With just a few easy-to-find tools and some elbow grease, you can refresh your driving space. Here are seven easy-to-follow steps to teach you how to deep clean a car.
Why It's Important to Deep Clean Car Interior
Depending on what you typically use your car for, it's generally a good idea to do a deep clean at least twice a year (more if you provide transportation services like ride-shares or if you usually have kids and pets in your car).
Even if your car doesn't tend to get messy, pollutants will build up over time, just from having the windows down or from your clothes and bottoms of your shoes. Oils, lotions, and sunscreen from your hands will leave a residue behind that will gradually build up on your steering wheel and other high-touch areas.
Tools You Need to Deep Clean a Car
Before you run out and buy every car detailing product under the sun, it's important to know what tools are necessary and what tools are optional. We've gone ahead and separated the items you need from the ones that are more for convenience or taking your deep clean a step further.
Necessary Tools:
Trash Bag (for emptying the car of debris)
Vacuum Cleaner
Microfiber Cloths
Interior Car Cleaner
Drill Brush Attachment
Extractor Tool or Wet Vac
Car Glass Cleaner
Fabric Cleaner or Leather Cleaner (depending on the type of seats you have)
Optional Tools:
Extension Cord (if using a corded vacuum)
Disinfectant
Anti-Fog Spray
Interior Conditioner (for leather or vinyl seats)
Protectant Spray
How to Deep Clean a Car Interior: The Guide
Step 1:
The first step is emptying your car. You'll need to pull out any trash, gym bags, kid or pet toys, and floor mats. Remove any unnecessary items from your center console and glove box as well.
Step 2:
Vacuum. You'll need to be very thorough with this step. Move the seats forward and backward to get to the flooring underneath. You'll also want to extend the backrest downward to get a really good suction where the back and bottom cushions meet. Using the vacuum hose in places like your cup holders and any consoles will make wiping them out a lot easier as well.
Step 3:
Clean all the plastic surfaces. Wipe down your dashboard, door handles, and steering wheel with an interior cleaner that is made for the materials found in vehicles. To get into small crevices, like air vents, you might opt for putty. If you're looking to save a few bucks, purchase a foam brush from the crafting section of your nearest store. Once all of your plastic surfaces are wiped down, consider using a disinfectant on parts like your seat buckles, door handles, control panel, and steering wheel (especially if you happen to have a lot of people and pets in and out of your vehicle).
Step 4:
LEATHER OR VINYL SEATS: If you're lucky enough to have low-maintenance seats, like leather or vinyl, you can simply wipe them by using an interior cleaner. After thoroughly cleaning them, apply an interior conditioner. All you have to do is apply the solution to a microfiber cloth and evenly distribute it over the surface of your car seats. Then wipe it off after about 10 minutes for a smooth finish. A quality interior conditioner will not only make your seats look good, but it will also provide a layer of protection from stains and normal wear and tear.
FABRIC SEATS & CARPET: The largest job in cleaning most cars falls on shampooing and extracting fabric seats and carpets. The most common at-home method of shampooing is to use a drill brush attachment on your power drill. After spraying the fabric with an upholstery cleaning solution, work in sections to agitate the cleanser. It's important that you do not over-saturate the fabric. The more fluid that goes into your car's upholstery, the longer it will take to dry. Next, you'll use an extraction tool to pull the liquid from the seats and carpet. You'll want to take your time and move in straight lines in order to make sure you're removing as much dirt and liquid as possible.
Another option is to use an actual home carpet cleaner. If you don't own a carpet cleaner, many places like Lowe's and Home Depot provide reasonably priced rentals. However, if you opt to purchase your own, a spot-cleaning machine geared more toward pet messes is typically the easiest to use in your vehicle. The smaller size allows you to get into harder-to-reach areas. In contrast, a full-sized machine will have you readjusting and tugging on the hose to get those hard-to-reach places.
Step 5:
One of the most important parts of your vehicle to keep clean is the windshield. It's important to avoid any ammonia-based products here. Instead, use a quality auto glass cleaner on the inside of your windshield, windows, mirrors, and any screens. Bonus Tip: If you haven't used an anti-fog spray in a while, now would be the perfect time to do so. Another item we love from Nexgen is their long-lasting anti-fog spray. This will keep your glass looking clear much longer.
Step 6:
While most of us understand the importance of applying an exterior ceramic coating to our car's paintwork, many people skip over applying a layer of protection to the vehicle's interior. A quality interior ceramic spray will help prevent minor scuffs and scratches, as well as block out harmful UV rays that might cause fading over time.
Step 7:
Let the car dry out completely and put your floor mats and any other necessities back inside the vehicle. Now give yourself a pat on the back. You've just given your car a DIY five-star cleaning.
As a cherry on top of the cake, you can put some fantastic air freshener to give your car a nice scent. You can check our recommendations for the best automotive air fresheners here.
Can You Deep Clean a Car Yourself?
While many people think they have to pay an arm and a leg to have their car professionally cleaned, the reality is that anyone can learn how to deep clean a car. By keeping the right tools on hand and following the steps provided, you can achieve and maintain a professional grade clean year-round.
Conclusion
Whether you are a solitary traveler, a carpooling parent, or a pet parent on the go, it's important to do a proper cleaning of your vehicle at least twice a year. Once you learn how to deep clean a car, the stress of spills, clutter, pet hair and wet nose markings on the windows will dissipate. Pollen season? No big deal!
Keep your new instruction manual on hand, and never pay an exorbitant fee for a professional car detail again.
You may be also interested in: